High five!
The recipe has been added to your shopping list.
Roast chicken with baked pumpkin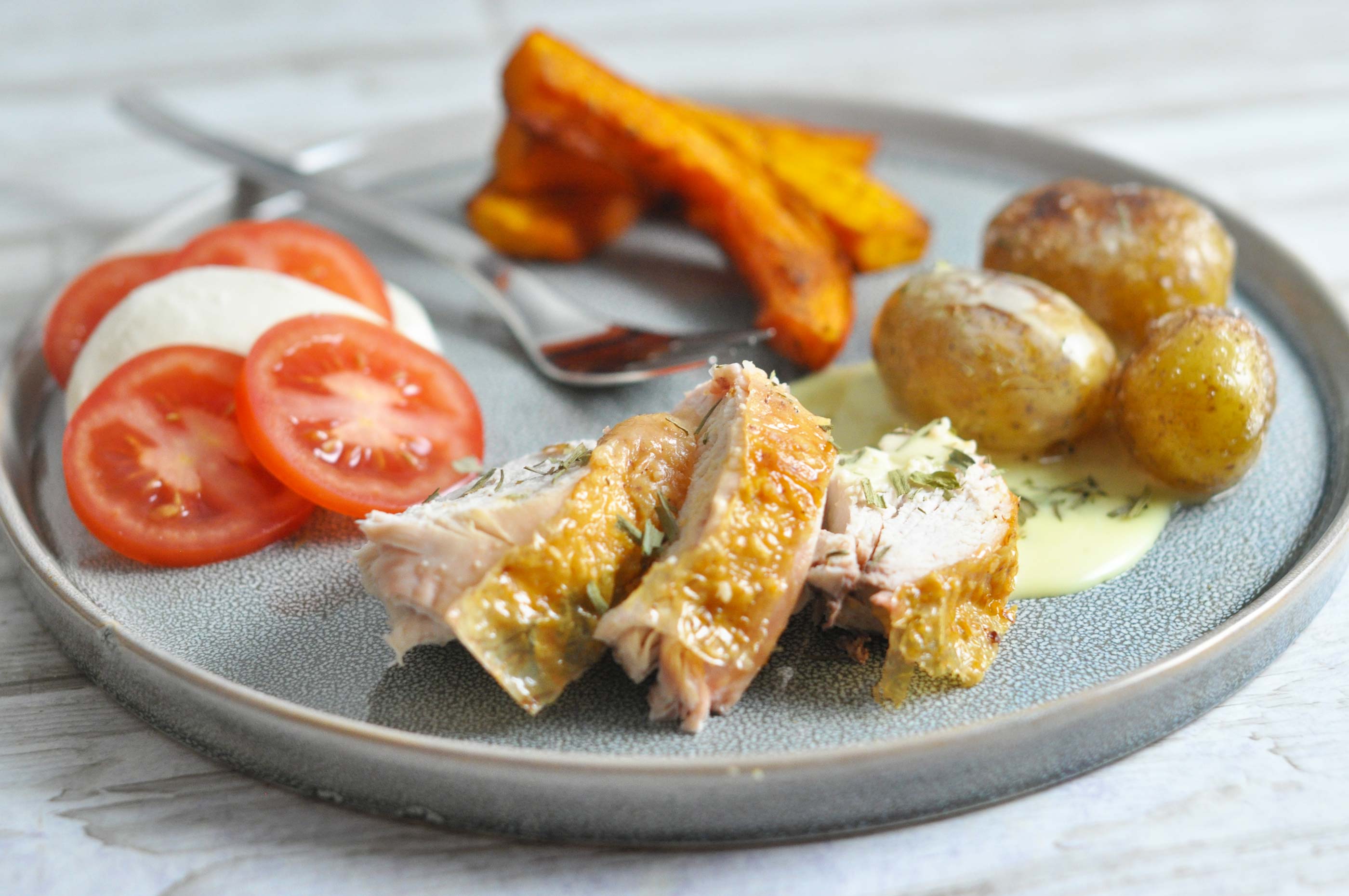 Ingredients
( 2 adults and 2 kids )
1

large chicken

1

hokkaido pumpkin

500 grams

baby potatoes

4

tomato

1 ball

mozzarella

bearnaise sauce

olive oil

salt

pepper
ADD TO SHOPPING LIST
ADD TO MEAL PLAN
*
= Good to know - click the ingredient

= See the recipe - click the ingredient
This is the recipe for a delicious weekend dish with all the figurative and literal trimmings! Roast chicken with baked pumpkin, roast poatoes, bearnaise and tomato salad. All good stuff! But you can easily forgo one of more of the items if you like. Enjoy!
Directions
1. Preheat your oven to 200 degrees convection. Oil the chicken with some olive oil, and season well with salt and pepper, both inside and outside. Just use your hands - remember to wash them and your utensils when you're done.
2. Place the chicken on a grate and pop it into the oven over a baking tray with half a liter of water to collect any roasting juices and fat. Cook the chicken for about an hour, or until the meat is white rather than pink all the way through and the juices run clear when you poke the chicken thigh with a fork.
3. Thoroughly wash the pumpkin, remove the seeds and cut into wedges or big chunks. Place in a baking tray with baking parchment, coat with a good dash of olive oil and season with salt and pepper. Pop the pumpkin into the oven alongside the chicken and bake for about 35 minutes, or until tender and golden.
4. Boil the potatoes in salted water until almost cooked through. Drain and give them a quick go with a bit of olive oil or butter in a hot pan, until they've gotten a nice golden colour all the way around. This makes them extra delicious. Remember to season with salt and pepper.
5. Wash the tomatoes and slice along with the mozzarella. Layer the two on each of the plates or on a tray, season with salt and pepper and drizzle with olive oil. Top with herbs if you have any.
6. Cook your bearnaise. Part the chicken the way you like best, and serve with the baked pumpkin, potatoes, sauce and tomato salad. There's your proper weekend dinner sorted. Enjoy!
Tip
Remember to buy a big chicken and save the leftovers. You can use those as toppings on a tasty Indian daal, or in homemade spring rolls.
Share your tips and comments