High five!
The recipe has been added to your shopping list.
Risotto with peas, mushroom and prawns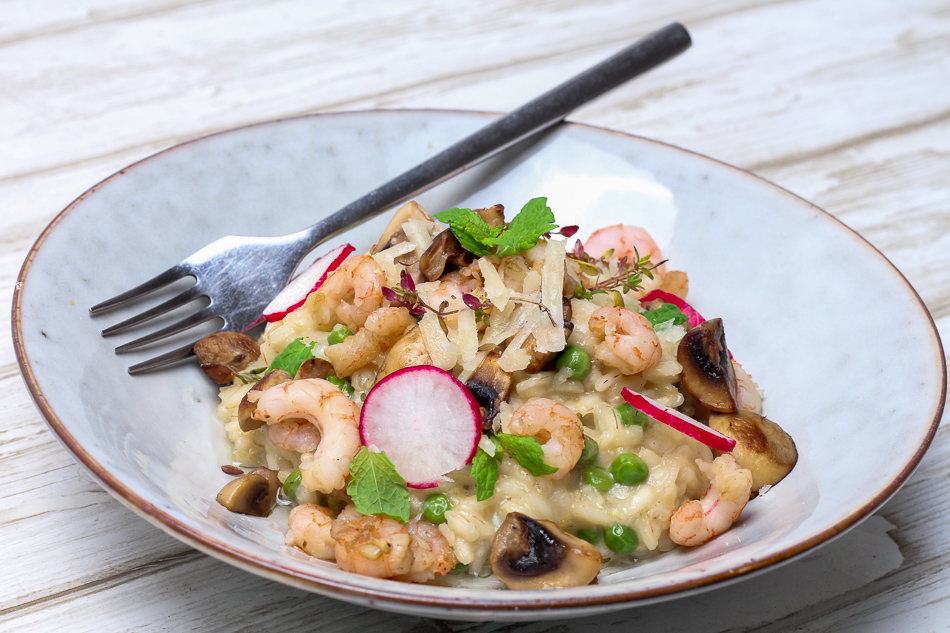 Ingredients
( 2 adults and 2 kids )
1300 ml

water

2 cube

chicken stock

200 grams

mushrooms

250 grams

prawns

100 grams

grated parmesan

1 clove

garlic

1

onion

300 grams

risotto rice

2 tsp

thyme

200 ml

white wine

200 grams

peas

- fresh or frozen

0.5

lemon

salt

pepper

5

radish

olive oil
ADD TO SHOPPING LIST
ADD TO MEAL PLAN
*
= Good to know - click the ingredient

= See the recipe - click the ingredient
At this stage we've done all sorts of variants on the classic risotto, and that's of course because risotto is both delicious and dead easy to make. Here we've done a version with prawns, mushroom, thyme, white wine and fresh or frozen peas. The radish garnish gives a bit of extra crunch to the soft rice. Enjoy!
Directions
1. Bring the water to the boil with crumbled stock cubes.
2. Clean, rinse and quarter the mushrooms. Drain or thaw the prawns if needed. Roughly grate the parmesan on a grater and finely dice the garlic.
3. Cook mushrooms in olive oil in a pot along with the garlic for a few minutes. Add the prawns and cook for another few minutes. Pop everything on a plate and set aside.
4. Finely dice the onion and cook in a dash of olive oil while stirring continuously, in a large pot, for about 5 minutes, until the onions have clarified. You don't want them to brown. Add risotto rice and thyme and stir for another few minutes, being careful not to let it burn. Add the wine while stirring, until the rice has absorbed almost all of the liquid.
5. Add the stock with a soup ladle bit by bit, while stirring. Let the rice absorb the stock before adding more. Continue until the risotto has the consistency of thin rice porridge. You might not need all of the stock. Be mindful not to let the risotto get too thick and firm - you want it runnier than you think, with a bit of bite left in the rice. As the risotto cools on the plate, it can quickly get too firm.
6. Add the fresh or frozen peas and carefully stir the risotto. Remove the risotto from the hob and add grated parmesan, mushroom and prawns. Optionally save a bit for garnish. Carefully stir and season to taste with salt, pepper and lemon juice.
7. Serve in deep plates and top with some more grated parmesan and thin slices of rinsed radishes on top.
8. Enjoy!
Share your tips and comments