High five!
The recipe has been added to your shopping list.
Rice pudding with apple compote and honey roast walnuts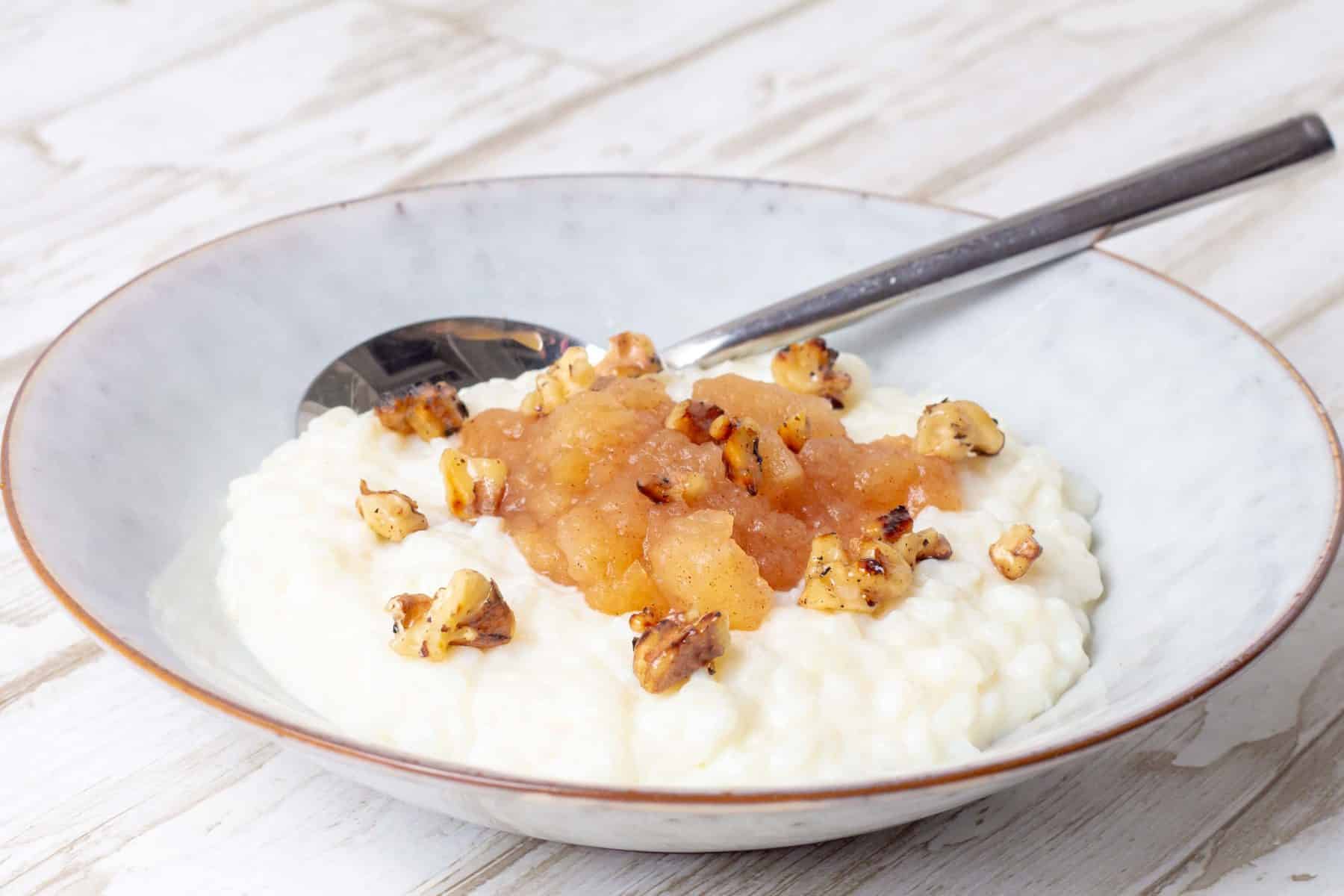 Ingredients
Freezer friendly
( 2 adults and 2 kids )
Rice pudding

200 ml

water

200 grams

pudding rice

1200 ml

milk

salt

Apple compote

4

apples

100 ml

water

1 tsp

vanilla sugar

2 tsp

ground cinnamon

50 grams

sugar

Garnish

100 grams

walnuts

2 tbsp

acacia honey

*
ADD TO SHOPPING LIST
ADD TO MEAL PLAN
*
= Good to know - click the ingredient

= See the recipe - click the ingredient
Here at Mambeno we LOVE the Danish christmas classic that is rice pudding, and every year we look forward to December, where we finally get to make a new variation. Here we've topped the classic rice pudding with apple compote and honey roast walnuts. Enjoy!
Directions
Rice pudding
1. Bring the water to the boil in a pot over medium heat. Add pudding rice and stir well for a couple of minutes. Add the milk and stir regularly until the porridge is boiling. Turn down the heat and pop the lid on. Let simmer for 35-40 minutes, until it has the desired consistency. Add a dash of salt to taste.
Apple compote
2. While the pudding simmers, make the compote. Peel and de-core the apples, then dice them.
3. Bring the apples to the boil in a pot with water, vanilla sugar, cinnamon and sugar and let simmer until your pudding is done. Remember to stir as you go, and make sure the pot doesn't cook dry. If so, add a bit more water.
4. Once the compote is cooked out, season to taste with salt and optionally a bit more sugar, if you like.
5. Roast the walnuts on a dry pan. Once they've gotten a bit of colour, switch off the hob and mix in honey. Place the nuts on some baking parchment or a cold plate. Serve the pudding with compote and honey roast walnuts on top. Enjoy!
Tip
Save some rice pudding, so you can make pancakes for dessert the next day - or for the kids' packed lunches.

Tasks for kids in the kitchen: Let your kids stir the rice pudding so it doesn't burn - this a super important and entrusted task! They can also dice the apples and help drizzle honey over the walnuts.
Share your tips and comments