High five!
The recipe has been added to your shopping list.
Ribs with chips and salad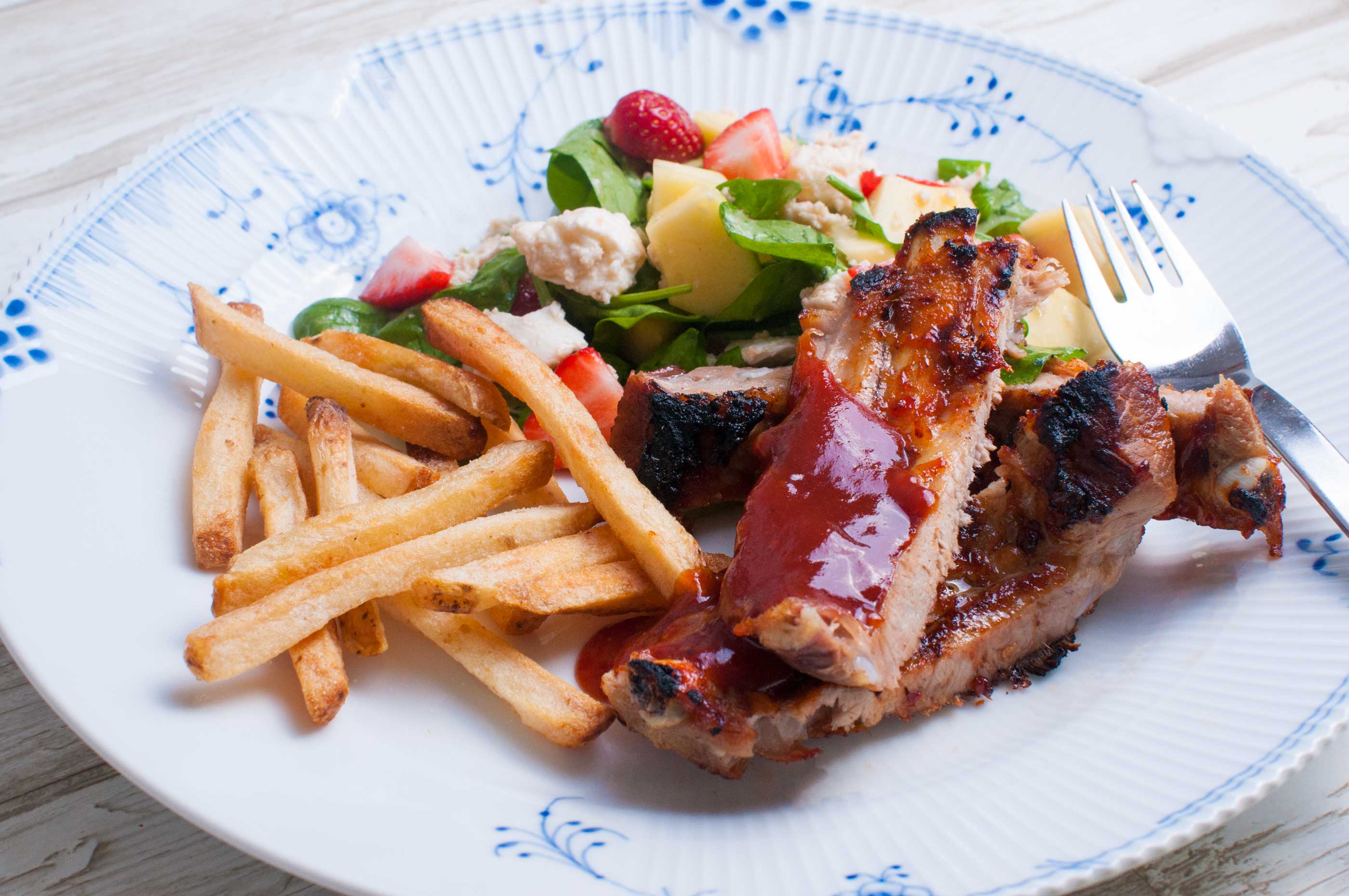 Ingredients
( 2 adults and 2 kids )
chips

1.5 kilo

pork ribs

1 clove

garlic

200 ml

ketchup

2 tbsp

brown sugar

2 tbsp

vinegar

- preferably apple cider

1 tbsp

acacia honey

*

2 tsp

all purpose seasoning

lettuce of your choice

100 grams

strawberries

1

apple

1 ball

mozzarella

dressing of your choice

baking parchment
ADD TO SHOPPING LIST
ADD TO MEAL PLAN
*
= Good to know - click the ingredient

= See the recipe - click the ingredient
Once you've tried making your own ribs, you'll have a hard time going back to the ones you buy. And it's not hard at all, and a lot cheaper, to make them yourself! Here's our easy recipe with chips and salad. Enjoy!
Directions
1. Cook the chips according to the bag - or click the chefs' hat in the ingredient list to make your own. Just remember to adjust your shopping list in this case.
2. Place the raw pork ribs in a big pot and cover with water. Bring the water to the boil, and let the ribs cook for 15-20 minutes. Take the ribs out and place on a baking tray covered with baking parchment if you want to oven-cook them, or on a chopping board if you're planning on barbecuing them.
3. While the ribs are boiling, press the garlic and mix with the remaining ingredients in a pot. Slowly bring to the boil and let the marinade simmer for a few minutes. If needed, adjust the flavour with a bit more brown sugar, vinegar, spice or whatever you feel is missing. Let the marinade cool off a bit.
4. Brush the ribs with the marinade thoroughly on both sides, and cook them in the oven for about 25 minutes at 200 degrees convection until they've gotten a nice colour. Or give them a go on the grill. Keep an eye so they don't blacken.
5. If needed, brush some more marinade on the ribs halfway through, and serve the rest on the side. Do remember proper kitchen hygiene and avoid dipping the brush you're using on the ribs directly into the marinade. Instead, drizzle the marinade onto the ribs and use the brush to spread it.
6. Make a quick salad of rinsed lettuce, rinsed and halved strawberries, rinsed and diced apple, and crumbled mozzarella on top.
7. Enjoy!
Tip
You can buy a rack of raw pork ribs in most major supermarkets such as Co-op, Tesco, Sainsbury's etc. And just a little tip from an experienced rib-family - always remember plenty of wetnaps...!
Share your tips and comments