High five!
The recipe has been added to your shopping list.
Rhubarb muffins with white chocolate and marzipan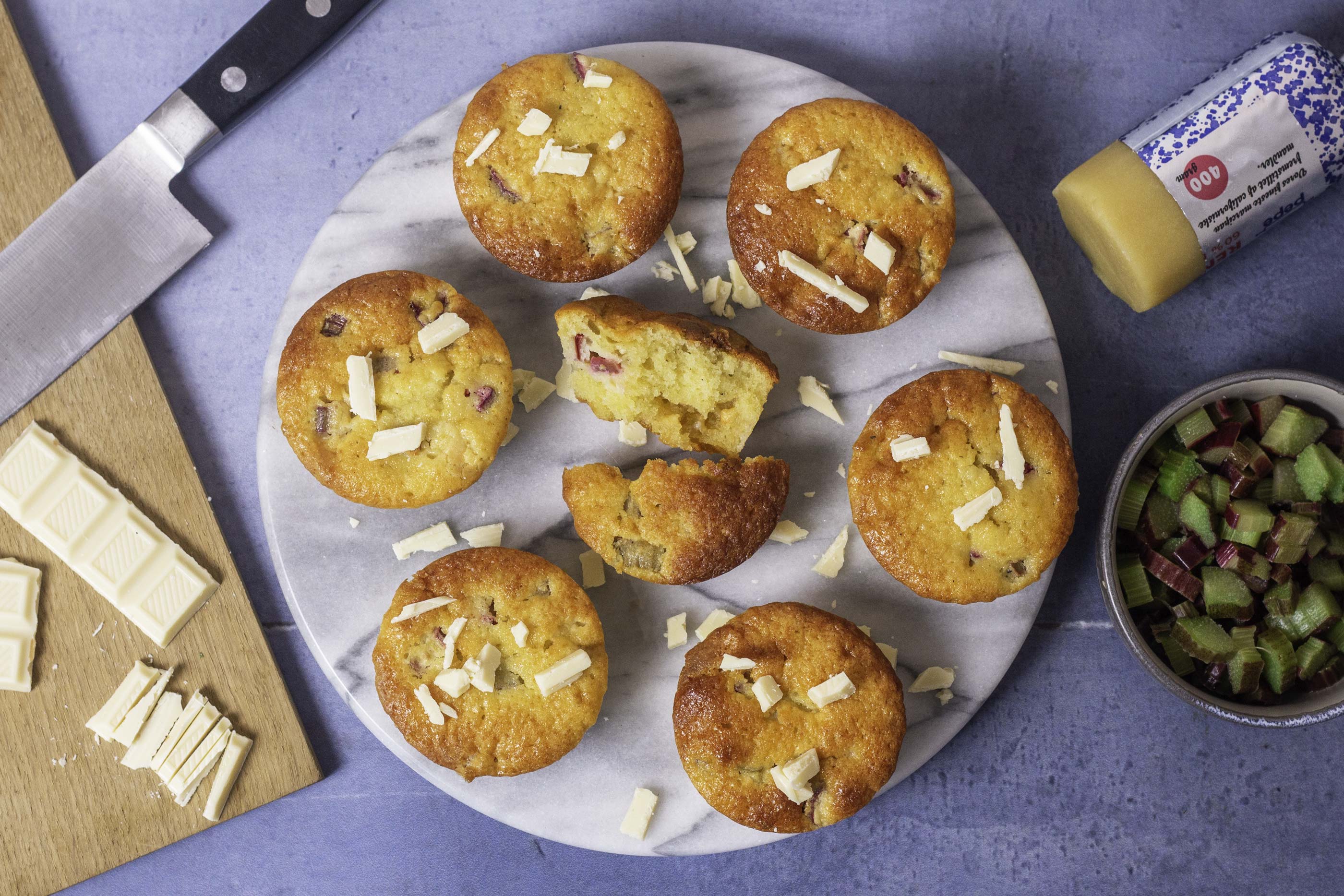 Ingredients
( Approx. 18 )
250 grams

butter

4

egg

200 grams

rhubarb

200 grams

sugar

300 grams

plain flour

1 tsp

baking powder

2 tsp

vanilla sugar

0.5 tsp

salt

100 grams

white chocolate

200 grams

marzipan

muffin tin
ADD TO SHOPPING LIST
*
= Good to know - click the ingredient

= See the recipe - click the ingredient
These mushy rhubarb muffins are so delicious - we're just saying! We've put some extra love into the wee muffins with both marzipan and white chocolate, which gives some sweet contrast to the slightly tart rhubarbs. Yum - and enjoy!
Directions
1. Take butter and eggs out of the fridge in plenty of time before you start, as they should ideally be room temperature. Preheat your oven to 185 degrees convection.
2. Cut tops and bottoms off the rhubarbs, clean them thoroughly and cut into small chunks - the rhubarbs that is, not the tops and bottoms! Place the rhubarb pieces in a deep plate, pour a quarter of the sugar over top, and leave them to sit.
3. Mix flour, baking powder, vanilla sugar and salt in a bowl. Finely chop white chocolate and save it for later.
4. Grate the marzipan on the fine side of a grater. Whisk with butter and the rest of the sugar in an empty bowl, add the eggs one at a time and continue to whisk until the batter is fluffy. Then mix rhubarb chunks, white chocolate and the dry mix into the marzipan batter.
5. Pour the batter into muffin tins - remember only to fill them halfway, as they'll raise in the oven. Bake for about 20 minutes, until golden on top, and no batter sticks when you poke the muffins with a knitting needle or toothpick. Let them cool before removing from the tin.
6. Enjoy!
Tip
Tasks for kids in the kitchen: There's plenty to get stuck into! Let your kids help cut up the rhubarb. They can also chop the chocolate (in that case, get some extra to account for sampling). They can also help mix the batter and pour into tins.
You can absolutely bake these muffins outside of rhubarb season - just pick up some frozen rhubarb instead.
Share your tips and comments