High five!
The recipe has been added to your shopping list.
Ravioli with tomato sauce and salad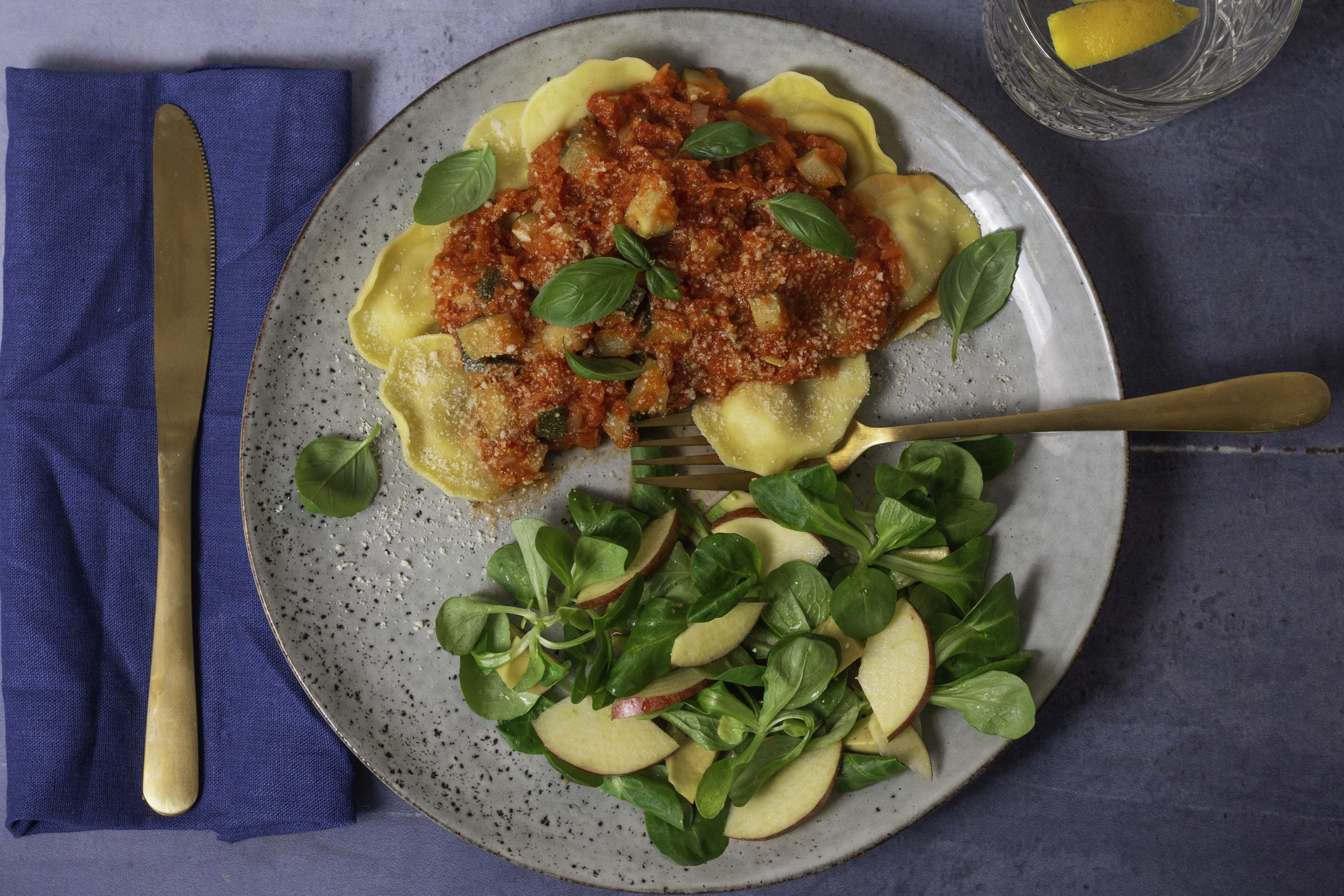 Ingredients
( 2 adults and 2 kids )
1

onion

1 clove

garlic

1

courgette

300 grams

carrots

*

1 can

chopped tomatoes

2 tbsp

red pesto

0.5 tbsp

dried oregano

500 grams

tortellini

grams

lettuce of your choice

1

avocado

0.5

lemon

1

apple

dressing of your choice

100 grams

grated cheese

salt

pepper

olive oil
ADD TO SHOPPING LIST
ADD TO MEAL PLAN
*
= Good to know - click the ingredient

= See the recipe - click the ingredient
Ravioli is delicious! But the homemade version is a bit more time consuming than is realistic in most busy families. So we've made an exception and whipped up a recipe with ready-made ravioli with homemade tomato sauce and an easy salad. Enjoy!
Directions
1. Finely dice the onion and garlic and sautée in olive oil in a small pot. Rinse and dice the courgette. Peel the carrots and grate on the fine side of a grater and add along with chopped tomatoes, pesto and oregano and bring the lot to the boil.
2. Cook the tortellini according to the packet.
3. Season the sauce to taste with salt and pepper and let simmer, while you cook the tortellini and prep the salad..
4. Rinse the lettuce. Halve the avocado, remove the stone and slice the flesh. Drizzle with some lemon to prevent it from browning. Rinse and cut up the apple. Mix the salad with a dressing of your choice.
5. Serve the tortellini in deep plates topped with tomato sauce, grated cheese, and an optional sprinkle of herbs. Do avoid herb sprinkles for kids younger than 3.
6. Enjoy!
Tip
Tasks for kids in the kitchen: Let your kids help cut the cougette. They can also peel and grate the carrots.
You can use whatever kind of grated cheese you prefer. But if you want things to be proper Italian, opt for the hard cheese, grana padano, sold in triangles in most supermarkets. You can also, if you really want to go all out, go for the real, proper parmesan.
Share your tips and comments