High five!
The recipe has been added to your shopping list.
Quick tomato soup with croutons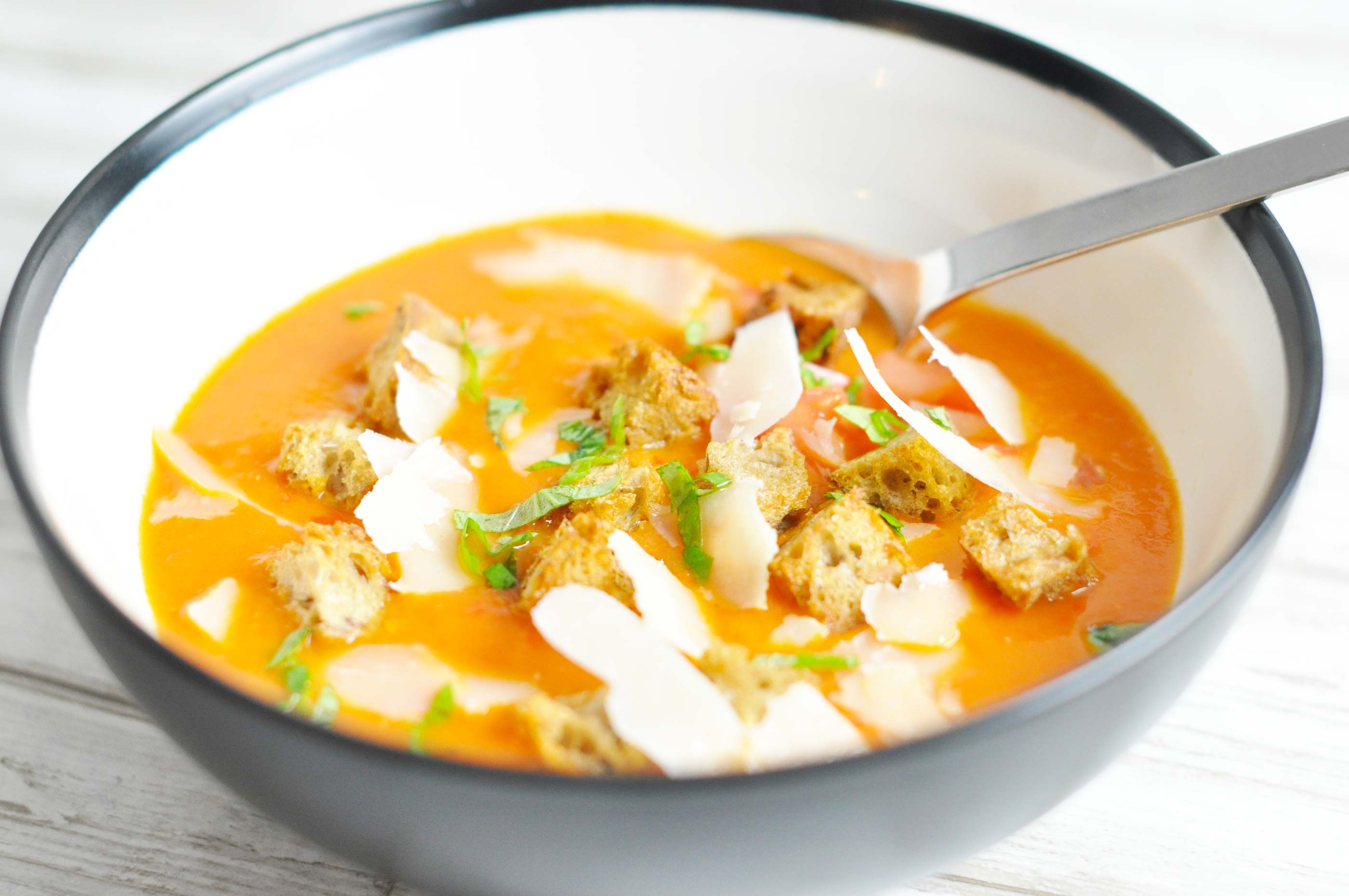 Ingredients
Freezer friendly
( 2 adults and 2 kids )
1

red bell pepper

1

onion

4

tomato

2 can

chopped tomatoes

300 ml

coconut milk

1 cube

chicken stock

400 ml

water

2 tsp

salt

2 tsp

cumin

1

wholewheat baguette

olive oil

pepper

parmesan flakes
ADD TO SHOPPING LIST
ADD TO MEAL PLAN
*
= Good to know - click the ingredient

= See the recipe - click the ingredient
Tomato soup is quick to make and super tasty. Here we've jazzed up the classic version with some coconut milk and yummy bread croutons on top. If you want the dish to be 100% vegetarian, swap the chicken stock for vegetable stock instead. Enjoy!
Directions
1. Preheat your oven to 200 degrees convection.
2. Wash the bell pepper and remove the seeds. Finely chop bell pepper and onion, wash and roughly dice the tomatoes, and sautée everything with some olive oil in a pot for a few minutes. Add chopped tomatoes, coconut milk, chicken stock, water, salt and cumin and bring to the boil. Let simmer for about 10 minutes and season with salt, pepper and if needed, more chicken stock or coconut milk to taste.
3. While the soup simmers, cut a quarter of the baguette into small cubes. Turn with some olive oil and season with salt and pepper. Bake for about 10 minutes, or until they're crispy and perfect. Turn during. Turn the heat down to 185 and warm the rest of the baguette. Serve the soup topped with croutons, parmesan flakes, and some herbs if you have any.
4. Enjoy!
Tip
You can absolutely buy grated cheese at the supermarket, but it's much cheaper to buy a solid piece of cheese and grate it at home - for flakes like these, a peeler does a perfect job.  If you like, you can opt for Grana Padano - it's not "real" parmesan, but it is the cheaper cousin and tastes almost like the real thing. You can absolutely freeze coconut milk, if you have some left over. Just pop it into an airtight container, and it's ready for the next time you need coconut milk.
Share your tips and comments