High five!
The recipe has been added to your shopping list.
Quick St. Martin's duck with potatoes and gravy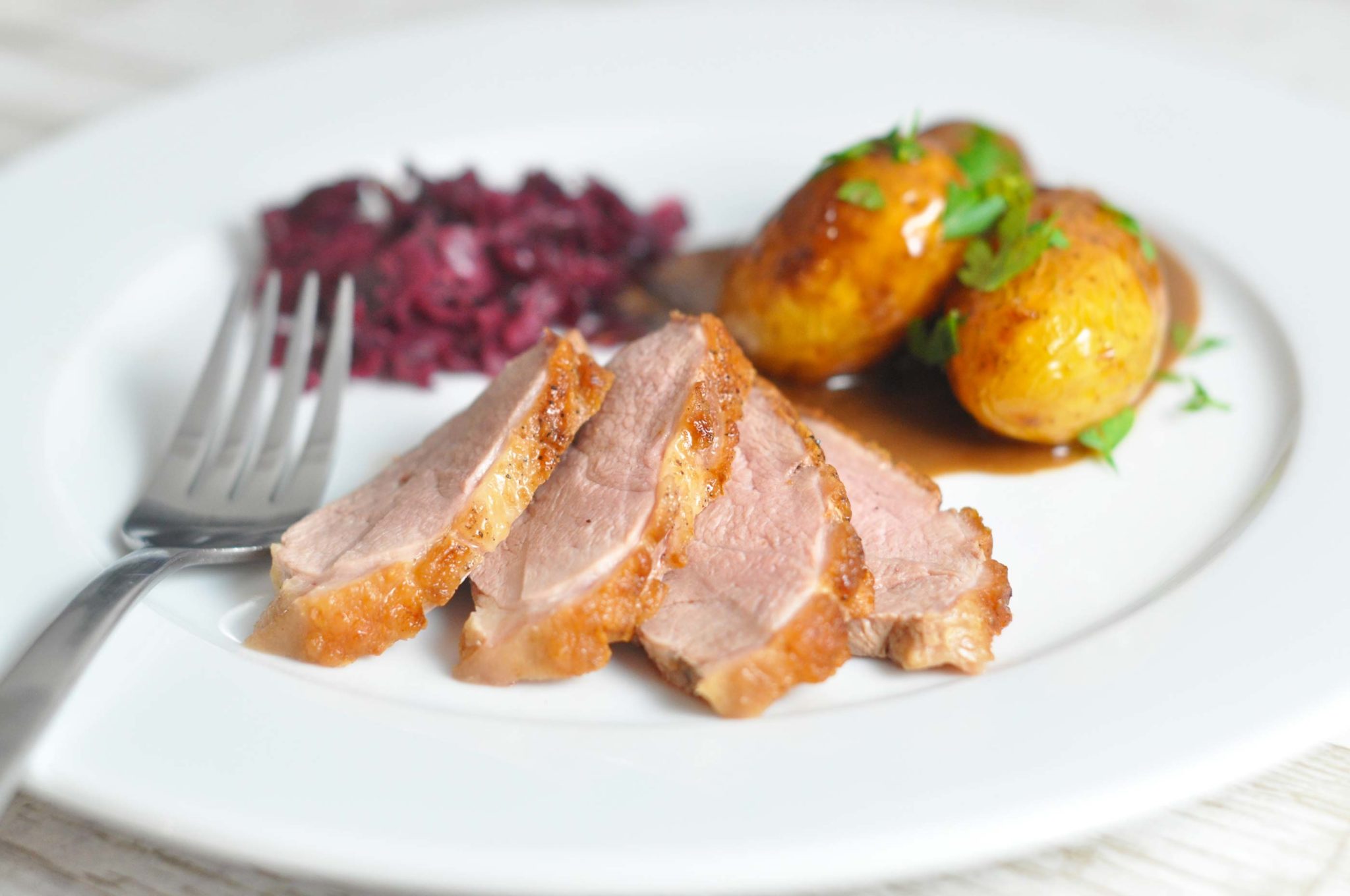 Ingredients
( 2 adults and 2 kids )
650 grams

baby potatoes

4

duck breast

400 ml

milk

1 cube

beef stock

2 tbsp

corn flour

0.5

organic lemon

gravy browning

pickled red cabbage

salt

pepper
ADD TO SHOPPING LIST
ADD TO MEAL PLAN
*
= Good to know - click the ingredient

= See the recipe - click the ingredient
St. Martin's Eve is a notably bigger deal in Denmark than here in the UK, we know – but any excuse to serve duck is a worthy occasion, we reckon! Here's our quick and easy recipe for the classic duck, potatoes and gravy (no sauce here!), using duck breasts to save time. If you want to try your hand at making proper nordic sugar browned potatoes, that recipe is included below. The dish is for two days – save the leftovers for peking duck on day two. Enjoy!
Directions
1. Preheat your oven to 185 degrees fan assisted and cook the potatoes in salted water until tender. If you're sugar browning the potatoes, pop them outside to cool, then scrape the skin off with a paring knife.
2. Score the fat on the duck breasts, season with salt and pepper and place on a cold, oven safe pan. Switch on the hob and let the breasts sear over medium heat for about 10 minutes – no flipping them until the skin is gorgeous and brown.
3. Now flip the duck breasts (watch out, it's likely to sputter a bit) and pop them in the oven, pan and all. Let cook in the oven for another 10-15 minutes or so, or until faintly pink at the centre. Then let rest uncovered on a cutting board. Remember to save the juices on the pan – and for Martin's sake, remember oven mitts!
4. Place the pan with juices back on the stove – WITH oven mitts on the handle! Add milk and stock cube and bring to the boil while stirring. Thicken the gravy little by little with corn flour stirred into a bit of water in a cup. Add gravy browning to your liking, and season with salt and pepper – and optionally, some lemon juice and honey.
5. If you want sugar browned potatoes, pop a nice scoop of sugar onto a cold pan and melt it over low heat. Be careful not to let it burn – which it will do sharpish if it can get away with it! Now add the butter and stir well. Once even, add the spuds and increase the heat slightly while gently stirring, to evenly disperse the sugar. After 5-10 minutes, the sugar will start to stick to the potatoes, and they'll be done.
6. Warm up the red cabbage, slice the duck breast and serve! Enjoy!
Share your tips and comments