High five!
The recipe has been added to your shopping list.
Quick ramen soup with chicken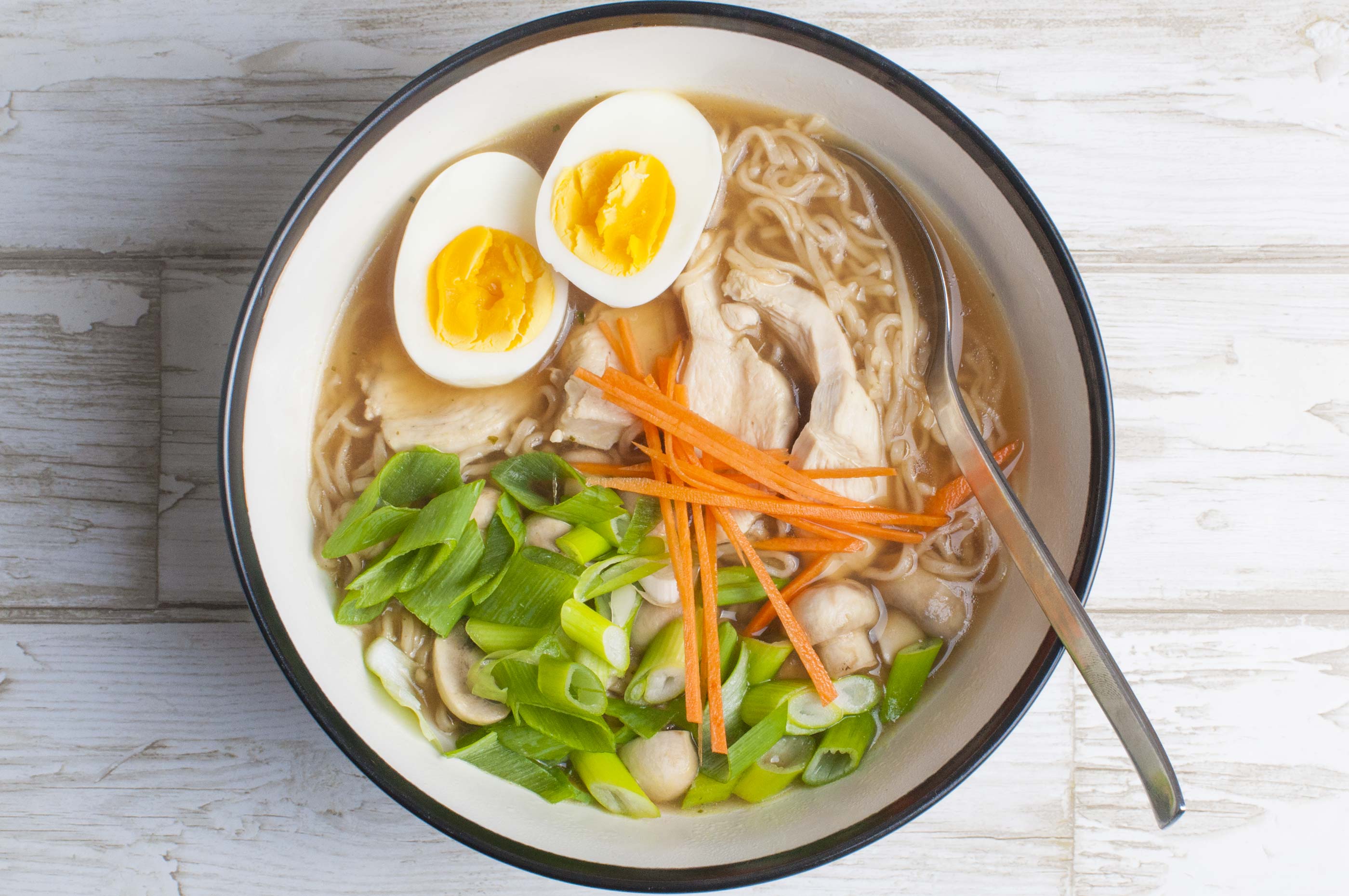 Ingredients
( 2 adults and 2 kids )
2 liter

water

2 cube

chicken stock

250 grams

mushrooms

4

spring onions

300 grams

chicken fillet

250 grams

wholewheat noodles

50 ml

soy

4

egg
ADD TO SHOPPING LIST
ADD TO MEAL PLAN
*
= Good to know - click the ingredient

= See the recipe - click the ingredient
Do your kids love Cup Noodles too? You know, the instant noodles from the shop that you just pour boiling water on? Ours sure do. Even if we don't love to admit it..! But we've found the solution: Our very own homemade version. Also known as ramen. Here with chicken, spring onion, carrots and egg. Yum - and enjoy!
Directions
1. Pour the water into a large pot with crumbled stock cubes. Switch on the hob to full power and bring the water to the boil. Sort out the veggies meanwhile.
2. Clean and rinse the mushrooms and spring onions. Halve the mushrooms and chop the spring onions into bite-sized diagonal chunks. Save some of the green tops for garnish. Set both aside.
3. Cut the chicken into thin strips. Once the water boils, add the chicken and let it simmer for 5-10 minutes, until almost cooked through - depending on thickness. Add mushrooms and noodles and cook for another five or so minutes, until the noodles are cooked.
4. Add soya to taste, and optionally some more stock. Finally add spring onion. Be aware that spring onion can be a bit strong for smaller kids, so make sure you chop the pieces big enough that they can be picked aside.
5. ..And if there's kissing couples in the family, we would advise solidarity, so that both parties either eat spring onions - or don't..!
6. Serve in bowls or deep plates with half a peeled egg for each, and optionally some spring onion tops to garnish. Do avoid herb sprinkles for kids younger than 3.
7. Enjoy!
Share your tips and comments