High five!
The recipe has been added to your shopping list.
Quick prawn noodles in sweet and sour sauce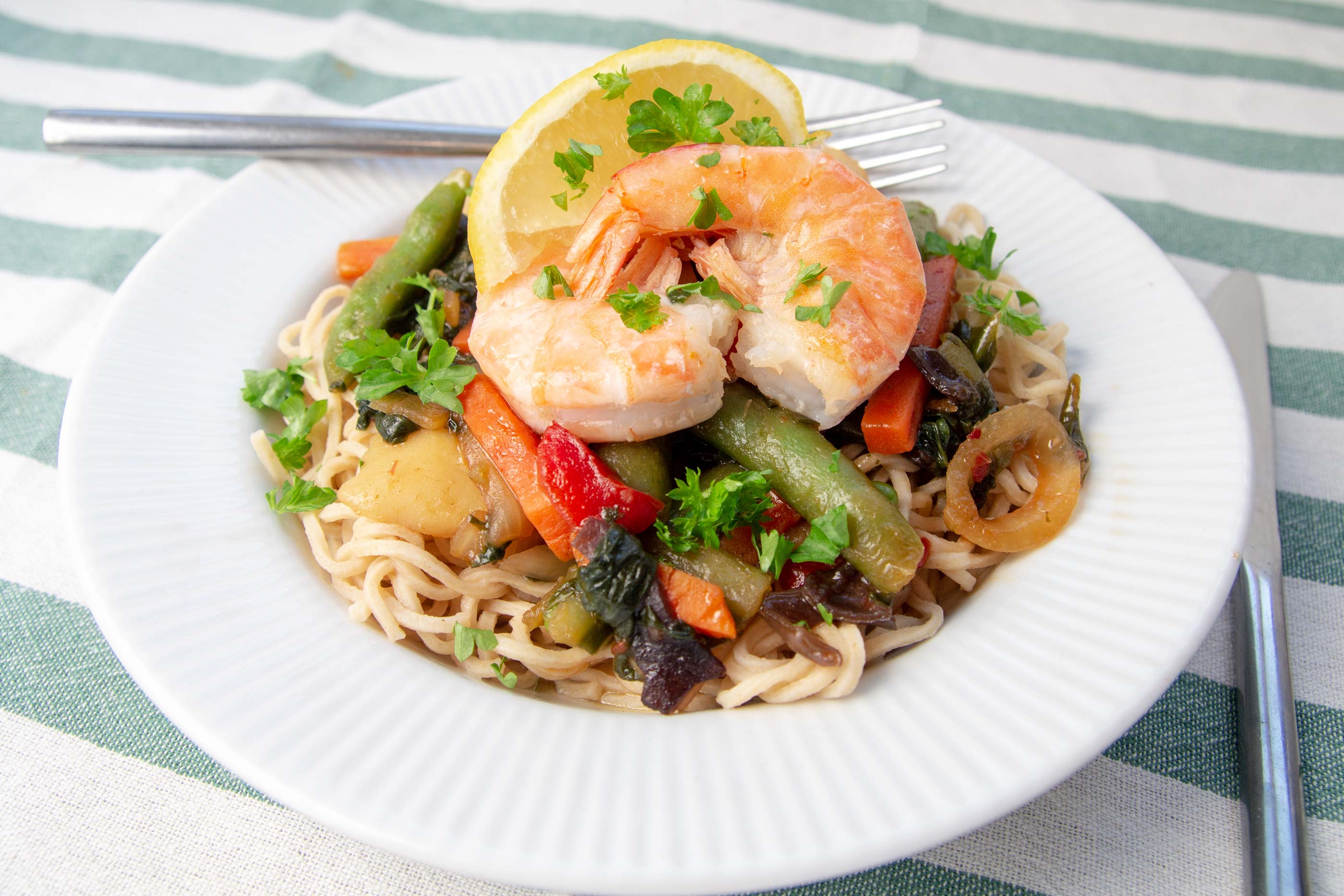 Ingredients
( 2 adults and 2 kids )
wholewheat noodles

25 ml

soy sauce

1 tbsp

red curry paste

3 tbsp

brown sugar

3 tbsp

vinegar

100 ml

water

450 grams

frozen wok mix

0.5 head

pointed cabbage

200 grams

large prawns

1 clove

garlic

1

lemon

olive oil
ADD TO SHOPPING LIST
ADD TO MEAL PLAN
*
= Good to know - click the ingredient

= See the recipe - click the ingredient
Here at Mambeno we LOVE wok dishes, and so do our kids. Here's a super easy and quick wok dish with frozen wok mix, noodles, garlic fried prawns and sweet and sour sauce. Enjoy!
Directions
1. Cook the noodles according to the packet.
2. Whisk soy sauce, curry paste, brown sugar, vinegar and water in a small saucepan. Bring to the boil and let simmer for about five minutes, until thickened slightly. Have a taste - it should be half sweet, half sour (as the name suggests).
3. Fry the frozen veggies in some olive oil in a large pot or wok - watch out for sputtering when the frozen veg hits the hot oil. Fry while stirring for 3-5 minutes.
4. Cut pointed cabbage into strips, add to the wok and cook for another 5 or so minutes.
5. Flash fry the prawns with pressed garlic in some olive oil on a pan, until the prawns firm up.
6. Mix veggies with sweet and sour sauce and noodles, and season to taste with soy sauce.
7. Serve in deep plates with prawns and a slice of lemon on top.
8. Enjoy!
Tip
Tasks for younger kids in the kitchen: Let your kids help stir the wok. They can also help fry the prawns and set the table.
Share your tips and comments