High five!
The recipe has been added to your shopping list.
Quick pizza with turkey salami and mushrooms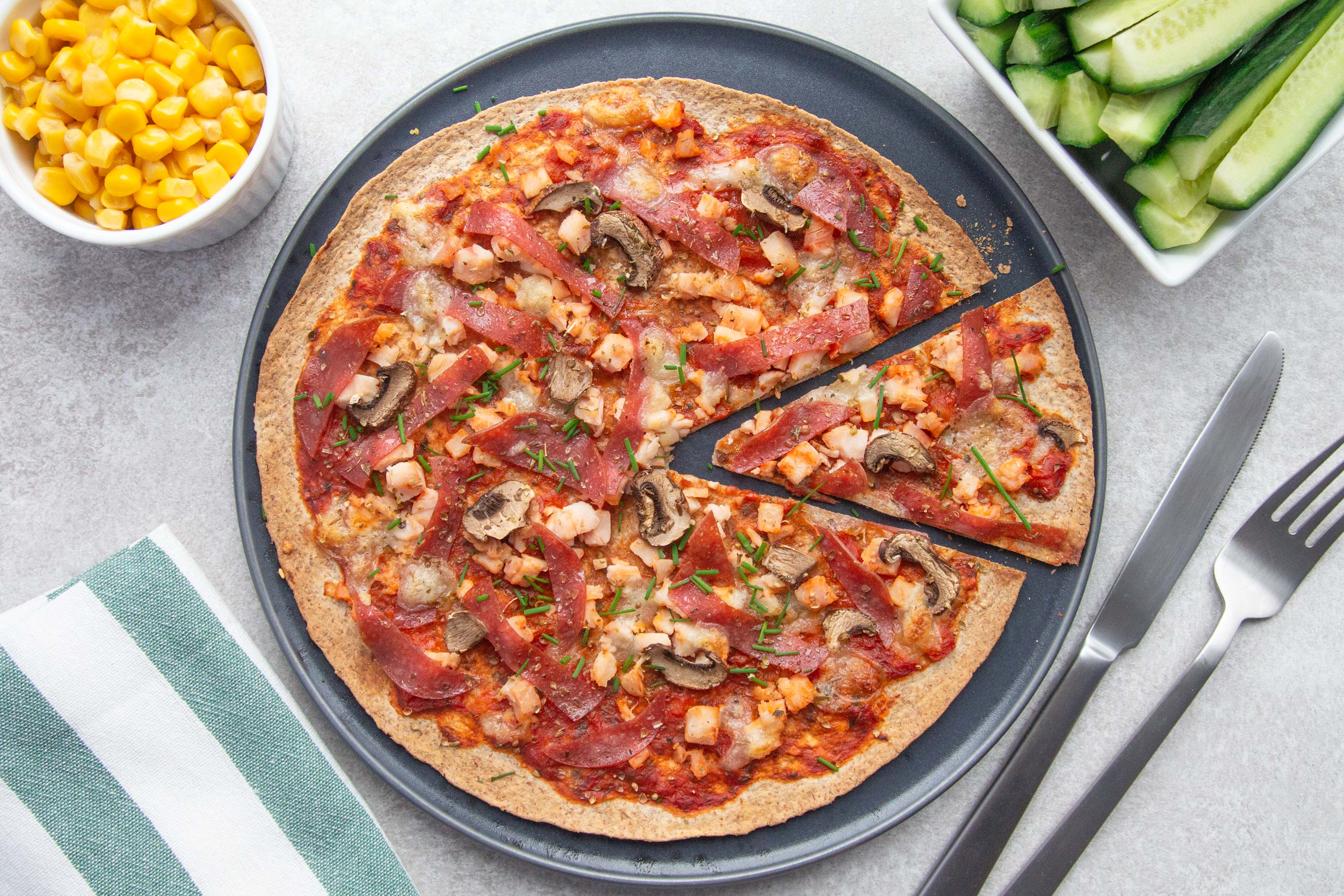 Ingredients
Freezer friendly
( 2 adults and 2 kids )
100 grams

mushrooms

90 grams

turkey salami

2 ball

mozzarella

8

wholewheat tortillas

280 grams

pizza sauce

150 grams

diced chicken

0.5 tbsp

dried oregano

0.5

cucumber

285 grams

loose sweetcorn

baking parchment
ADD TO SHOPPING LIST
ADD TO MEAL PLAN
*
= Good to know - click the ingredient

= See the recipe - click the ingredient
Yay, an easy and super yummy round of dinner - we're making pizzas out of tortilla bases, and topping it with chicken and turkey salami. If you have kids who have a cooking day, we've made this recipe extra easy for your kids to make. Enjoy!
Directions
1. Preheat your oven to 250 degrees fan-assisted.
2. Rinse and slice the mushrooms. Cut the turkey salami into strips. Rip the mozzarella into small chunks and set aside for later.
3. Pop the tortillas on separate oven trays lined with baking parchment, or on a single tray if there's room - we suggest making two at a time, and reusing the baking parchment.
4. Spread a thin layer of pizza sauce onto each tortilla. Keep the outermost centimetre bare. And be careful not to use too much sauce - it'll make the pizzas soggy.
5. Spread mushrooms, diced chicken and turkey salami onto the tortillas. Top with mozzarella and oregano. Again, remember not to put too much on, as the tortilla bases get soggy quite easily. Now bake the pizzas for 10-15 minutes, until golden and crispy.
6. Meanwhile, rinse the cucumber. Halve it lengthways, place on a cutting board (flat side down) and cut into sticks. Drain the water from the sweetcorn and place in a small bowl.
7. Serve the tasty speedy pizzas with cucumber and sweetcorn - and enjoy!
Tip
Tasks for kids in the kitchen: Let your kids help slice the mushrooms, rip the mozzarella and cut the turkey salami. They can also sauce the bases and add the toppings, just as they can cut cucumber for snack veggies. Basically, they could do it all..!
Share your tips and comments