High five!
The recipe has been added to your shopping list.
Quick noodle soup with veggies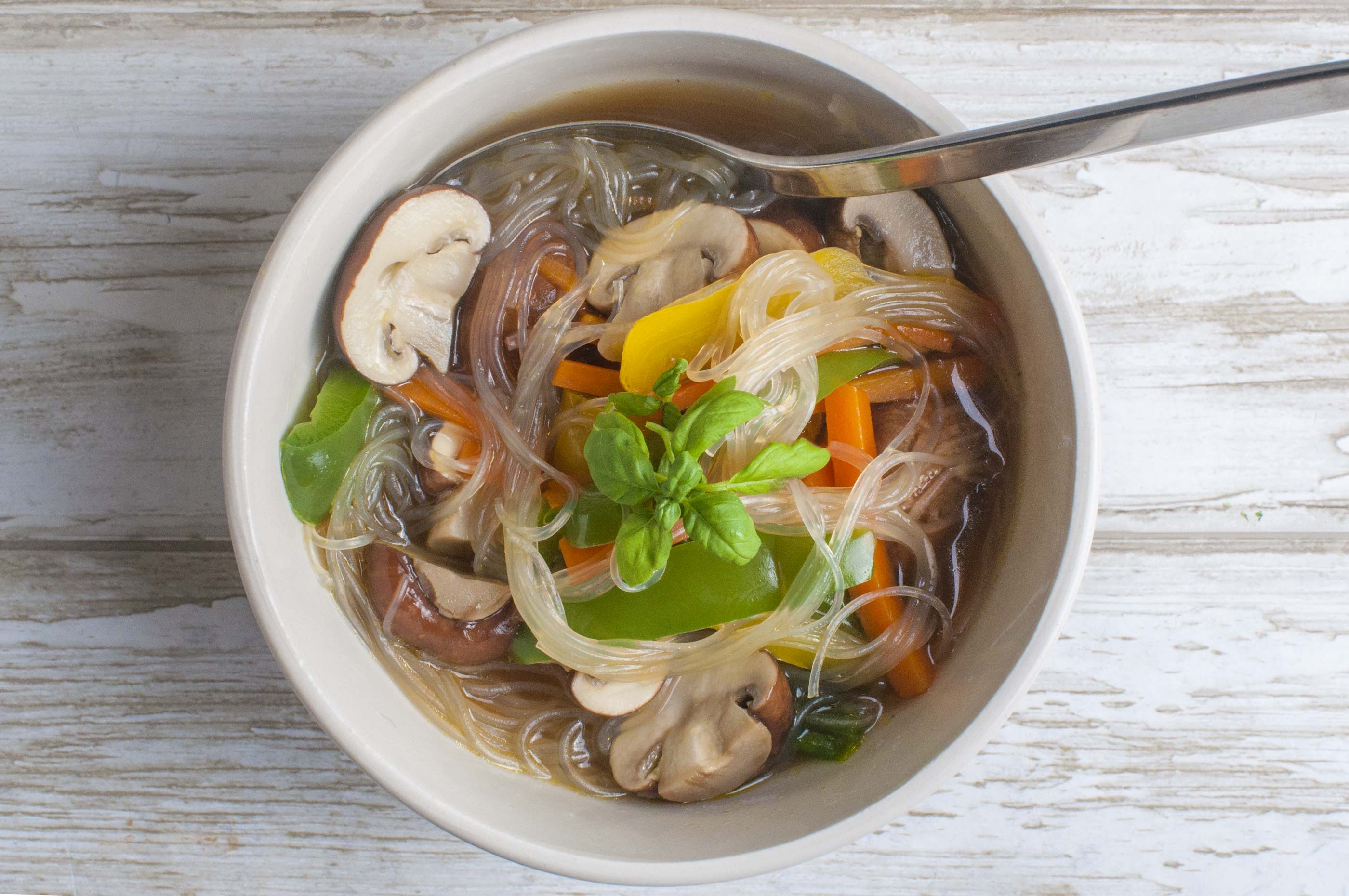 Ingredients
Freezer friendly
( 2 adults and 2 kids )
1.5 litre

water

2 cube

chicken stock

250 grams

mushrooms

300 grams

carrots

*

1

green bell pepper

1

yellow bell pepper

4 tbsp

soy

2 tbsp

oyster sauce

1

lime

100 grams

wholewheat noodles

1

wholewheat baguette
ADD TO SHOPPING LIST
ADD TO MEAL PLAN
*
= Good to know - click the ingredient

= See the recipe - click the ingredient
This is the recipe for the easiest noodle soup chock full of veg ever! It's super easy to make and absolutely delicious. You can swap the veggies for whichever ones you fancy. Enjoy!
Directions
1. Preheat your oven to 200 degrees convection.
2. Boil water and crumbled stock cubes in a pot and warm the baguette.
3. Wash and clean the mushrooms and halve them. Peel the carrots and cut into thin sticks. Rinse and clean the bell peppers and cut them into strips.
4. Add the mushrooms to the soup (they need a bit longer than the other veggies, and let simmer for a few minutes, until the stock cubes are fully dissolved.
5. Add soy and oyster sauce and add a small bit of lime juice to taste. Add more soy and oystersauce if you see fit. You can also throw in another stock cube, if you want an even stronger soup.
6. Add the rest of the veggies and noodles and heat the soup back up. Let it simmer until the noodles and veggies are just about tender - be careful not to overcook it, as the veggies will go soggy and the noodles sticky. Take the soup off the heat just before the noodles are fully cooked - then they'll be perfect when they hit the table.
7. Serve the piping hot soup with some wholewheat bread for dipping, and a bit of extra soy for those who fancy it.
8. Enjoy!
Tip
You can also try using bamboo shoots or water chestnuts, typically found by the can in most supermarkets. Both of these are also absolutely delicious, and will give a bit more of an exotic flavour.
Share your tips and comments