High five!
The recipe has been added to your shopping list.
Quick apple marmalade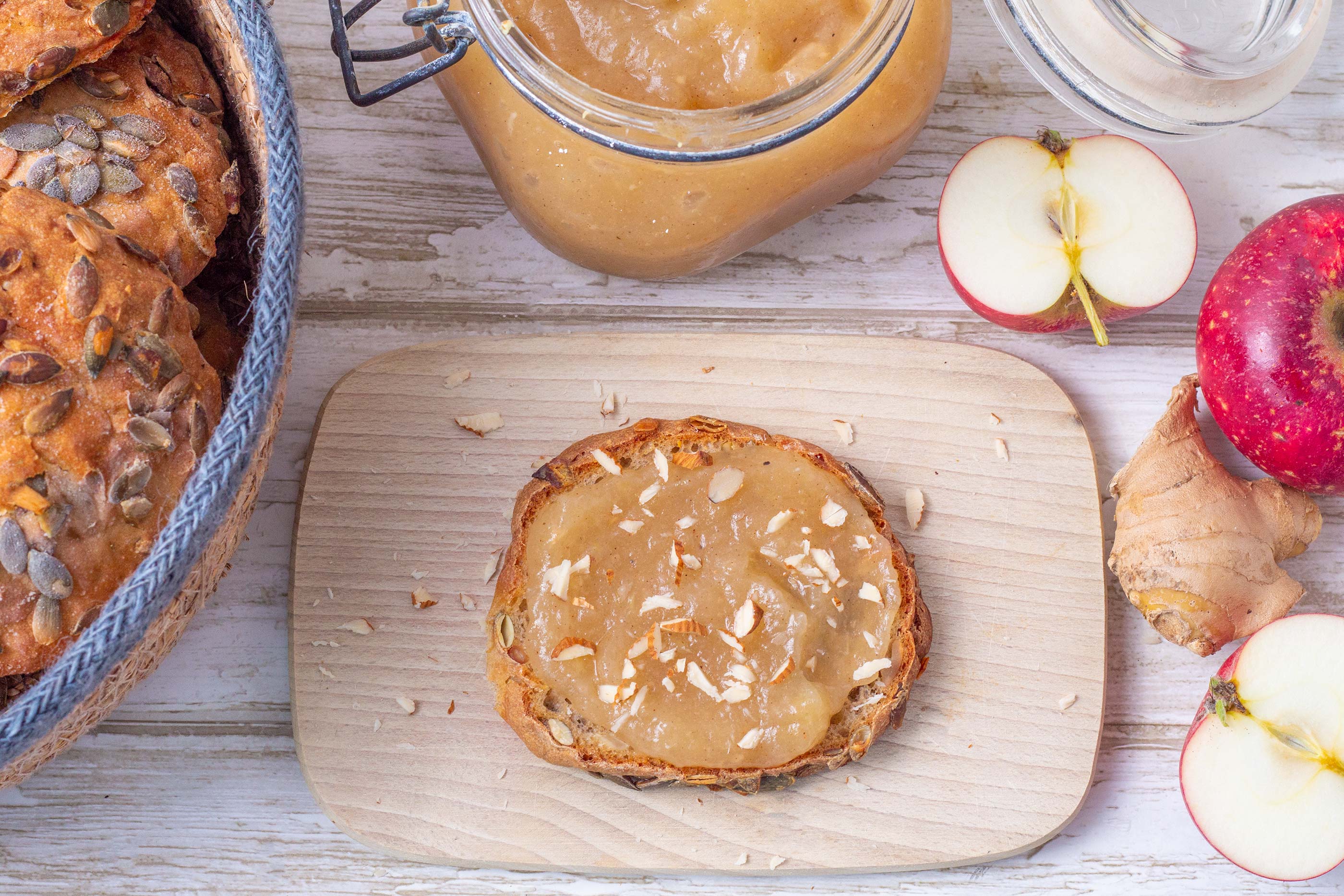 Ingredients
( 2 adults and 2 kids )
500 grams

apples

1 cm

fresh ginger

200 grams

sugar

50 ml

water

1 tsp

vanilla sugar

1 tsp

ground cinnamon

food preservative

- also known as sodium benzoate

jam jar

- or mason jar
ADD TO SHOPPING LIST
*
= Good to know - click the ingredient

= See the recipe - click the ingredient
This apple marmalade is super easy to make and tastes delicious. You can either use apples from your garden or buy a bag of nice and flavourful apples from the supermarket. Enjoy!
Directions
1. Peel the apples, remove the cores and cut the apple into smaller pieces. Peel and grate the ginger on the fine side of a grater.
2. Boil the apple in a pot with the lid on along with sugar, water, vanilla sugar, cinnamon and ginger, until the consistency is like thin marmalade - it will thicken as it cools. This takes about 15 minutes. If the marmalade gets too thick or firm, add a dash more water.
3. Optionally, add the food preservative according to the packet, if you want the marmalade to be long lasting. Otherwise simply pour the marmalade into jam jars which have been boiled off. Close the jars and leave to cool.
4. Enjoy!
Tip
If you like, you can add a bit of food preservative to the marmalade, so it lasts longer in the fridge. But often it'll do to just boil off the jam jars and storing the marmalade in the fridge. It'll happily last a few weeks - and believe us, it'll get eaten quick!Tasks for kids in the kitchen: Let the kids cut the peeled apples into smaller pieces. We recommend using a safety knife of some kind, to keep the little fingers safe!If you won't use all of the apples for the marmalade, we've come up with some tips on how to store or make use of your apples. Read more here.
Share your tips and comments