High five!
The recipe has been added to your shopping list.
Chicken and broccoli quiche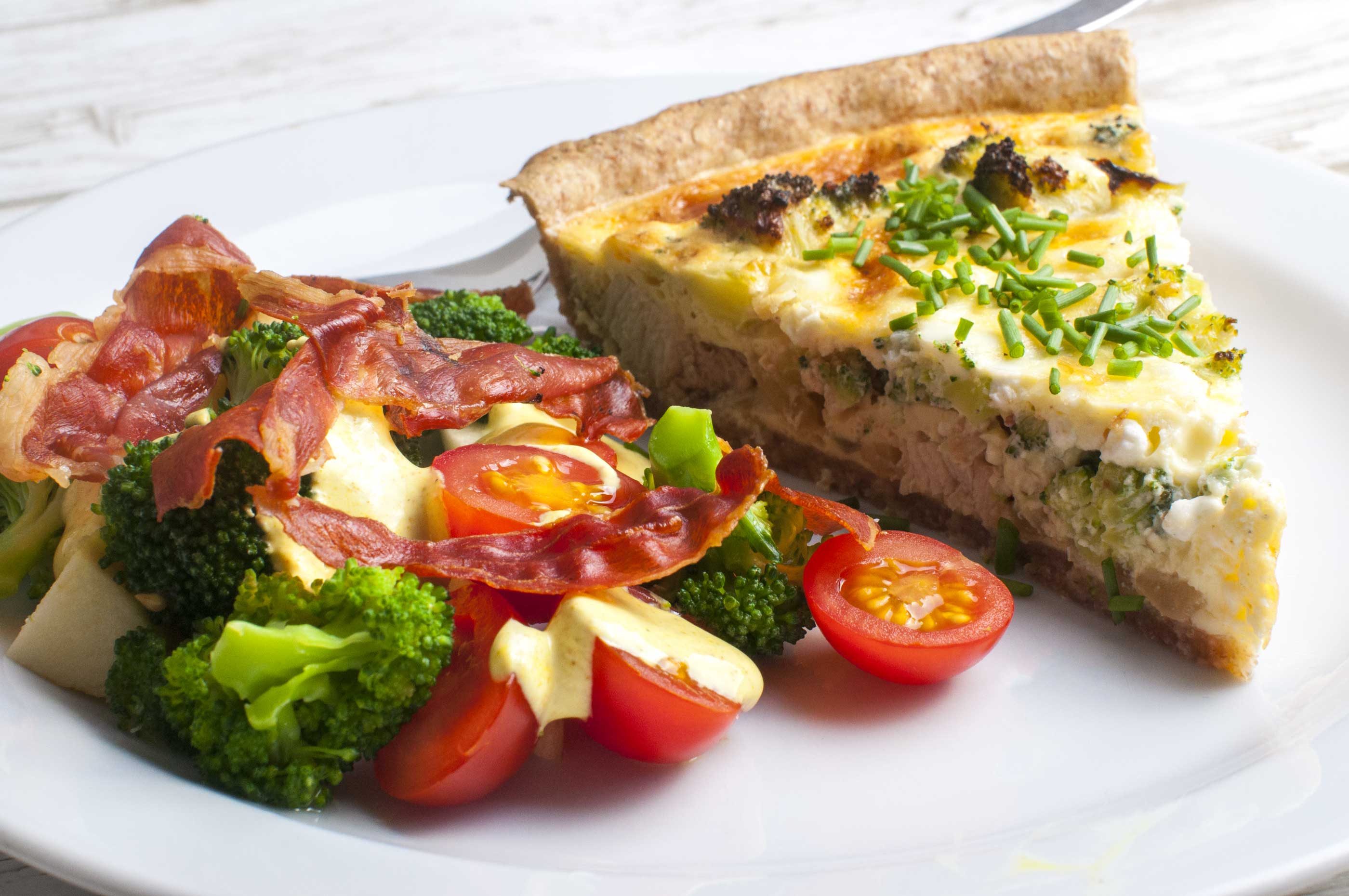 Ingredients
Freezer friendly
( 2 adults and 2 kids )
shortcrust pastry

0.75 head

broccoli

1

onion

10

cherry tomatoes

100 grams

parma or serrano ham

250 grams

chicken fillet

4

egg

100 ml

milk

200 grams

cottage cheese

50 grams

grated cheese

1 tsp

salt

1

apple

dressing of your choice

pepper

olive oil

baking parchment
ADD TO SHOPPING LIST
ADD TO MEAL PLAN
*
= Good to know - click the ingredient

= See the recipe - click the ingredient
A delicious, crispy quiche filled with chicken, broccoli, parma ham, and an egg filling made with cottage cheese. You can buy a ready-made shortcrust pastry at the supermarket, or simply click the little chef's hat in the ingredient list to make your own wholewheat version following our easy recipe, if you have a bit of time to spare. Enjoy!
Directions
1. Preheat your oven to 200 degrees convection, and bring a pot of water to the boil for the broccoli. Place the shortcrust pastry in an oiled or buttered quiche tin, spreading the pastry the whole way up the sides. Use a fork to poke holes across the bottom of the pastry, to stop it from bubbling up. Bake the pastry for 10 minutes and take it out of the oven.
2. Cut the broccoli into florets, and give them 30 seconds to a minute in rolling boiling water. Immediately rinse them with cold water and let cool.
3. Finely chop the onion. Rinse the cherry tomatoes and halve them. Cut three quarters of the ham into strips - place the remainder on a baking tray covered with baking parchment, and bake for about 10 minutes until crispy. Save the crispy ham for salad topping.
4. Slice the chicken into thin strips. Take care to wash your hands and kitchen tools afterwards. Sautée onion, chicken, and ham strips with a bit of olive oil in a pan. Don't forget to season with salt and pepper.
5. Spread the mix across the pastry along with a handful of blanched broccoli florets - save a bit of broccoli for the salad. If the kids aren't massive fans of broccoli, consider keeping the broccoli to one half of the quiche.
6. Mix eggs, milk, cottage cheese, grated cheese and salt in a bowl and pour over the quiche.
7. Bake the quiche at 200 degrees convection for approx. 30 minutes - or until the filling has stiffened and the quiche has a lovely, golden crust.
8. Serve the quiche with a quick salad of broccoli, cherry tomatoes and diced apple, and top with the crispy ham and a bit of dressing.
9. Enjoy!
Share your tips and comments