High five!
The recipe has been added to your shopping list.
Pumpkin soup with carrots and coconut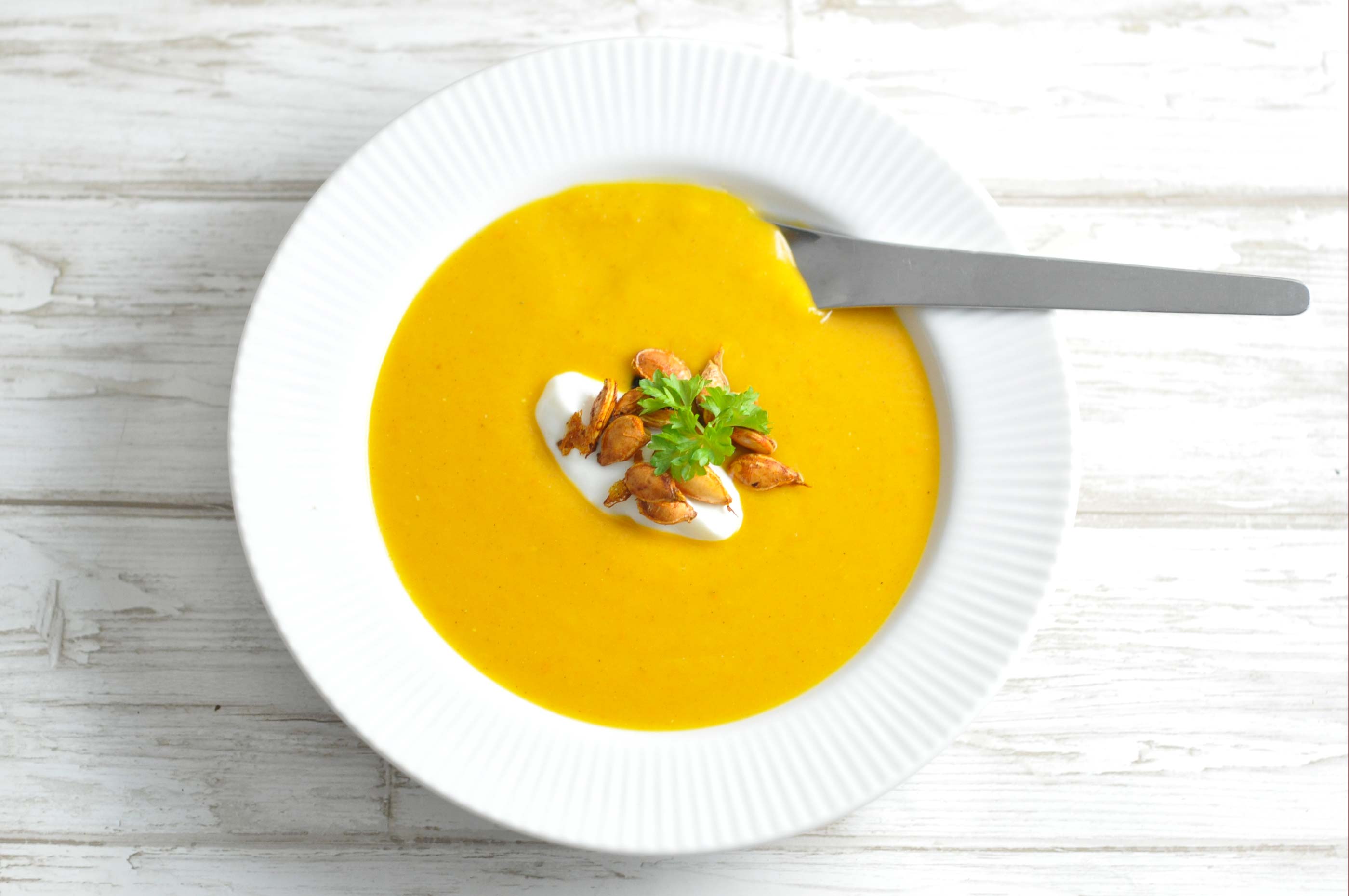 Ingredients
Freezer friendly
( 2 adults and 2 kids )
2

onion

525 grams

carrots

*

0.5

cucumber

0.5

hokkaido pumpkin

1 tsp

cinnamon

700 ml

water

1 cube

chicken stock

300 ml

coconut milk

50 ml

single cream

0.5

lemon

100 ml

skyr

*

50 grams

pumpkin seeds

1

wholewheat baguette

salt

pepper

olive oil
ADD TO SHOPPING LIST
ADD TO MEAL PLAN
*
= Good to know - click the ingredient

= See the recipe - click the ingredient
Pumpkin soup is super tasty! And as pumpkins are usually a bit too big to use up in one go, making soup is the perfect way to make use of any leftovers. We're pretty chuffed with this version, finished with coconut milk. If you want to make the dish 100% vegetarian, replace the chicken stock with vegetable stock. Enjoy!
Directions
1. Roughly dice the onion and just about half the carrot. Cut the rest of the carrots and the cucumber into sticks for snack veg. Thoroughly wash the pumpkin. Use a spoon to scoop out the seeds and roughly dice the pumpkin.
2. Sear pumpkin, carrots, onion and cinnamon in a good dash of olive oil in a pot on even heat for a few minutes. Add water and stock cube and bring to the boil. Let simmer for approx. 20 minutes, or until pumpkin and carrots are completely tender. Blend the soup with a hand blender or in a regular blender.
3. Add coconut milk and cream and season with some lemon juice, salt and pepper - and if needed, throw in another half of a stock cube. If the soup is too thick, just add a bit of water. Serve the soup with a dollop of skyr and roast pumpkin seeds on top, alongside snack veggies and the wholewheat baguette.
4. Enjoy!
Tip
You'll only need half a hokkaido pumpkin. The other half you can save in the fridge. You can absolutely freeze coconut milk, if you have some left over. Just pop it into an airtight container, and it's ready for the next time you need coconut milk. Do remember to never fill the blender more than halfway when blending hot liquids, as they can "explode" when the blender is switched on. Start slow and carefully turn up the speed. Cover with a dishtowel instead of the lid. If you don't have a blender, just use a handblender directly in the pot. But give it a proper go! You want the soup as smooth and lump-free as possible.
Share your tips and comments