High five!
The recipe has been added to your shopping list.
Potato and leek soup with parma ham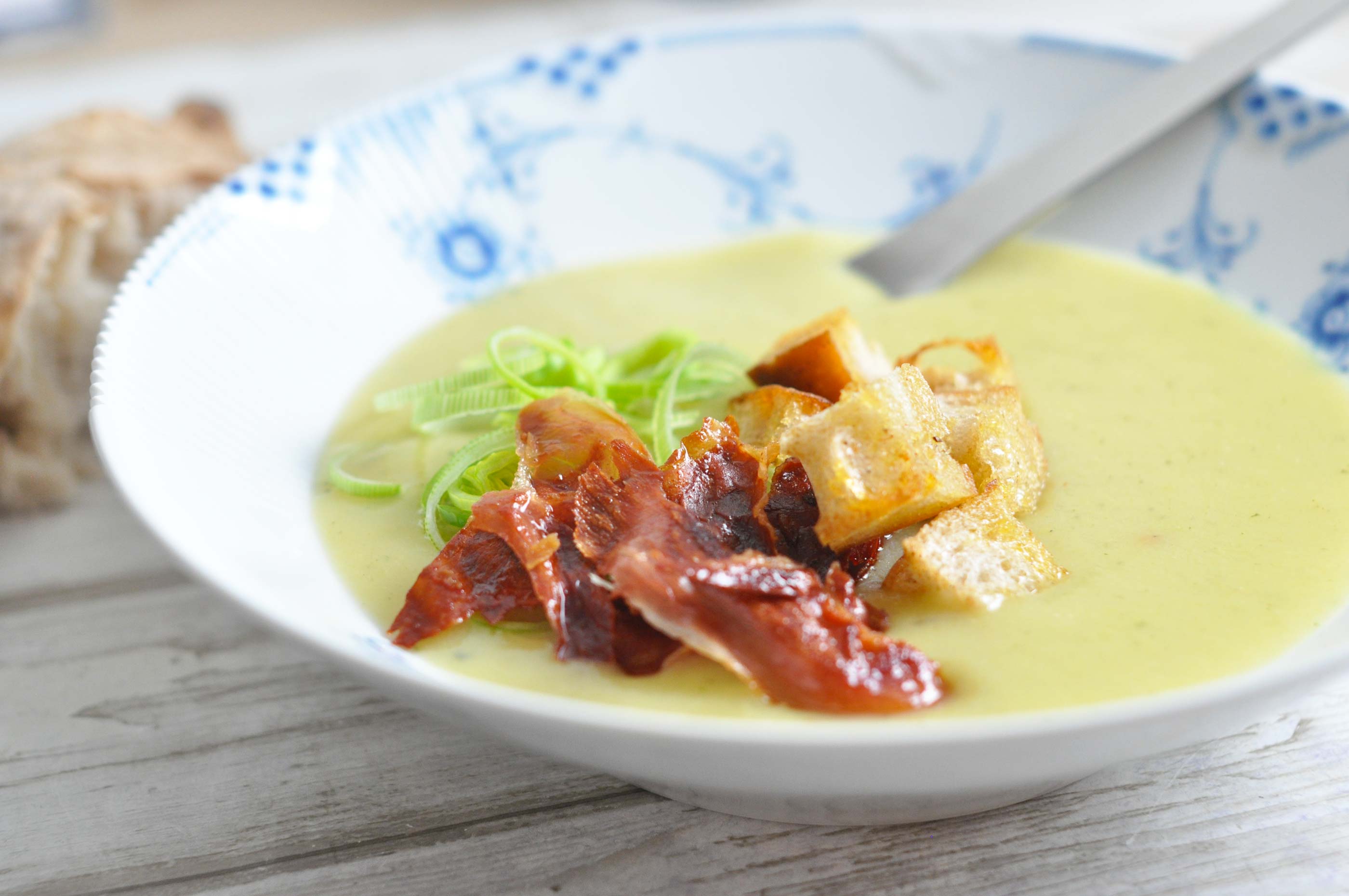 Ingredients
Freezer friendly
1

onion

3

leek

500 grams

potatoes

2 tsp

dried thyme

1 litre

water

1 cube

vegetable stock

1

wholewheat baguette

100 ml

single cream

0.5

lemon

70 grams

parma or serrano ham

baking parchment

salt

pepper

olive oil
ADD TO SHOPPING LIST
ADD TO MEAL PLAN
*
= Good to know - click the ingredient

= See the recipe - click the ingredient
Soups are amazing - and great for sneaking some extra veggies into the kids. Here's the recipe for our delicious potato and leek soup, topped with homemade croutons. If you prefer a vegetarian version, simply leave out the parma. Enjoy!
Directions
1. Preheat your oven to 200 degrees convection.
2. Finely chop the onion. Thoroughly wash the leeks and remove tops and bottoms. Check if there's any sneaky dirt hiding in between the leaves (roughly how you scour the kids' rooms for missing socks). Cut the leeks into rings, and peel and dice the potatoes.
3. Sautée onion and leek with a bit of olive oil in a pot. You don't want to brown them, just to cook down slightly and get nice and fragrant. Add potatoes, thyme, water and stock cube and bring to the boil. Let simmer for 15-20 minutes until the potatoes are tender when poked with a fork.
4. While the soup simmers, cut a quarter of the baguette into croutons. Toss with a bit of olive oil and season with salt and pepper, and pop them on a baking parchment-covered baking tray. Bake for about 10 minutes, or until they're nice and crunchy. Flip during cooking. Turn the heat down to 185 and warm the rest of the baguette.
5. Blend the soup smooth with a handblender or chuck it into a regular blender. Remember never to fill the blender more than halfway when blending hot liquids, as they can "explode" when the blender is turned on. We recommend covering the blender with a dishtowel rather than the lid. Add the cream and bring the soup back to the heat. Add salt, pepper, lemon juice and a dash of honey to taste. You can also add more stock, if you feel it's needed.
6. Cook the parma until crisp in a pan - or put it on a baking tray with the croutons and crisp it in the oven. Serve the soup topped with parma ham and croutons, and wholewheat baguette for dipping. Enjoy!
Tip
If you have leftover leeks, you can cut it into rings, sautée on a pan and use in a tasty salad which makes a great side for meat dishes.
Share your tips and comments