High five!
The recipe has been added to your shopping list.
Pork roast with root veggies, gravy and salad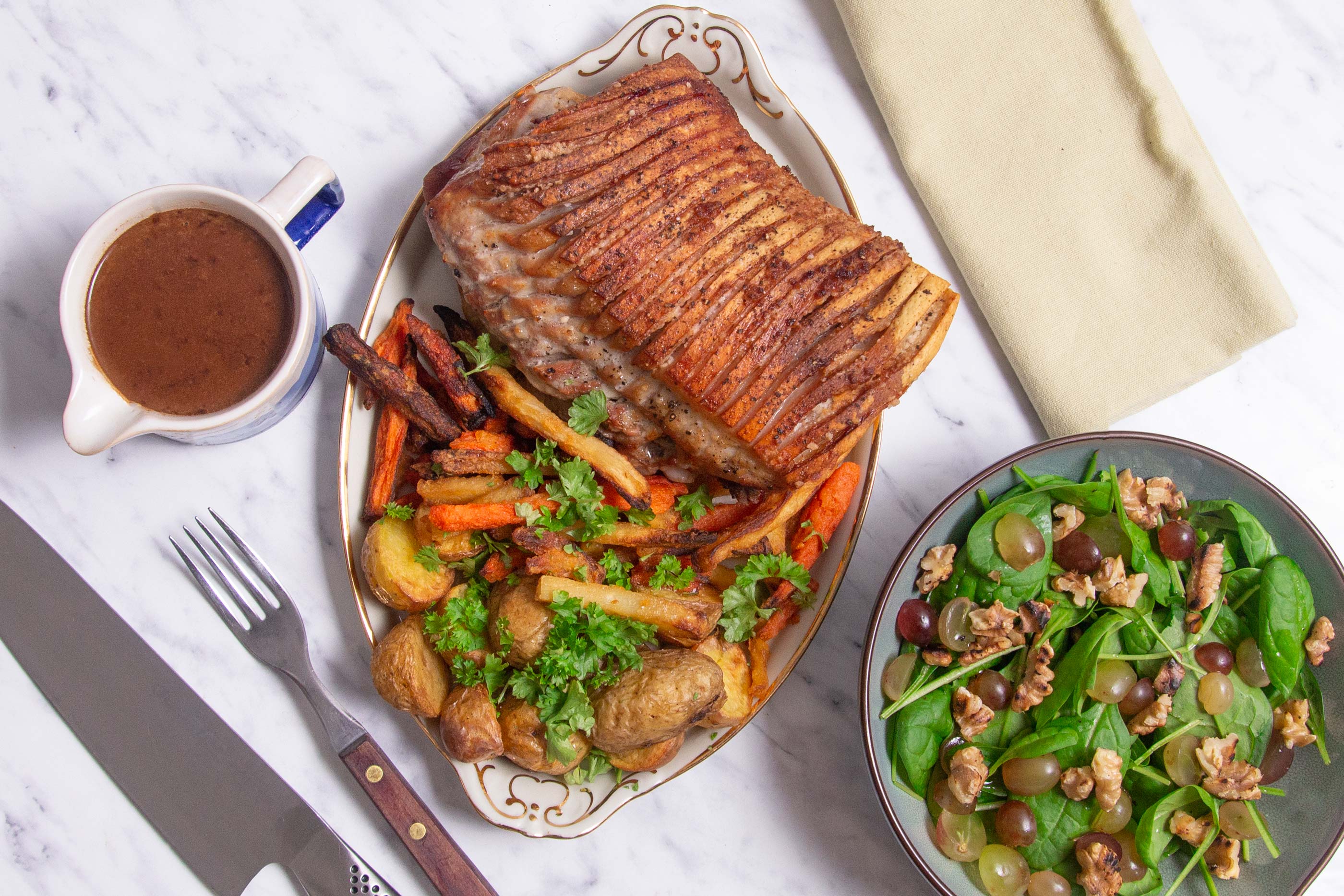 Ingredients
( 2 adults and 2 kids )
1.5 kg

pork roast

600 grams

baby potatoes

450 grams

frozen root vegetables

200 ml

milk

40 grams

walnuts

200 grams

seedless grapes

70 grams

fresh spinach

*

baking parchment

sea salt

corn flour

gravy browning

dressing of your choice
ADD TO SHOPPING LIST
ADD TO MEAL PLAN
*
= Good to know - click the ingredient

= See the recipe - click the ingredient
A pork roast is great for Christmas dinner, and is, along with duck, traditionally served for Christmas dinner in Denmark. That being said, it is of course absolutely delicious every other day of the year, too! We're serving this pork roast with roast potatoes, root veggies and a yummy salad. Oh, and of course: Gravy! This dish takes a bit longer to make than usual, but it means easy dinner tomorrow - so remember to save half of the roast for juicy pork roast burgers tomorrow. Enjoy!
Directions
1. Score the fatty side of the roast all the way through - but not down to the meat. Preheat your oven to 185 degrees convection. Place the roast crackling side down in a baking tray, and add water to cover, about a centimetre or two. Start by giving the roast 25 minutes.
2. Clean potatoes and root veggies and pop on a baking tray with baking parchment. Mix with a dash of olive oil and set aside.
3. Remove the tray with the roast from the oven, and flip it, so the future crackling is facing up - leave the water in. Pat the crackling dry with some kitchen roll, and rub it with sea salt. Make sure you season in between every scored section. You want the top level of the roast to be as even as possible. If it's a bit crooked, use some tin foil under the bottom to straight it out. Crank the oven up to 200 degrees and let cook for another 50 or so minutes, or until its centre temperature is around 65 degrees.
4. Wait just shy of 10 minutes, then pop potatoes and root veg in the oven. Bake until golden and crispy at the bottom of the oven - about 30-40 minutes, so they should be ready at the same time as the roast.
5. After about 50 minutes, switch on the ovens grill setting, and leave the oven door ajar. It's best to keep a constant, watchful eye at this point, as things are taking shape very quickly. The crackling will crisp up, but be careful not to let it blacken. As soon as the crackling is evenly crispy, remove the roast from the oven and let it rest on a cutting board. Save the roasting juices.
6. Now for the gravy: Pour the roasting juices into a pot and heat it up. Add milk and thicken with corn flour stirred into water. Add a bit of gravy browning and season with salt and pepper. There's plenty of flavour in the roasting juices, but if you're after more, add some stock cube.
7. If your crackling unexpectedly hasn't crisped, slice off the whole thing in a single piece, and place it on a baking tray. Give it a quick whirl under the oven's grill setting - but DO keep an eye on it. Things happen very fast here!
8. Roast walnuts on a pan and let cool on a plate. Rinse and halve the grapes. Mix rinsed spinach with walnuts, grapes and dressing of your choice. Serve the roast with roast root veggies, potatoes, salad and gravy - and enjoy!
Tip
Tasks for kids in the kitchen: Let your kids help halve the grapes. They can also make the gravy and help with tasting.
Share your tips and comments