High five!
The recipe has been added to your shopping list.
Pork chops with waffle fries and fried apples – for two days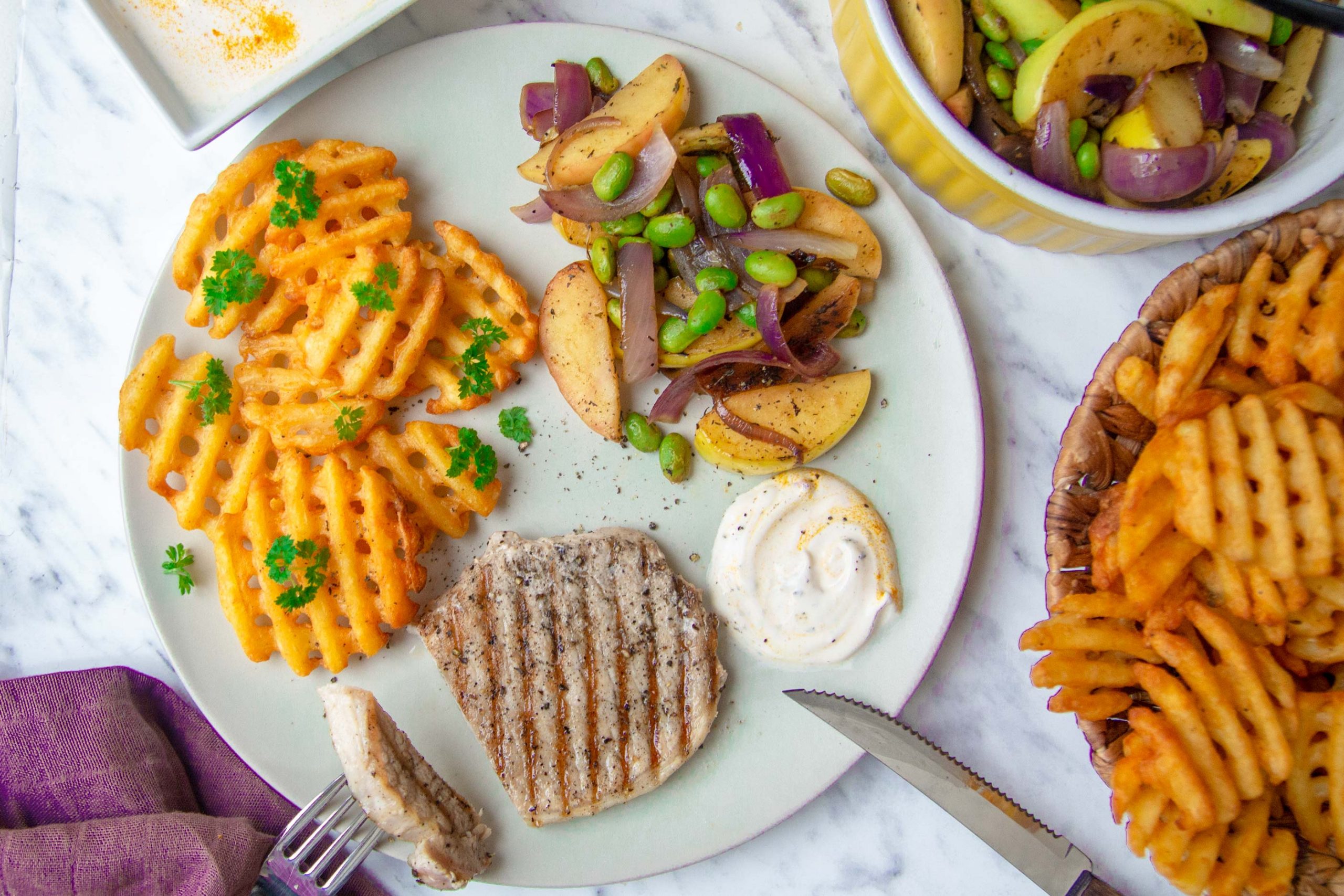 Ingredients
( 2 adults and 2 kids )
600 grams

frozen waffle fries

1

red onion

2

apples

150 grams

frozen edamame beans

1 tsp

dried thyme

6

pork chops

250 ml

skyr

*

0.5 tsp

garlic powder

1 tsp

curry

2 tsp

sweet chilli sauce

salt

pepper

olive oil

baking parchment
ADD TO SHOPPING LIST
ADD TO MEAL PLAN
*
= Good to know - click the ingredient

= See the recipe - click the ingredient
Yummy pork chops with fun waffle fries, fried apple, veggies and curry dip. You'll find frozen waffle fries in most major supermarkets, but you can of course pick whatever shape of spuds you like best. If you have time to spare, you can slice fresh potatoes and coat with olive oil and all purpose seasoning. Be aware that the recipe is for two days, so remember to save a few pork chops for fresh spring rolls tomorrow. Enjoy!
Directions
1. Preheat your oven to 220 degrees fan assisted.
2. Place the waffle fries on a baking tray lined with baking parchment and bake for 20-25 minutes.
3. Peel and cut onion into wedges. Rinse apples, remove the seeds and cut into wedges. The apples that is – not the seeds! Fry onion and apple on a pan in some olive oil. Let fry for 3-4 minutes, then add frozen edamame beans and thyme and continue to fry. Season with salt and pepper.
4. Season the chops with salt and pepper and sear in some olive oil on a pan. Lower the heat and continue to cook until tender. We've figured one pork chop per person – remember to save the remaining chops for fresh spring rolls tomorrow.
5. Mix skyr or creme fraiche with garlic powder, curry and sweet chilli sauce, and season with salt and pepper.
6. Serve the juicy pork chops with waffle fries, fried apple and curry dip. Enjoy!
Tip
Tasks for younger kids in the kitchen: Let your kids help cut apples into wedges – use an apple slicer or a childsafe knife. They can also mix the curry dip and season the chops with salt and pepper.
Share your tips and comments