High five!
The recipe has been added to your shopping list.
Pork chops with mild dijon sauce and fried apples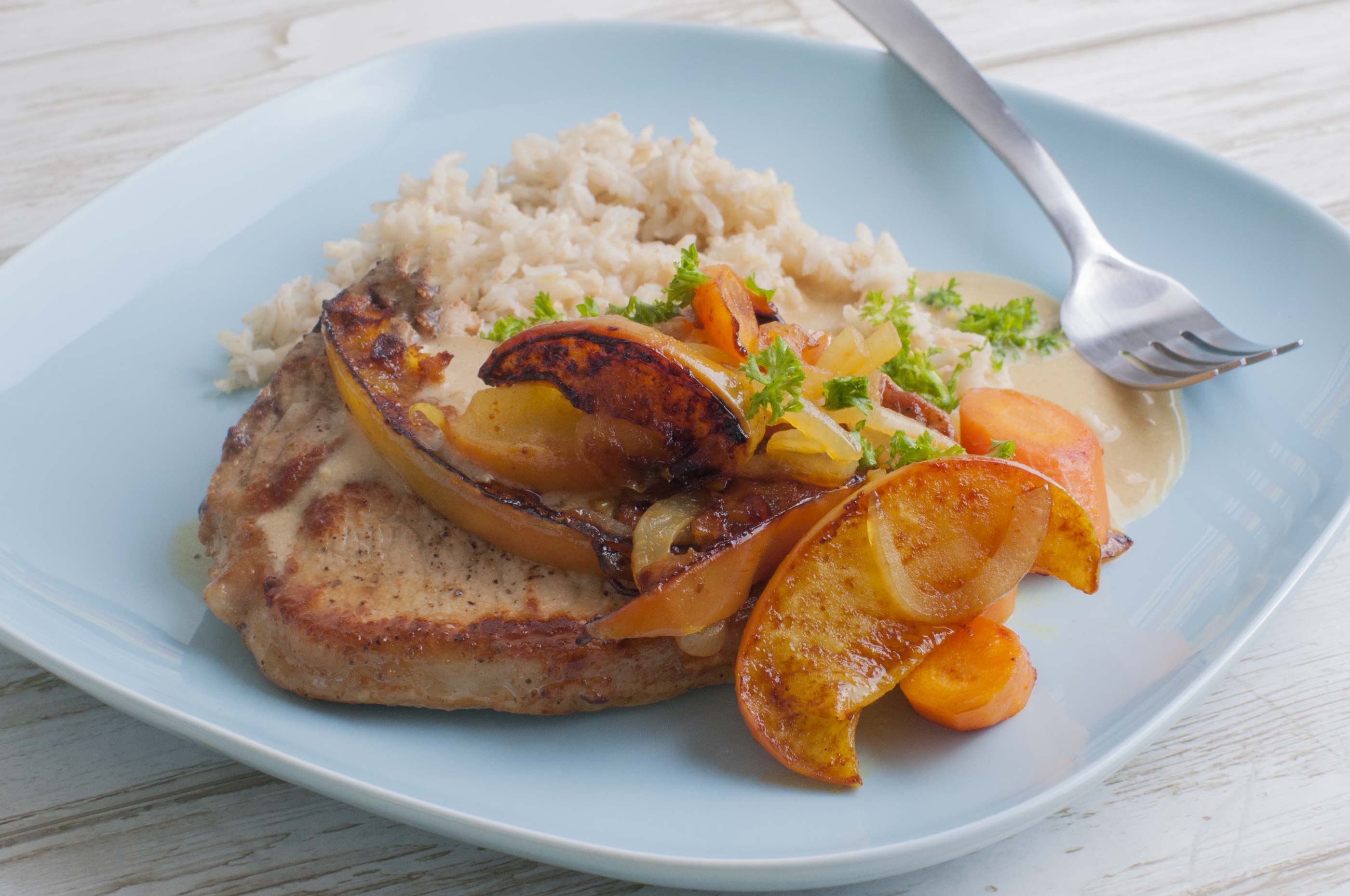 Ingredients
( 2 adults and 2 kids )
wholegrain rice

- double portion

1

onion

300 grams

carrots

*

2

apples

6

pork chops

1 tsp

curry

250 ml

water

2 tbsp

dijon mustard

250 ml

single cream

1 cube

chicken stock

1 tbsp

acacia honey

*

butter

olive oil

salt

pepper
ADD TO SHOPPING LIST
ADD TO MEAL PLAN
*
= Good to know - click the ingredient

= See the recipe - click the ingredient
This dijon sauce is absolutely divine, and super easy to make. And don't be scared off, it's not spicy at all, just has a mild and yummy mustard flavour. Here we've served pork chops with the sauce, fried apples and carrots. Note that this dish is designed for two days. So we've included extra pork chops, and you'll be boiling some extra rice to make fried rice tomorrow.
Directions
1. Boil the rice following the directions on the packet. Remember to boil double the amount you'll need for today, if you're cooking for two days and are making fried rice tomorrow.
2. Chop the onion into rings. Peel the carrots and slice them diagonally. Rinse the apples, remove the cores and slice the apples into thin wedges.
3. Season the pork chops and cook them in a blend of butter and oil. Remove from the pan, and don't clean the pan yet. Take a couple of chops aside for dinner tomorrow.
4. Cook onion, carrots and apples for a few minutes, until they're warm all the way through but still have a bit of a crunch. Sprinkle with curry and season with a bit of salt and pepper as you go. Remove vegetables from the pan, still not cleaning it just yet.
5. Pour water, half the mustard and cream (or milk) onto the pan along with a crumbled stock cube. Some stock cubes can be quite solid, and can benefit from being crumbled into a cup of boiling water to dissolve before being added to the sauce. If you're using cream or a cream alternative, you won't need to thicken the sauce. If you're using milk and you're finding the sauce a bit thin, you can thicken it with a mix of a bit of water and corn flour or flour. Add honey, salt and pepper to taste.
6. Serve the chops with piping hot rice, fried apples and carrots and the delicious sauce. Sprinkle a bit of herbs on top if you have any knocking about.
7. Enjoy!
Tip
Save a few pork chops and the rest of the rice for fried rice tomorrow.
Share your tips and comments