High five!
The recipe has been added to your shopping list.
Pork chops with baby potatoes and leek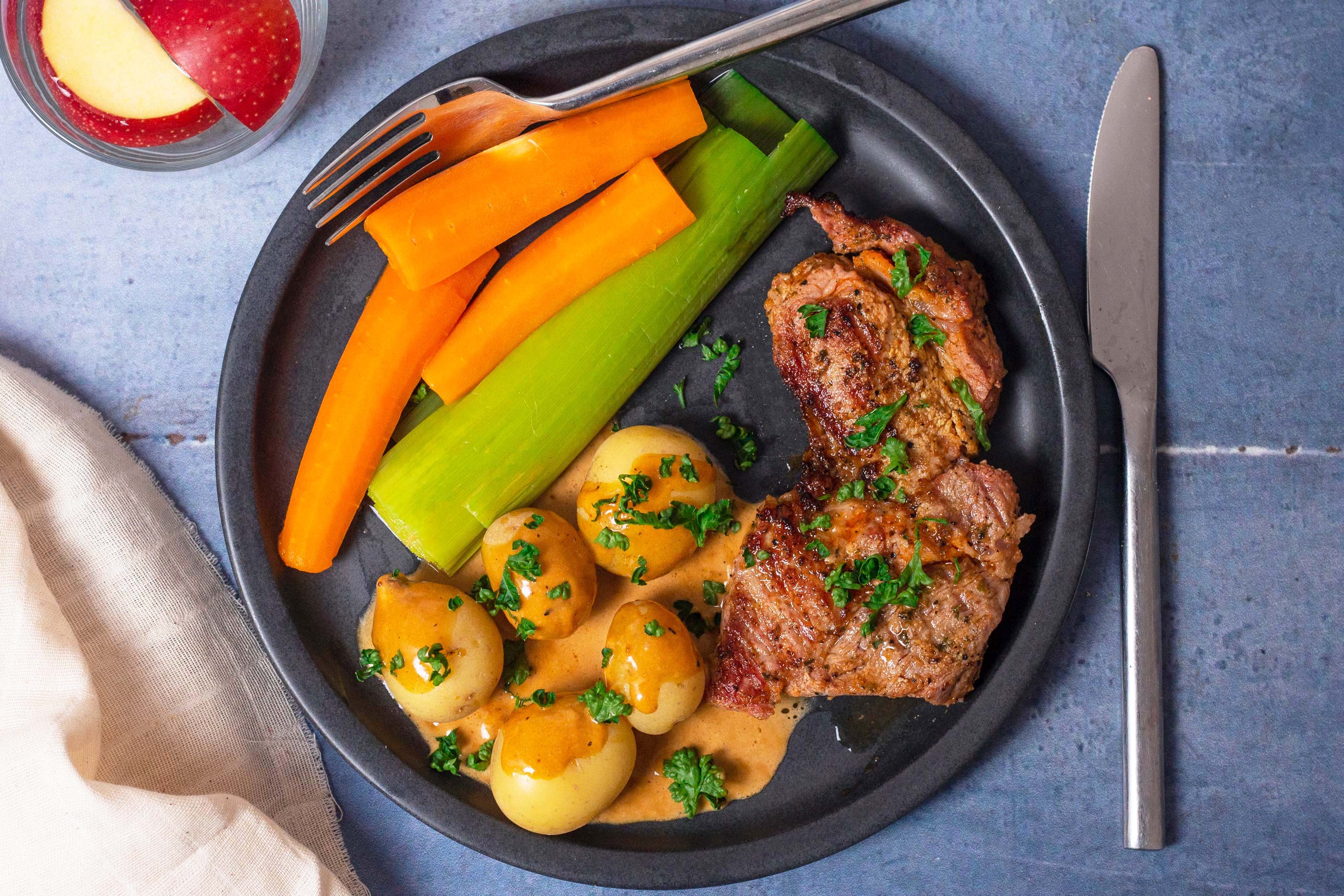 Ingredients
( 2 adults and 2 kids )
1 tbsp

paprika

olive oil

1 clove

garlic

0.5 tbsp

acacia honey

*

4

pork chops

600 grams

baby potatoes

2

leek

400 grams

carrots

*

200 ml

single cream 8%

salt

pepper

butter

olive oil
ADD TO SHOPPING LIST
ADD TO MEAL PLAN
*
= Good to know - click the ingredient

= See the recipe - click the ingredient
Pork chops are a classic! Here we've marinated the chops and served them with baby potatoes, easy sauce and cooked leeks and carrots. Enjoy!
Directions
1. Mix paprika, a few tablespoons of oil, pressed garlic and honey in a freezer bag. Now pop the chops in the bag and mix the marinade with the chops thoroughly. Let them marinate while you sort the potatoes.
2. Rinse the potatoes and cook until tender in a pot of salted water. This takes about 15 minutes. Be careful not to overcook them.
3. Remove tops and bottoms and thoroughly clean the leeks. Then cut each into 3-4 pieces. Peel and halve the carrots. Cook in salted water for about 10 minutes.
4. Season the chops with salt and pepper and cook in a mix of butter and olive oil on both sides on a pan. Remove the chops - don't clean the pan! - and leave to rest uncovered on a plate while you make the sauce. Add single cream to the pan and stir well. Add salt and pepper to taste.
5. Optionally, you can add a crumbled stock cube to the sauce and thicken it with some corn flour stirred into a cup of water, if you want the sauce to have more flavour and stick nicely to the potatoes.
6. Serve the yummy chops with baby potatoes, sauce and the cooked vegetables.
7. Enjoy!
Tip
Tasks for kids in the kitchen: Let your kids help make the marinade. They can also cut the tops and bottoms off the leeks and peel the carrots - remember to mind their fingers!
You can also barbecue the pork chops. Then simply pour the marinade from the bag into a pot and bring it to the rolling boil when you make the sauce.
Share your tips and comments