High five!
The recipe has been added to your shopping list.
Plaice rolls with parma and green mash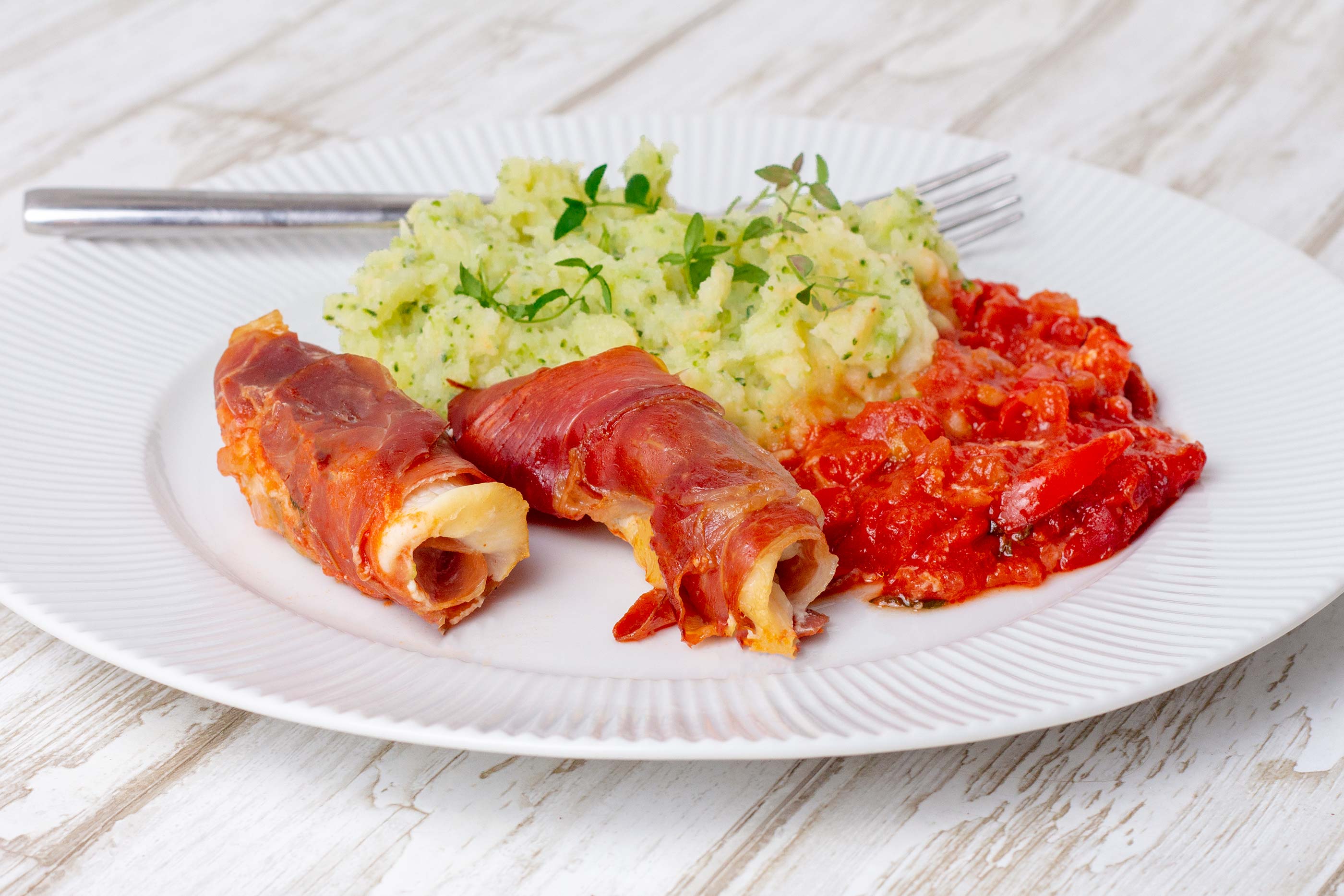 Ingredients
( 2 adults and 2 kids )
600 grams

potatoes

0.5

broccoli

1

onion

1 clove

garlic

1 can

chopped tomatoes

70 grams

tomato purée

100 ml

water

0.5 tbsp

dried oregano

250 grams

plaice fillets

70 grams

parma or serrano ham

1

organic lemon

50 grams

butter

100 ml

milk

olive oil

salt

pepper
ADD TO SHOPPING LIST
ADD TO MEAL PLAN
*
= Good to know - click the ingredient

= See the recipe - click the ingredient
Here is a brilliant plaice recipe that our kids love! We've wrapped the plaice in ham and served with tomato sauce and green mash with broccoli. Yum and enjoy!
Directions
1. Preheat your oven to 185 degrees convection.
2. Peel and roughly dice the potatoes. Rinse the broccoli and chop the florets into smaller pieces. Place in a pot and cover with water - don't add salt. Cook both until completely tender when poked with a fork. This takes 15-20 minutes.
3. Finely chop onion and garlic and sautée in a bit of olive oil while stirring, until slightly browned. Add the chopped tomatoes and tomato purée, water and oregano and stir well. Season to taste with salt and pepper. Let simmer while you prep the plaice fillets.
4. Pat the plaice fillets with a bit of kitchen roll. Place a fillet on a slice of parma and grate some lemon zest over. Roll it up so the parma is on the outside.
5. Place the rolls in an ovensafe tray and pour over the tomato sauce. Bake the plaice rolls for about 15 minutes, until firm and cooked through - but not dry, by all means!
6. Once the potatoes are cooked tender, drain the water, add the butter and whisk well. Add the milk until the mash has the consistency you prefer and remember from your childhood! Season with salt and pepper.
7. Serve the plaice fillets with tomato sauce and yummy green mash.
8. Enjoy!
Tip
Tasks for kids in the kitchen: Let your kids pick florets from the broccoli and cut up the potatoes.
Share your tips and comments