High five!
The recipe has been added to your shopping list.
Pizzas with ham, brie, mozzarella and plums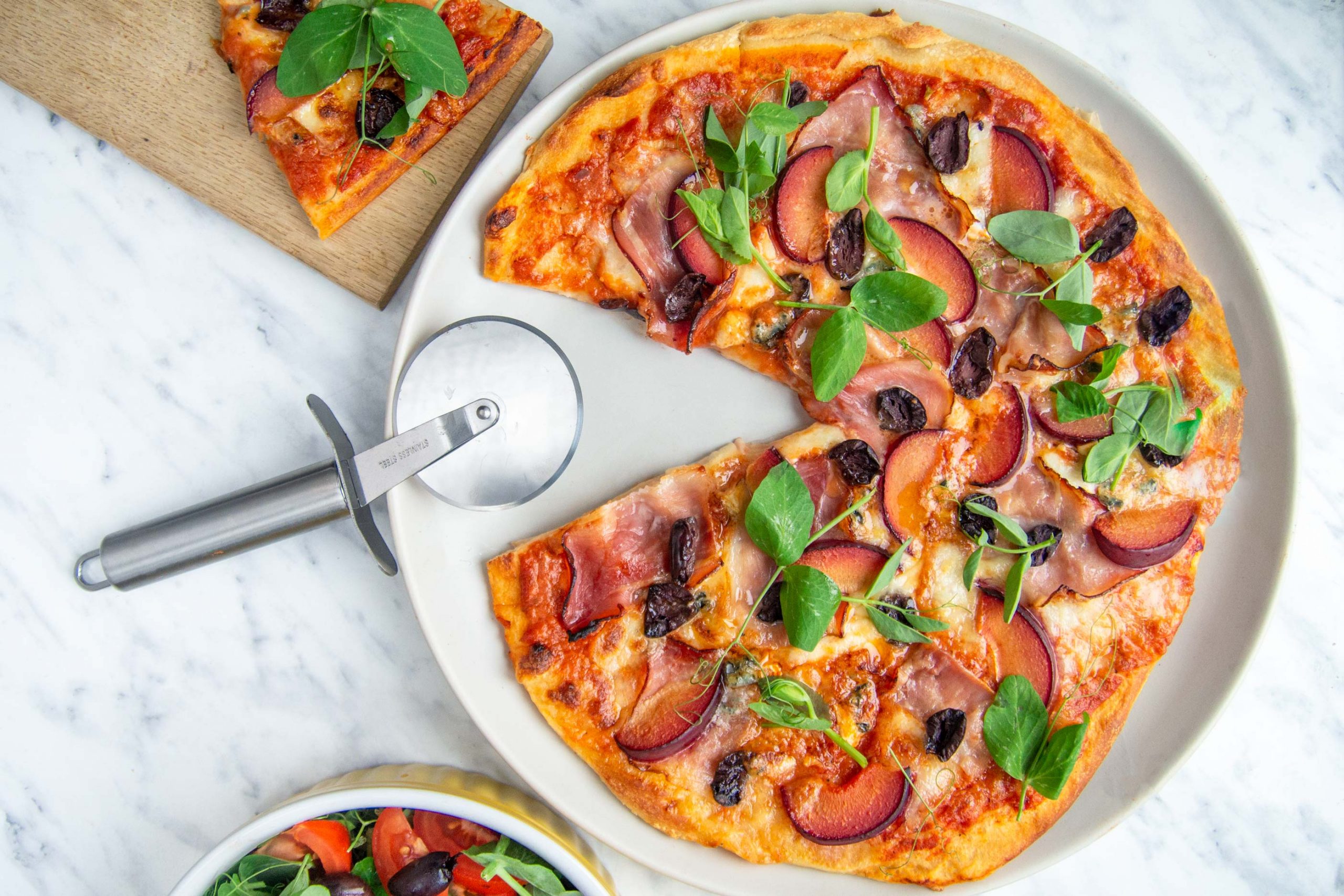 Ingredients
( 2 adults and 2 kids )
500 grams

pizza dough

8 tbsp

pizza sauce

1 ball

mozzarella

200 grams

brie

6

plum

140 grams

parma ham

- or serrano

100 grams

kalamata olives

- pitted

semolina flour

- or plain

1 packet

pea shoots

3

tomato

dressing of your choice
ADD TO SHOPPING LIST
*
= Good to know - click the ingredient

= See the recipe - click the ingredient
A super yummy and slightly alternative take on the classic ham and cheese pizza. We've put together a half-and-half version, so there's pizza for the brie lovers – and the certainly-not-ers. Enjoy!
Directions
1. Preheat your oven to at least 250 degrees – ideally 275 – over-under heat with a grate on the bottom shelf. If you have a pizza stone, place it on the grate in the cold oven, before switching it on.
2. Sprinkle flour onto the tabletop and roll out the pizza dough into bases roughly 30 cm in diameter. Be mindful not to leave them too thick! Note: If you don't have a pizza peel to move the pizzas to the oven with, move the pizzas bases to sheets of baking parchment before adding the pizza sauce.
3. Ladle the pizza sauce onto the bases. Leave the outermost centimetre bare. Rip the mozzarella into small chunks and thinly slice the brie. Either mix both cheeses on both pizzas, or make one with mozzarella and one with brie, spread evenly across the base.
4. Rinse the plums, remove the pits and thinly slice. The plums, that is – not the pits! Spread parma, plums and half of the olives onto the pizzas.
5. Move the pizzas to the oven with a pizza peel, or slide a cutting board under the baking parchment holding the pizzas, and move the lot to the oven grate. Bake the pizzas for 10-15 minutes, until the cheese is golden and the crust crispy.
6. Optionally, top the finished pizzas with pea shoots – or use them all for the salad. Mix rinsed pea shoots with rinsed, sliced tomatoes, the remaining olives and dressing of your choice. Serve the pizzas with salad on the side. Enjoy!
Tip
Tasks for younger kids in the kitchen: Let your kids help rip up the mozzarella. They can also add toppings to the pizzas and slice tomatoes for the salad.
Share your tips and comments