High five!
The recipe has been added to your shopping list.
Pizza with beef pastrami, mozzarella and rocket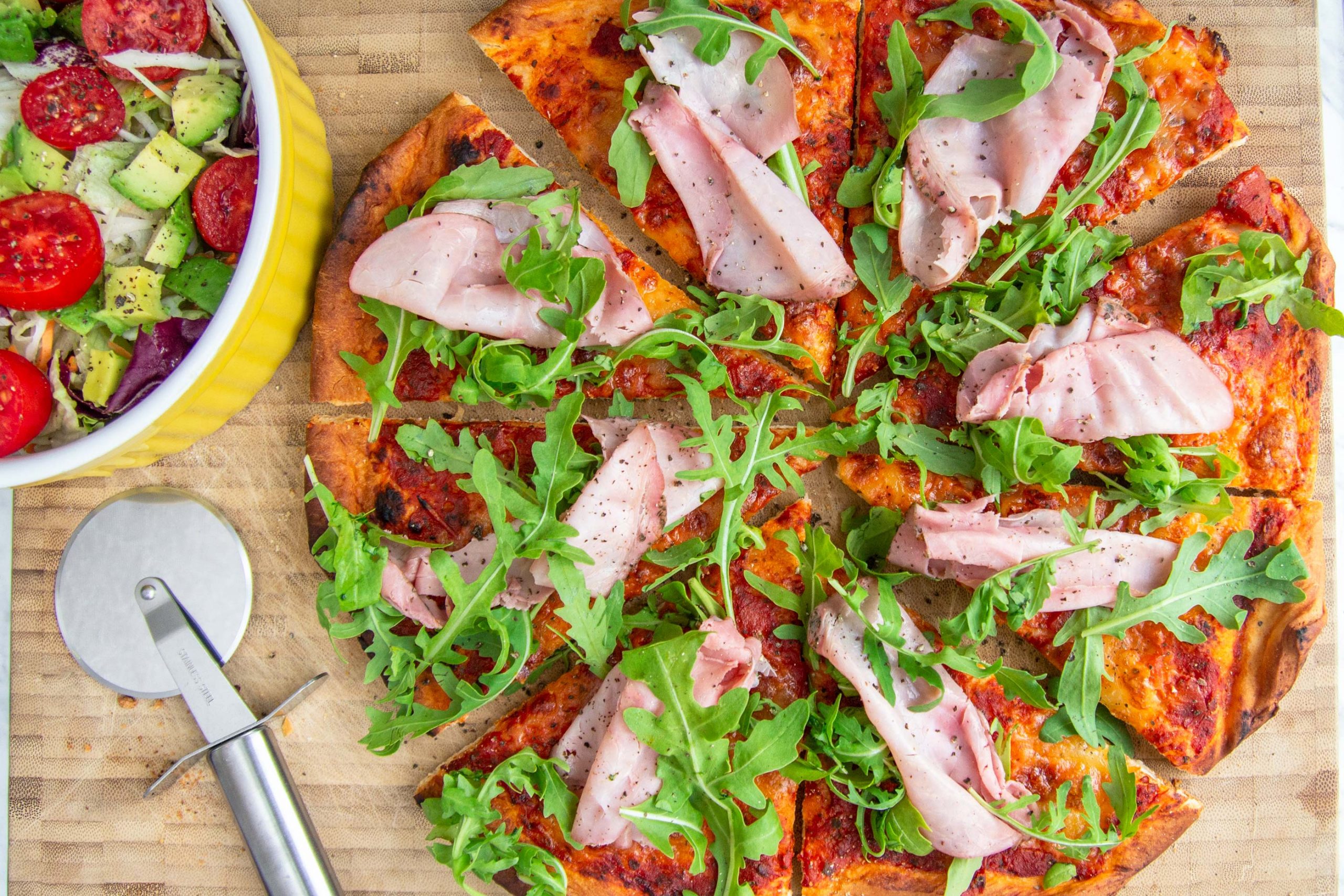 Ingredients
( 2 adults and 2 kids )
400 grams

pizza dough

280 grams

organic pizza sauce

2 ball

mozzarella

140 grams

beef pastrami

1 bunch

rocket

15

cherry tomatoes

1

avocado

lettuce of your choice

dressing of your choice

semolina or plain flour

– for rolling
ADD TO SHOPPING LIST
ADD TO MEAL PLAN
*
= Good to know - click the ingredient

= See the recipe - click the ingredient
Woop woop! Pizza Fridays are a beautiful invention. Although this pizza is pretty delicious on a Tuesday too... Or a Monday. Or Wednesday or Thursday. And weekends too, of course. We're just saying! Anyhow, this recipe is super simple, with beef pastrami, mozzarella and rocket. Enjoy!
Directions
1. Preheat the oven to 250 degrees – ideally 275 if possible – top-bottom heat with a sheet pan on the bottom shelf. If you have a pizza stone, place it on the sheet pan in the cold oven before turning it on.
2. Sprinkle flour onto a tabletop and roll the pizza dough out into bases with a rolling pin, so they're about 30 cm in diameter. Be mindful not to leave them too thick! Note: If you don't have a pizza peel to move the pizzas to the oven with, move the pizza bases onto some baking parchment with your hands before you add the sauce.
3. Sauce the bases, leaving the outermost centimeter bare. Rip the mozzarella into small chunks and spread evenly onto the bases. Move the pizzas to the oven with a pizza peel, or slide a cutting board under the baking parchment holding the pizzas and move the lot to the sheet pan. Bake the pizzas for 10-15 minutes, until the cheese is golden and the crust crispy.
4. Remove the pizzas from the oven. First top with beef pastrami, then rinsed rocket. Depending on your family's preferences, you may want to leave one pizza free of rocket so the option is there.
5. Rinse and halve tomatoes. Halve the avocado, remove the pit and dice the meat. We suggest drizzling with a bit of lemon juice to prevent it browning. Mix the lot with lettuce, and whatever leftover rocket you have.
6. Serve the crispy pizzas with the avocado salad and top with dressing. Enjoy!
Tip
Tasks for younger kids in the kitchen: Let your kids help sauce the pizza bases. They can also rip up the cheese and spread it.
Share your tips and comments