High five!
The recipe has been added to your shopping list.
Pitas with speedy bolognese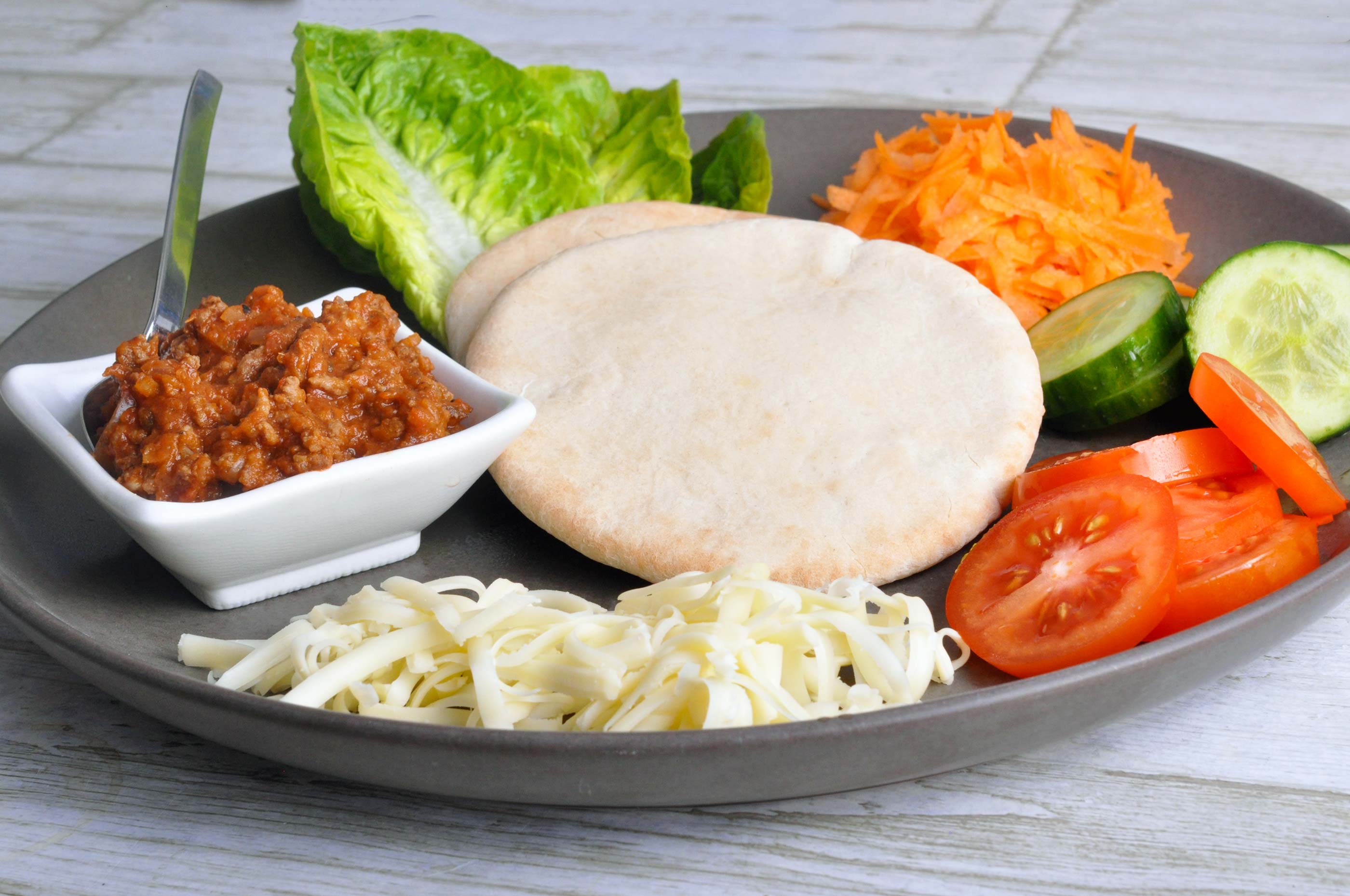 Ingredients
( 2 adults and 2 kids )
1

onion

400 grams

chicken mince

leftover tomato-aubergine sauce

150 grams

carrots

*

lettuce of your choice

4

tomato

0.5

cucumber

50 grams

grated cheese

8

wholewheat pitas

ketchup

olive oil

salt

pepper
ADD TO SHOPPING LIST
ADD TO MEAL PLAN
*
= Good to know - click the ingredient

= See the recipe - click the ingredient
Pitas are a definite favourite in a ton of families - because you can use whatever you've got lying about as fillings. Here we've used the leftovers from our tomato and aubergine pasta to make a tasty bolognese to use as filling alongside lots of veg. Enjoy!
Directions
1. Finely chop the onion and sautée for a few minutes with a bit of oil, in a deep pan or pot. Add the mince, season with salt and pepper and let cook until nicely seared on all sides. Now add the aubergine sauce and let the lot simmer for about 10 minutes, while you prep the rest. Remember to season with salt and pepper.
2. Roughly grate the carrots. Rinse the lettuce and rip it into chunks. Rinse tomato and cucumber and cut both into sticks, and grate the cheese if it's not already grated. Put everything on the table in small bowls along with ketchup and dressing if you have any.
3. Warm the pita breads in the oven or toaster and pop them on the table along with the bolognese. Let the whole family assemble their favourite pitas.
4. Enjoy!
Tip
We've figured two pitas per person - if your clan is less or more hungry, then remember to adjust your shopping list accordingly! You can absolutely buy grated cheese at the supermarket - but it's much cheaper to buy a block, which you can both grate, make lunchbox-cheesesticks from, and use for afternoon toasties. And you'll avoid any nasty E-numbers on the dinner table.
Share your tips and comments