High five!
The recipe has been added to your shopping list.
Pitas with falafel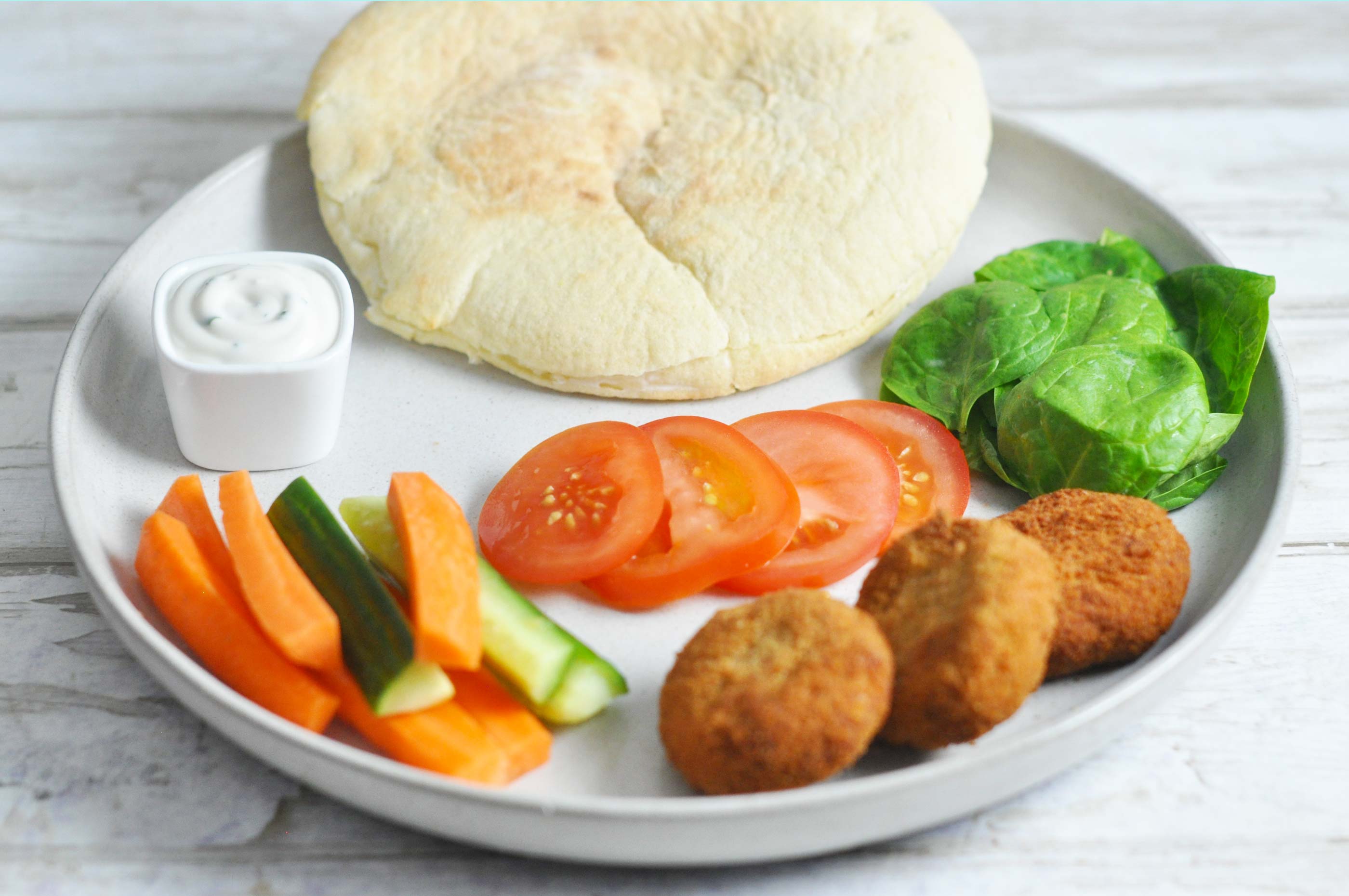 Ingredients
( 2 adults and 2 kids )
0.5 bunch

parsley

1

onion

1 clove

garlic

2 can

chick peas

2 tsp

cumin

1

egg

50 grams

breadcrumbs

1 tsp

salt

lettuce of your choice

4

tomato

300 grams

carrots

*

05

cucumber

8

wholewheat pitas

cream cheese dip

oil for frying

pepper
ADD TO SHOPPING LIST
ADD TO MEAL PLAN
*
= Good to know - click the ingredient

= See the recipe - click the ingredient
Falafels are a sort of veggie-meatball made from chick peas. They're cooked crispy in oil and absolutely delicious! Our kids love them - both for dinner and in their lunchbox - and they're no hassle to make! Enjoy.
Directions
1. Wash the parsley and remove the stems. Roughly chop the onion and garlic. Drain the chick peas and rinse them in cold water. Dry them as well as you can in a clean dishtowel and pop them into a bowl with parsley, onion, garlic, cumin, egg, breadcrumbs, salt and a dash of pepper. Now mash it all up into a coarse, firm mass with a handblender. You can also use a food processor, but be careful not to blend it too much as it easily gets to be too thin and runny.
2. Heat enough oil in a deep pan or pot, at least enough to halfway cover the falafels. The oil is hot enough when you lower a small teaspoon of falafel mix and the oil sizzles. Now shape flat or round falafels depending on your preference, either with your hands or a spoon and your palm, just like making meatballs. If the mass is too wet, just add a bit more breadcrumbs, and if it's too dry and crumbly, crack in an extra egg.
3. IMPORTANT: Don't moisten your hands with water, as it'll make the oil sputter. If the falafel mix is sticky, pop some flour or breadcrumbs on your hands instead. Fry the falafels crispy in the oil, turning them halfway through. Be careful not to let your oil get too hot, or the falafels will go black. Place the crispy falafels on a bit of kitchen roll to drip off.
4. Wash the lettuce and rip into chunks. Wash and slice the tomatoes. Wash the cucumber, peel the carrots and cut both into sticks for snack veggies. Slightly wet the pita breads with a dash of water and warm them in the oven or toaster.
5. Put everything out on the table in little bowls with cream cheese dip or other dressing and fill your pitas with all the things you like the best. Enjoy!
Tip
Remember to save some leftover for the lunchboxes.
Share your tips and comments