High five!
The recipe has been added to your shopping list.
Pitabreads with shawarma and veg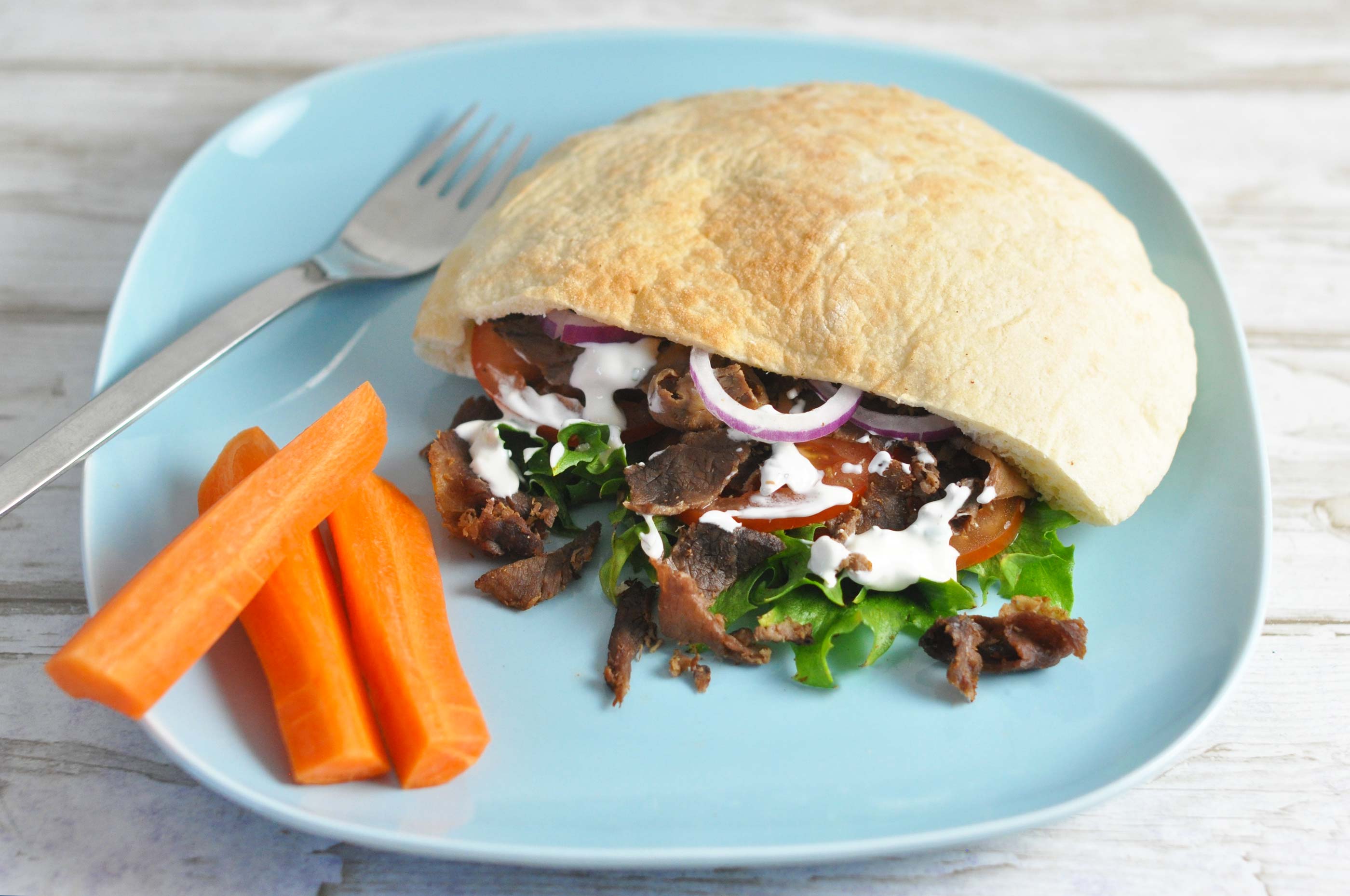 Ingredients
( 2 adults and 2 kids )
Shawarma

3 tsp

cumin

- ground

2 tsp

dried coriander

500 grams

cooked lamb or beef

1 clove

garlic

1 tbsp

olive oil

0.5 tsp

salt

0.5

lemon

Sides

lettuce of your choice

4

tomato

0.5

cucumber

1

red onion

- or regular

1 bunch

chives

200 ml

yoghurt naturel

0.5 tbsp

acacia honey

*

8

wholewheat pitas

pepper
ADD TO SHOPPING LIST
ADD TO MEAL PLAN
*
= Good to know - click the ingredient

= See the recipe - click the ingredient
Shawarma is truly a genius invention! It tastes amazing and is surprisingly simple to make. You can f.x. use the leftovers from the friday culotte or leg of lamb and make your very own shawarma, which we've put into warm pitas with lots of veg here. Enjoy!
Directions
1. Roast the cumin and coriander on a dry pan until beautifully fragrant. Let the spices cool a bit while you prep the meat.
2. Finely slice the meat. If you have a food processor, it'll do the job perfectly. Just load the best with the finest slicing equipment it has, and run the meat through. Remember that you're not using the knife for the food processor, but one of the round metal plates with slicing function. If you don't have a food processor, just wield your best and biggest knife and cut the meat into the thinnest strips you can.
3. Mix the spices with the meat, pressed garlic, olive oil, a bit of salt and lemon juice in a freezer bag. Massage the mixture into the meat and let it speed-marinate while you prep the veg and dressing.
4. Finely slice the lettuce. Rinse and slice tomatoes and cucumber. Cut the onion into fine rings.
5. Rinse and finely chop the chives - you might not need it all. Mix the chives with the yoghurt and acacia honey and season with salt and pepper. Optionally you can add some pressed garlic, if you want to keep Dracula at bay!
6. Cook the meat on a hot, dry pan - there's enough oil in the spice mix. You want the meat warm all the way through and with a bit of a sear. Warm the pitas and place all your ingredients on the table in small bowls, and let the family assemble their own favourite shawarmas. Enjoy!
Tip
If you have leftover yoghurt, it makes a delicious breakfast or snack with our homemade muesli as topping.
Share your tips and comments