High five!
The recipe has been added to your shopping list.
Peking duck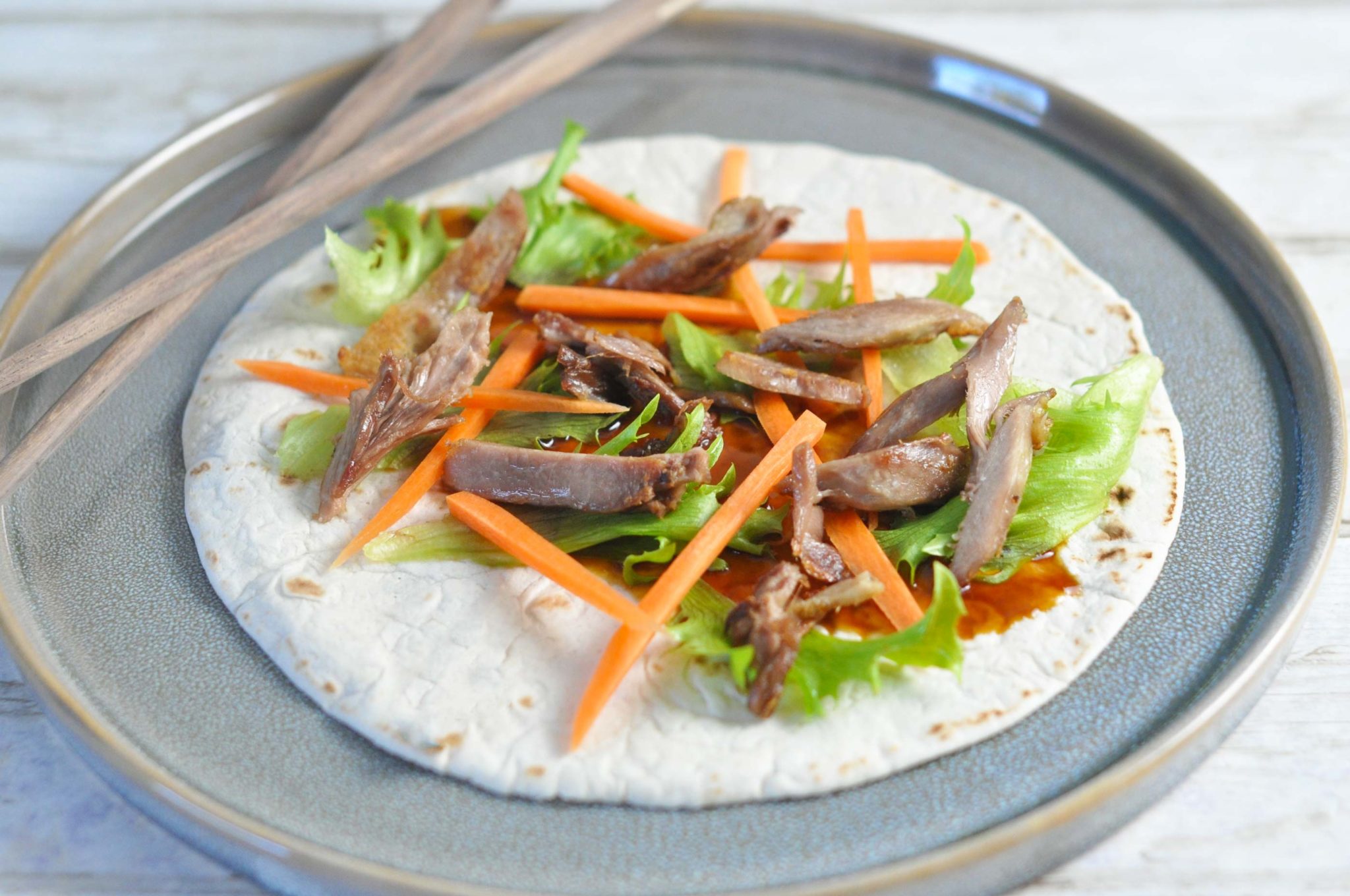 Ingredients
( 2 adults and 2 kids )
St. Martin's duck

100 ml

water

3 tbsp

soy sauce

1 tbsp

brown sugar

2 tbsp

mango chutney

2 tbsp

corn flour

500 grams

carrots

*

0.5

cucumber

lettuce of your choice

3

spring onions

6

wholewheat tortillas

salt

pepper

olive oil
ADD TO SHOPPING LIST
ADD TO MEAL PLAN
*
= Good to know - click the ingredient

= See the recipe - click the ingredient
Proper peking duck takes, at a minimum, three days to make. Which may as well be three years in a family with children! So we've put together our own super speedy version, wrapped up with a lovely sweet soy sauce. We've used leftover St. Martin's duck, but you can of course cook off some fresh duck breast instead. Enjoy!
Directions
1. Thinly slice the duck meat. Season with salt and pepper and fry until crisp in olive oil on a pan. Set aside and cover with tin foil.
2. Mix water, soy sauce, farin (or honey) and mango chutney in a pot. Heat it up and let boil for a few minutes. Thicken with some corn flour stirred into a cup of water. Season to taste and add more soy, sugar, chutney – or whatever you reckon is missing.
3. Peel carrots, wash the cucumber and cut both into very thin strips. Rinse and rip up the lettuce. Clean and rinse spring onions, then cut into bite-sized chunks on the bias (that's kitchen-ese for diagonally). Plate the lot in small bowls or on trays.
4. Warm the tortillas on a pan, in the oven or microwave, then place on the table along with duck, sauce and veggies. Let the whole family assemble their favourite wrap with crispy duck, veggies and scrumptious sauce. Enjoy!
Tip
If you have chutney left over, don't despair! Firstly, it keeps for ages in the fridge, and secondly, it goes super well with a whole host of dishes.
Share your tips and comments