High five!
The recipe has been added to your shopping list.
Pasta with tomato-aubergine sauce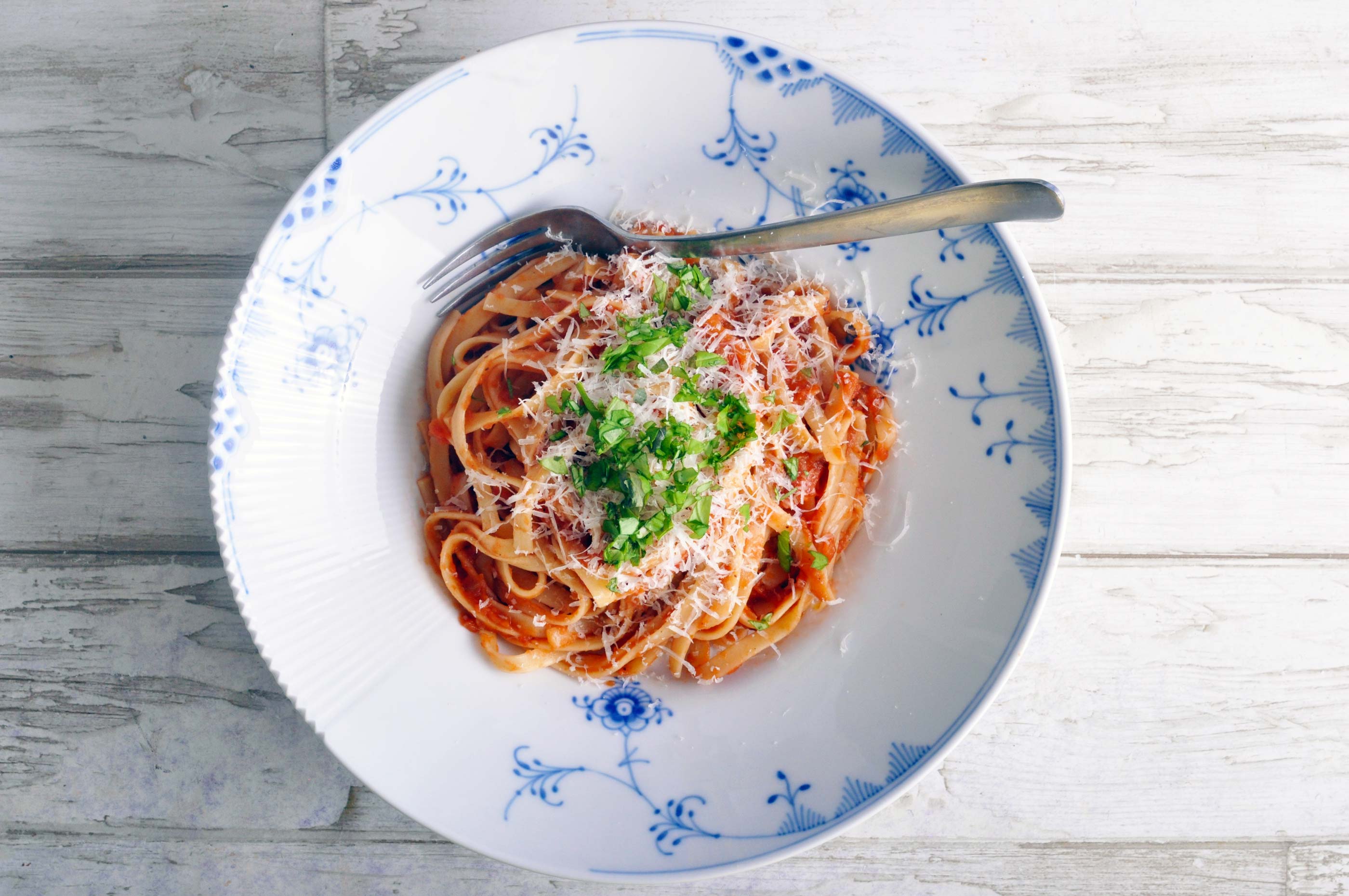 Ingredients
Freezer friendly
( 2 adults and 2 kids )
1

aubergine

1

onion

1 clove

garlic

2 can

chopped tomatoes

1 tbsp

dried oregano

wholewheat pasta

sea salt

pepper

grated parmesan

olive oil
ADD TO SHOPPING LIST
ADD TO MEAL PLAN
*
= Good to know - click the ingredient

= See the recipe - click the ingredient
This pasta is delicious, and will get the kids eating a vegetable they can't pronounce - and entirely without them noticing, to boot. If you have leftover tomato sauce you can put it in the freezer and use it for bolognese later on. Enjoy!
Directions
1. Wash the aubergine and remove top and bottom. Dice into bite-sized chunks and place into a sieve, drainer or similar. Give them a good sprinkle of sea salt, and leave to sit while you prep the rest.
2. Finely chop onion and garlic and cook with a bit of olive oil in a pot for a few minutes. Rinse the salt off the aubergine and squeeze out the water. Add the aubergine to the pot and let cook for a few minutes, until they're starting to brown. Add chopped tomatoes and oregano and let simmer for about 10 minutes, while you cook the pasta following directions on the packet. Remember to pop a lid on the pot, as the chopped tomatoes can sputter a bit aggressively when they start to boil!
3. Blend aubergine and tomatoes with a handblender. If you haven't got one of those, you can always just smush the lot with a good old-fashioned whisk. Add salt and pepper to taste, and optionally add a bit of honey or lemon juice.
4. Mix pasta and sauce - and if you have leftover sauce just save it in an air tight container in the freezer and use it for bolognese later on.
5. Serve in deep plates topped with grated parmesan and an optional sprinkle of herbs if you have any.
6. Enjoy!
Share your tips and comments