High five!
The recipe has been added to your shopping list.
Pasta with red bell pepper sauce, courgette and feta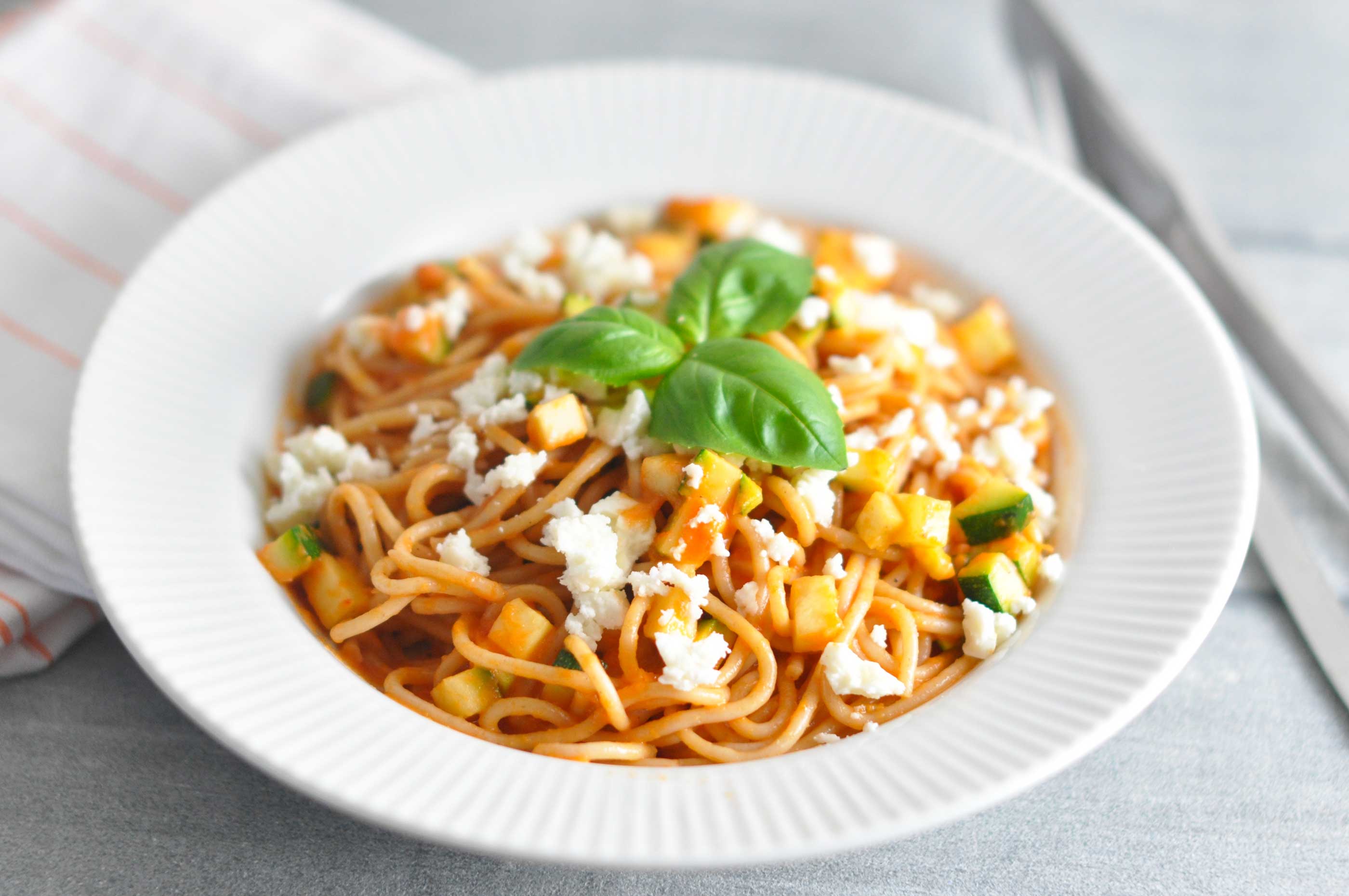 Ingredients
Freezer friendly
( 2 adults and 2 kids )
2

red bell pepper

400 grams

wholewheat spaghetti

1

onion

1 clove

garlic

3 stick

celery

*

200 ml

milk

150 ml

single cream

1

courgette

1

lime

75 grams

feta cubes

salt

pepper

olive oil
ADD TO SHOPPING LIST
ADD TO MEAL PLAN
*
= Good to know - click the ingredient

= See the recipe - click the ingredient
A super tasty pasta dish completely without meat! When you grill the bell peppers in the oven for the sauce, they go all soft and juicy and get the most amazing sweetness. Try it for yourself - and enjoy!
Directions
1. Preheat the oven on the highest grill setting. Rinse the bell pepper, halve them and pop them with the outside up on a baking grate. Place the grate as close to the ovens grill-element as you can, without the bell pepper actually touching it. Grill the bell peppers until they get black spots. This takes 10-15 minutes.
2. Remove the bell peppers from the oven, pop them in a bowl and cover with cling film right away. It needs to seal completely. Leave it to sit while you sort the rest of the dish.
3. Cook the spaghetti according to the packet and dice onion, garlic and celery. Cook everything in a dash of oil on a pan at even heat, until soft but not browned. Pour into a blender or food processor.
4. Remove the skin and seeds from the bell pepper. Be careful - they're warm, but it'll be easy to remove the skin once they've been covered in the bowl for a while. Pop the bell pepper flesh into the blender along with onion, garlic, celery, milk and cream and blend until the sauce is completely smooth. Pour back onto the pan.
5. Finely dice the courgette, add to the sauce and reheat. Season with salt, pepper and some lime juice. If you have honey, such as acacia honey, you can add a tablespoon to the sauce if you like. Mix the sauce with the pasta and serve with feta and an optional bit of herbs on top, if you have any to hand.
6. Enjoy!
Tip
If you have leftover celery, cut it into sticks and use it for snack veggies in the little ones' lunches or as a side for dinner throughout the week.
Share your tips and comments