High five!
The recipe has been added to your shopping list.
Pasta pollo with veggies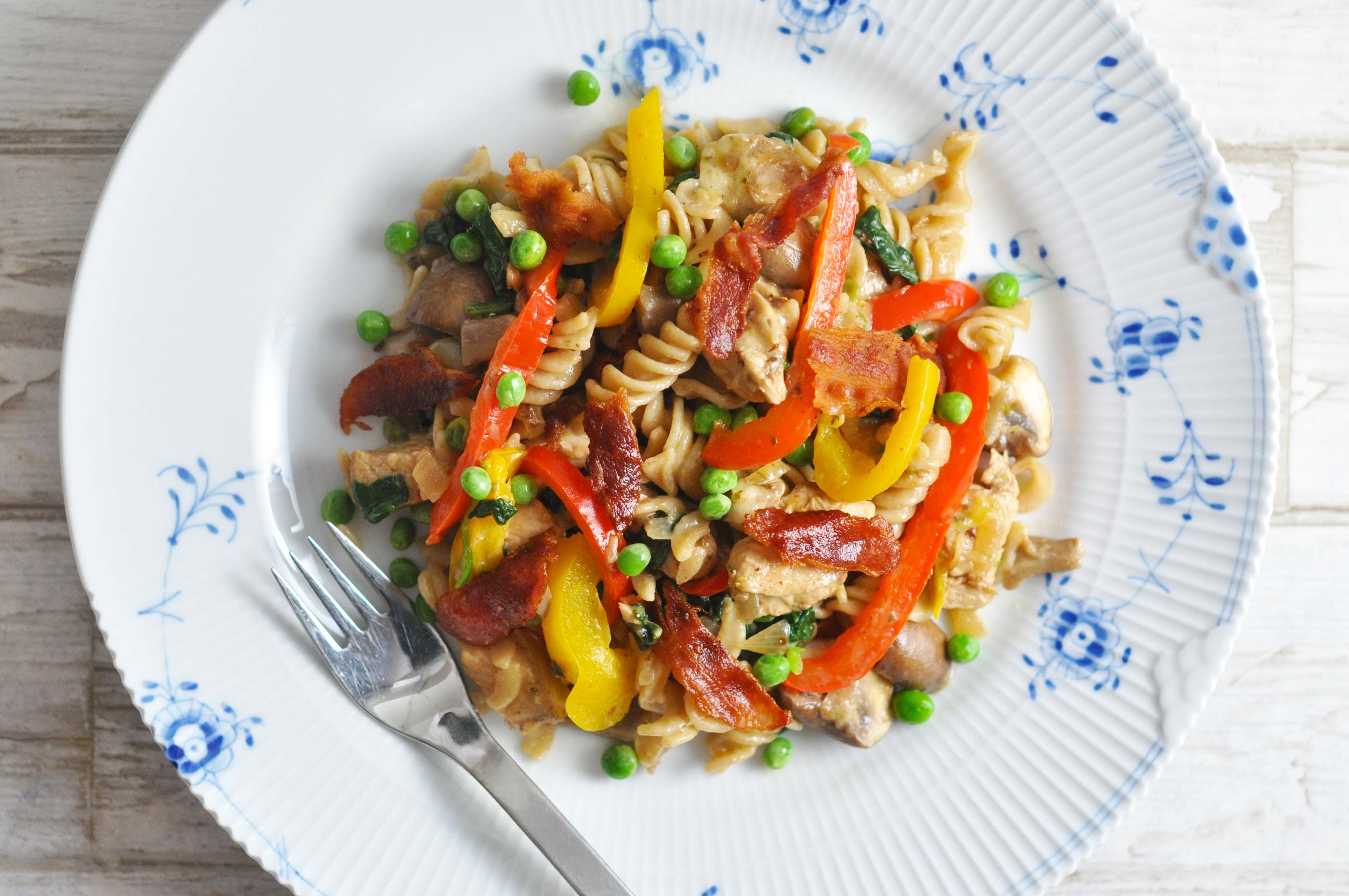 Ingredients
Freezer friendly
( 2 adults and 2 kids )
300 grams

wholewheat pasta

1

onion

1 clove

garlic

1

red bell pepper

1

yellow bell pepper

250 grams

mushrooms

100 grams

fresh spinach

*

100 grams

frozen peas

300 grams

chicken fillet

70 grams

parma or serrano ham

50 grams

grated low-fat cheese

salt

pepper

olive oil
ADD TO SHOPPING LIST
ADD TO MEAL PLAN
*
= Good to know - click the ingredient

= See the recipe - click the ingredient
There's a sea of ready meals in the aisles of the supermarket. They taste fine, but you can easily make your own versions that taste even better. Here's our recipe for a pasta pollo. Enjoy!
Directions
1. Boil the fussili following directions on the packet and let them drain in a sieve. Once drained, turn them in a bit of olive oil so they don't stick together.
2. Finely chop onion and garlic. Wash the bell peppers, remove the seeds and halve them. Wash and slice the mushrooms. Thoroughly rinse the spinach and rinse the peas with cold water in a sieve.
3. Cut the chicken fillets into thin strips. Remember to wash your hands and utensils after.
4. Pop the parma or serrano onto a cold pan and turn on the hob. Cook the ham until crispy, leave it to drip off on a bit of kitchen roll, and break into smaller bits.
5. Cook the onion and garlic on the pan for a few minutes, without having cleaned it - add a bit more oil or grease if there's not enough left over from the ham. Add the chicken, season with salt and pepper and cook until the strips are cooked through. Remove the chicken and onion mix from the pan. Add a bit more oil if needed and cook spinach, peppers and mushrooms for a few minutes until the spinach is wilted down and the other veggies are warm all the way through.
6. Add pasta, chicken, peas and cheese and stir well. Let the lot warm up until the peas are warm all the way through. Add a bit more salt and pepper to taste if needed.
7. Serve topped with parma or serrano ham and enjoy!
Tip
You can absolutely buy grated cheese at the supermarket, but it's much cheaper to buy a solid piece of cheese and grate it at home, cut into cheese sticks for the kids' lunch, and cut a few slices off for a nice afternoon toastie. And that keeps those nasty E-numbers off your dinnertable!
Share your tips and comments