High five!
The recipe has been added to your shopping list.
Pasta a la pizza - with pepperoni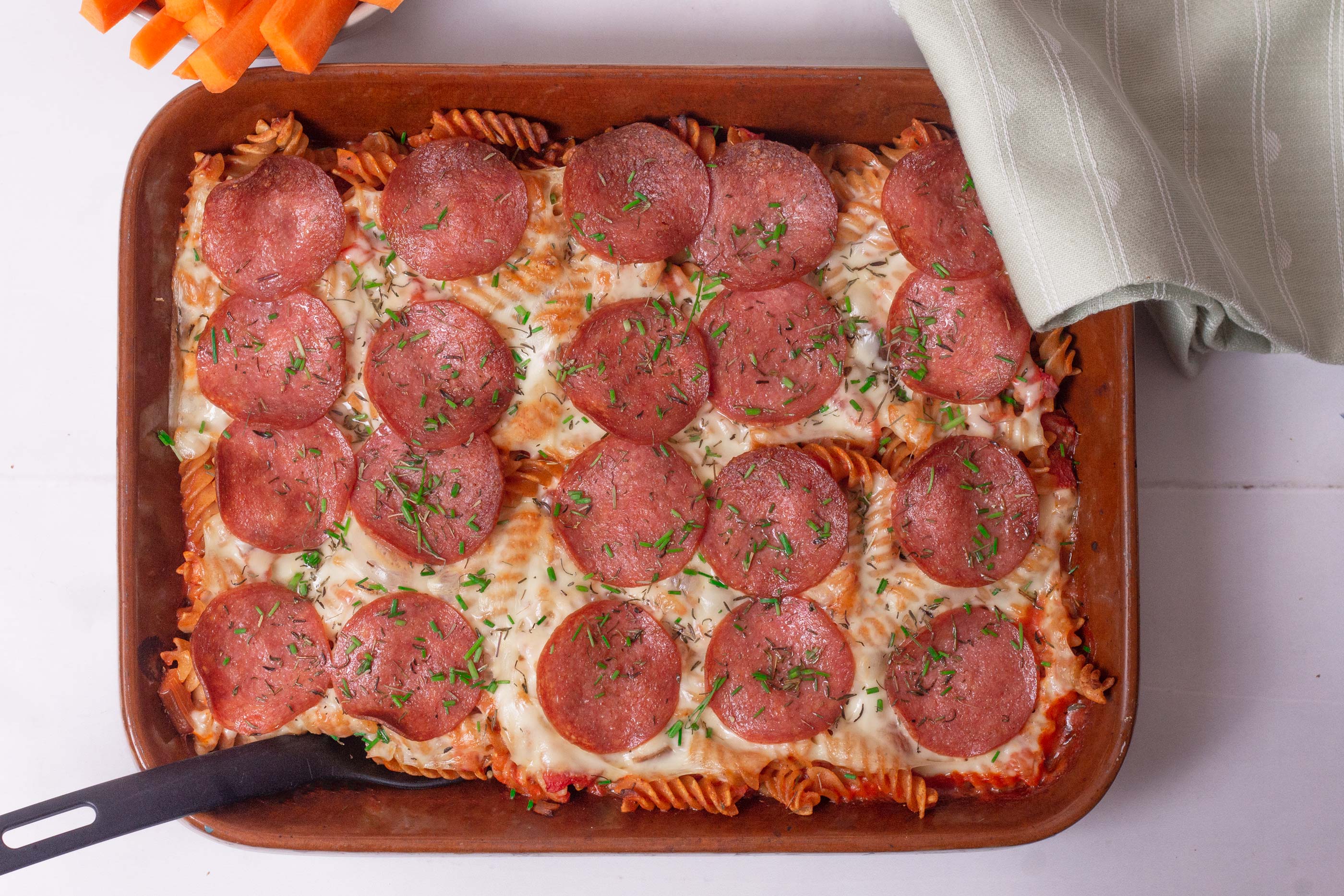 Ingredients
Freezer friendly
( 2 adults and 2 kids )
wholewheat pasta

1

aubergine

1

onion

1 clove

garlic

2 can

chopped tomatoes

1 tbsp

dried oregano

100 grams

grated cheese

150 grams

pepperoni

200 grams

carrots

*

sea salt

pepper

olive oil
ADD TO SHOPPING LIST
ADD TO MEAL PLAN
*
= Good to know - click the ingredient

= See the recipe - click the ingredient
Right, this recipe is pretty genius - just saying! We've really just swapped the pizza base for pasta, mixed it with tomato sauce and topped with cheese and pepperoni. And we're serving the dish with snack veggies. Yum, that's good stuff! Enjoy!
Directions
1. Preheat your oven to 220 degrees convection.
2. Cook the pasta for half of the time advised on the packet - it'll finish cooking in the oven.
3. Wash the aubergine and remove top and bottom. Dice to bite-sized chunks. Finely chop onion and garlic and sautée in some olive oil in a pot for a couple of minutes. Add aubergine and cook for another few minutes, until a bit browned. Then add chopped tomatoes and oregano and let the sauce simmer. Remember to pop a lid on the pot of sauce, as the chopped tomatoes can sputter a bit aggressively, when they begin to boil.
4. Mix the pasta into the sauce and pop into a casserole tin. Sprinkle with grated cheese and place pepperoni on top. Bake the lot in the oven for 10-15 minutes.
5. Peel carrots and cut into sticks for snack veggies.
6. Serve the pizza pasta with carrots. And enjoy!
Tip
Tasks for kids in the kitchen: Let your kids help dice the aubergine. They can also put toppings on the "pizza". 
Share your tips and comments