High five!
The recipe has been added to your shopping list.
Pan pizza with chicken and bacon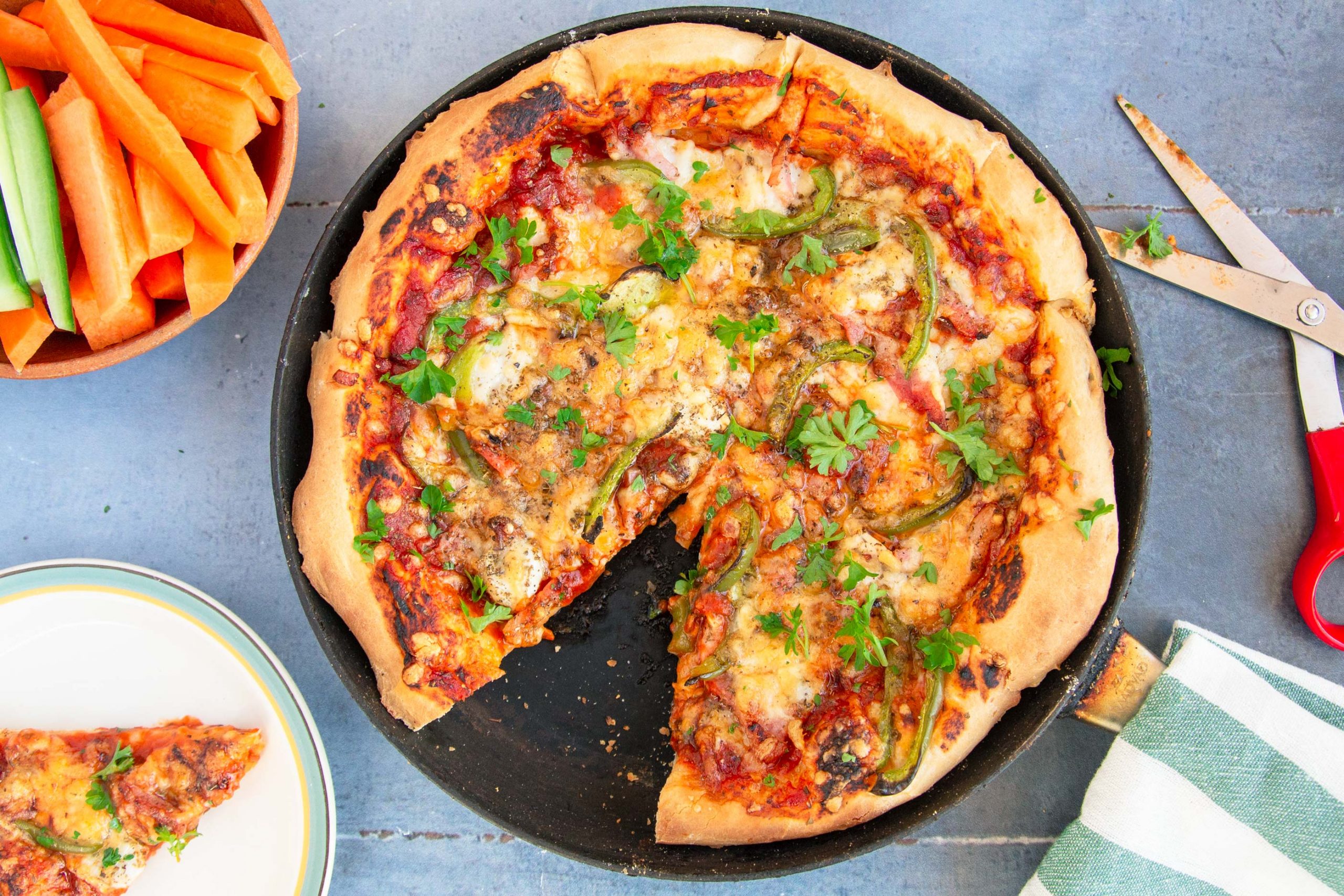 Ingredients
( 2 adults and 2 kids )
1

green bell pepper

1 ball

mozzarella

280 grams

chicken fillet

500 grams

pizza dough

8 tbsp

pizza sauce

200 grams

diced bacon

- lardons

300 grams

carrots

*

0.5

cucumber

olive oil

baking parchment

salt

pepper
ADD TO SHOPPING LIST
ADD TO MEAL PLAN
*
= Good to know - click the ingredient

= See the recipe - click the ingredient
Pan pizzas are SUPER easy to make and so delicious. We'ved topped this one with chicken, bacon, green bell pepper, and of course mozzarella! The recipe is extra easy, so the kids can get their own cooking day - or assist mum and dad in the kitchen. Enjoy!
Directions
1. Preheat your oven to 250 degrees top and bottom heat (the symbol with the two horizontal stripes), or on the lowest grill setting. Rinse the bell pepper, remove seeds and cut into thin strips. Rip the mozzarella into small pieces. Set both aside.
2. Use a separate cutting board and knife for the chicken. Cut the chicken into super fine strips, season with salt and pepper, and cook in some olive oil on a pan along with the bacon until cooked through (will only take a few minutes). Move the cooked meat to a plate – and always remember to wash hands and utensils after handling raw meat, and keep separate from the vegetables.
3. Roll out the pizza dough into round pizza bases that fit your biggest and best teflon pan.
4. Pour a bit more oil onto the pan, and carefully place in a pizza base. Let it cook for a few minutes on one side, until browned. Then flip and cook on the other side, until that's nice and golden too. Then move the pizza base to an oven sheet lined with baking parchment.
5. Add pizza sauce to the base - leave the outermost two centimetres bare. Top with bacon, chicken, bell pepper and mozzarella chunks. Pop the pizza in the oven until the cheese is melted, which takes about 5 minutes. Use those to make your next pizza!
6. Remove the pizza and repeat until you're out of dough. A little tip for cutting the pizza is to use a clean pair of kitchen scissors. It's way easier than slicing with a knife.
7. Peel the carrots, rinse the cucumber and cut both into sticks. Serve the pizzas with carrot and cucumber sticks as snack veggies - and enjoy!
Tip
Tasks for kids in the kitchen: Let the kids sauce the pizza bases. They can also cut the bell pepper strips, and rip the mozzarella into small chunks. And they can of course put the toppings on the pizzas.
Share your tips and comments