High five!
The recipe has been added to your shopping list.
Ovenbaked fish and chips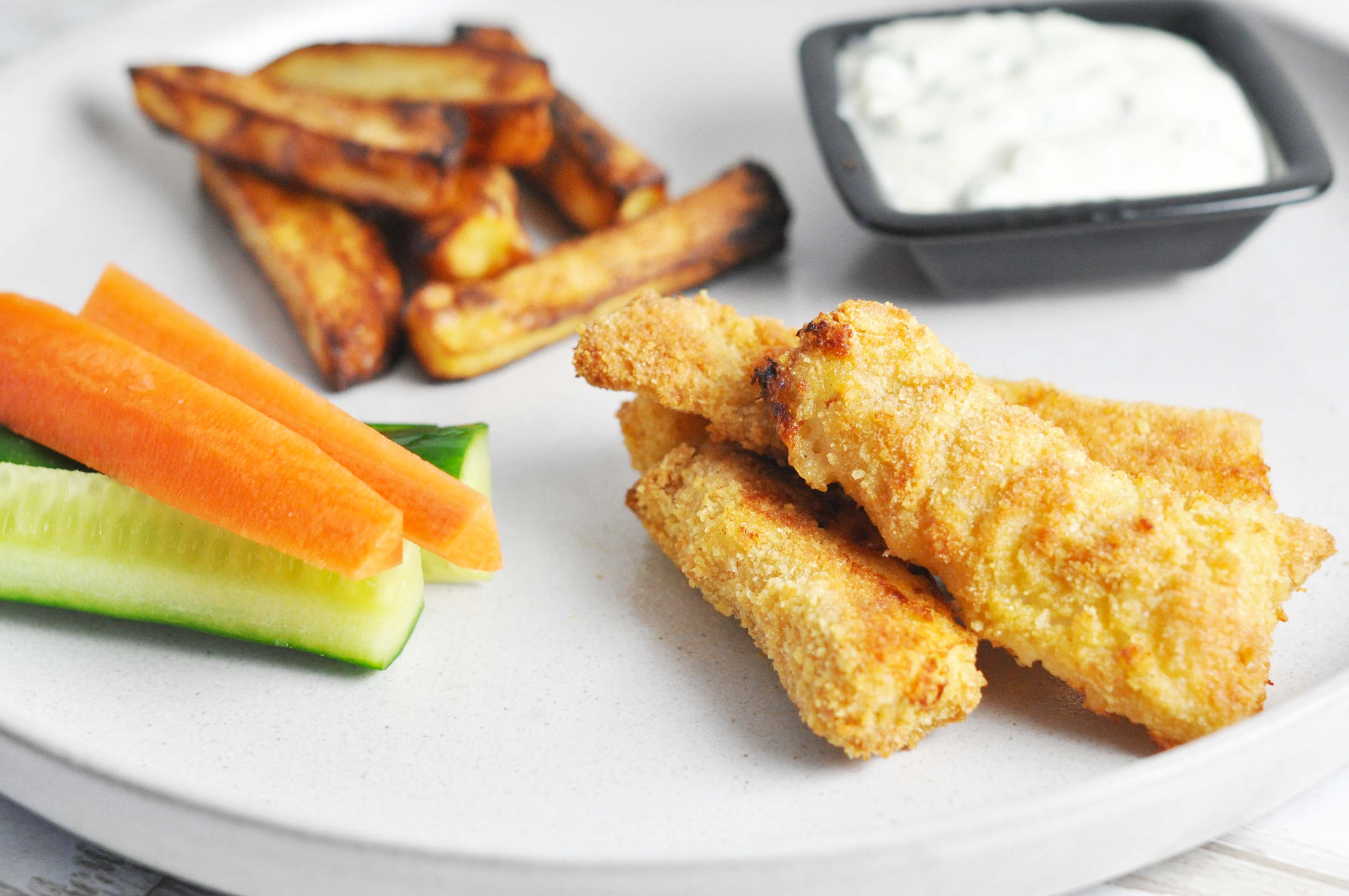 Ingredients
( 2 adults and 2 kids )
700 grams

baking potatoes

1 tbsp

all purpose seasoning

100 grams

plain flour

100 grams

breadcrumbs

1

egg

225 grams

cod fillet

0.5 bunch

chives

50 grams

sliced pickle

200 ml

skyr

*

1 tbsp

mayonnaise

1 tbsp

sweet mustard

0.5 tbsp

acacia honey

*

0.5

cucumber

300 grams

carrots

*

salt

pepper

olive oil
ADD TO SHOPPING LIST
ADD TO MEAL PLAN
*
= Good to know - click the ingredient

= See the recipe - click the ingredient
Fish and chips is perhaps the truest British classic of them all. Normally the fish is deep fried, but we've whipped up a slightly healthier version, which is ovenbaked and served with loads of snack veggies and a delicious dip.
Directions
1. Preheat your oven to 225 degrees convection.
2. Peel or scrub the potatoes and cut into wedges or sticks. Place in a bowl and rinse a few times with water, to get rid of the milky starch. This makes your chips soft and fluffy on the inside and crispy on the outside. Dry with a clean dishtowel and pop them on a baking tray with baking parchment. Coat with a good dash of olive oil and all purpose seasoning. Bake for about 35 minutes, or until golden and crispy. Remember to flip them while they cook.
3. Mix the flour with some salt and pepper in a deep dish. Pour the breadcrumbs onto another plate and and beat the egg in a third deep dish. Cut the fish into rectangular pieces and first coat them in flour and shake off the excess. Then coat in the egg followed by breadcrumbs. Pop the fish onto a baking tray with baking parchment and brush with olive oil - or even better, use a cooking spray, which can be found in most supermarkets these days.
4. Turn the oven down to 200 degrees. If the spuds aren't done, just let them stay in the oven for now. Pop the baking tray with the fish into the oven and bake for about 15 minutes, or until golden on top.
5. Finely chop chives and slice the pickle. Mix both with skyr, mayo, sweet mustard and honey and season with salt and pepper. Wash the cucumber, peel the carrots and cut both into sticks for snack veggies. Serve the crispy cod with potatoes and snack veggies, with your dressing as dip. Enjoy!
Tip
If you shop on the weekends and planning to make fish and chips on the Friday, you can absolutely buy fresh cod and freeze it. Defrost it in the fridge the day before you need it
Share your tips and comments