High five!
The recipe has been added to your shopping list.
One pot wok with chicken and noodles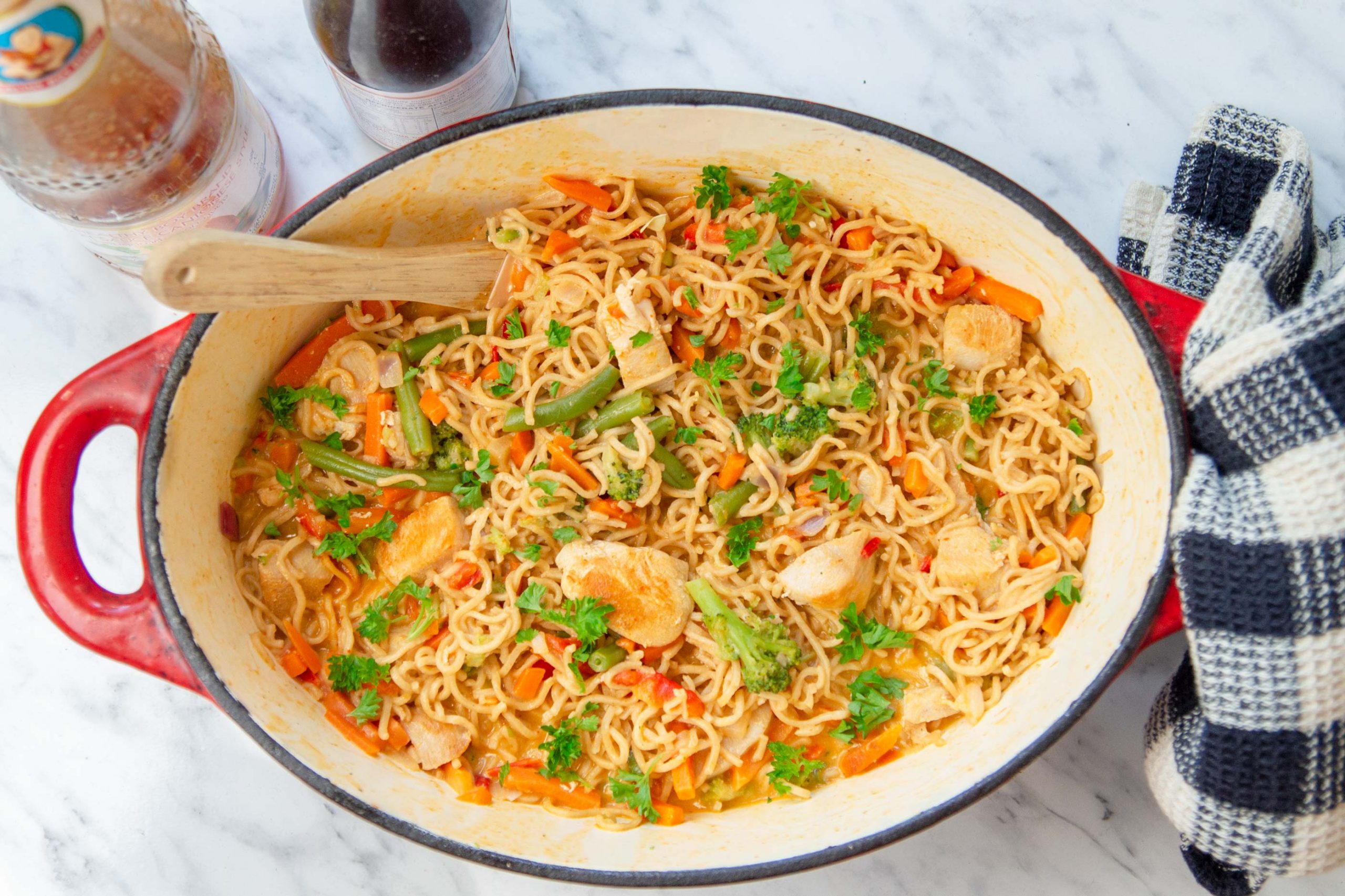 Ingredients
( 2 adults and 2 kids )
450 grams

frozen wok mix

800 ml

water

400 ml

coconut milk

250 grams

wholewheat noodles

1 tbsp

red curry paste

450 grams

chicken fillet

3 tbsp

soy sauce

3 tbsp

sweet chilli sauce

pepper

salt

olive oil
ADD TO SHOPPING LIST
ADD TO MEAL PLAN
*
= Good to know - click the ingredient

= See the recipe - click the ingredient
We've whipped up the easiest spot of dinner! Everything is cooked in the same pot, and we've used frozen wok veggies that do away with the need for chopping. This recipe is extra simple, so the kids can have their own cooking day. Enjoy!
Directions
1. Start by frying the frozen veggies in some olive oil in a large pan or wok - watch out for sputtering when the frozen veg hits the hot oil. Fry while stirring for 3-5 minutes.
2. Then add water, coconut milk, noodles and curry paste. Don't add all of the curry paste in one go - you can always add more later. Mix everything well, bring the lot to the boil and remember to gently stir to the bottom as it cooks so nothing sticks.
3. Pop a lid on the pan, lower the heat a bit and let the dish simmer for 7-10 minutes, until the noodles are cooked. Give it a stir every few minutes if you can, so it doesn't burn.
4. While the wok simmers, prep the meat. Dice the chicken into bite-sized chunks - remembering to wash hands and utensils afterwards. Cook the chicken on a pan with olive oil until cooked through.
5. Mix chicken, soy sauce and sweet chilli sauce with veggies and noodles, and season to taste with salt, pepper, and more curry paste (if needed).
6. Serve the dish in deep plates with a bit of extra soy and sweet chilli sauce for the table.
7. Enjoy!
Tip
Tasks for younger kids in the kitchen: Let your kids help stir the pot. They can also help dice the chicken with a kid-friendly knife (just remember to thoroughly wash hands afterwards) and add the ingredients to the pot.
Share your tips and comments