High five!
The recipe has been added to your shopping list.
One pot with pork tenderloin and veggies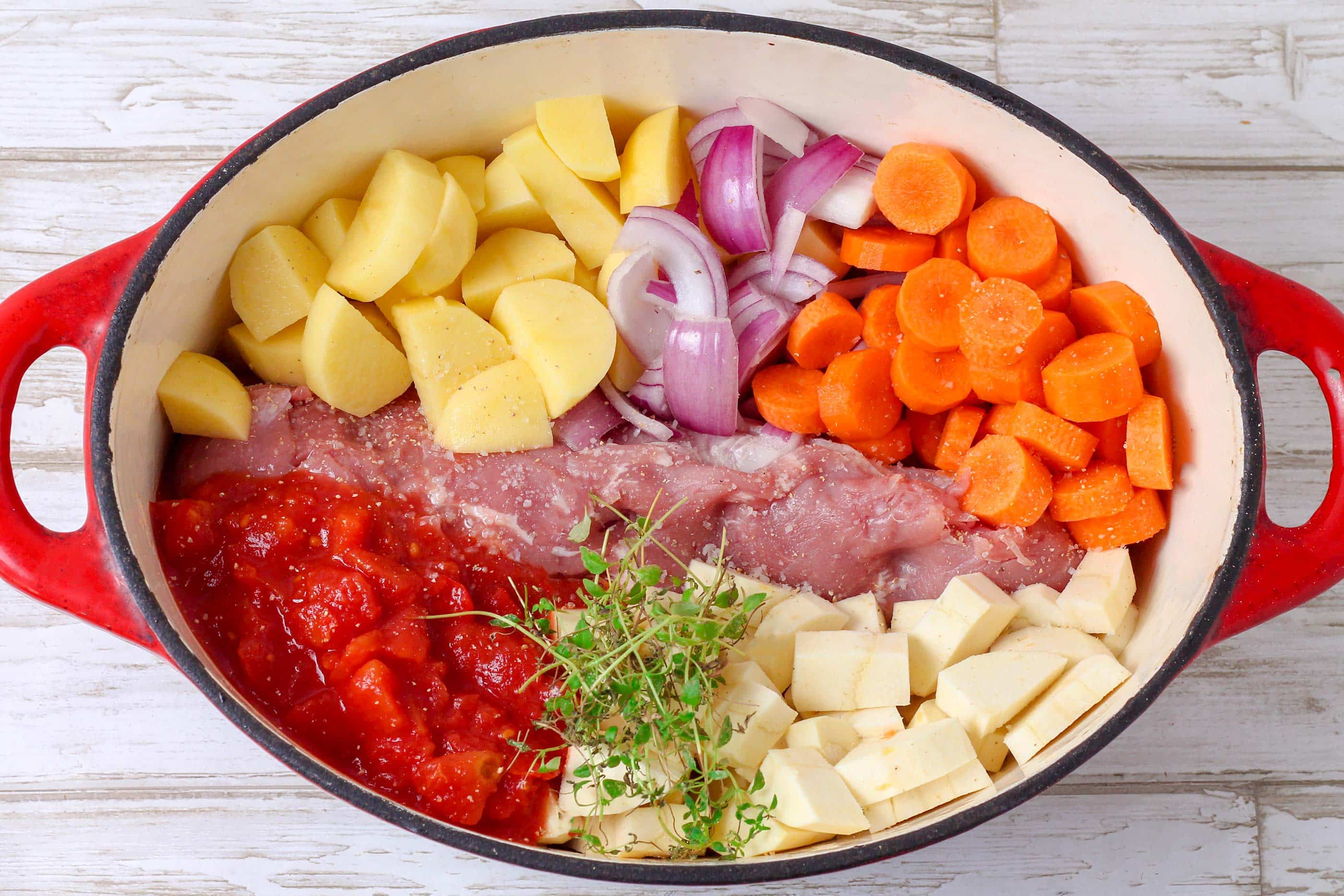 Ingredients
( 2 adults and 2 kids )
1

onion

1 clove

garlic

400 grams

potatoes

0.5

celeriac

*

300 grams

carrots

*

1 cube

vegetable stock

400 ml

boiled water

1 can

chopped tomatoes

70 grams

tomato purée

fresh or dried thyme

2 tbsp

red pesto

1

pork tenderloin

salt

pepper
ADD TO SHOPPING LIST
ADD TO MEAL PLAN
*
= Good to know - click the ingredient

= See the recipe - click the ingredient
We love one pot dishes! That is, easy dinner where everything is cooked in the same pot or tray. Here we've whipped up a slightly unorthodox version with potatoes and pork tenderloin, and it's so good! The recipe is for two days, so remember to save the leftovers for tomorrow. Enjoy!
Directions
1. Preheat your oven to 220 degrees convection.
2. Cut the onion into wedges. Press the garlic. Peel potatoes, celeriac and carrots and cut into bite sized chunks. Pop everything in a clay pot or baking tray.
3. Mix the vegetable stock with boiled water and add it to the clay pot or tray along with chopped tomatoes, tomato purée, thyme and red pesto. Mix everything well.
4. Place the pork tenderloin in the tray, and make sure it's covered with liquid and veggies.
5. Pop the tray in the oven, either with the lid on the clay pot, or tin foil over the baking tray, for approx. 30 minutes. The tenderloin is allowed to be faintly pink in the middle.
6. Season the sauce with salt and pepper and slice the tenderloin.
7. Serve the dish in deep plates - with an optional sprinkle of herbs on top, if you have that sort lying about. Do avoid herb sprinkles for kids younger than 3.
8. Enjoy!
Tip
Remember to save some meat for tomorrow, where you'll need it for a tasty noodle salad. Tasks for kids in the kitchen: Let your kids cut up potatoes and celeriac - and carrots, if they've got the muscles!
Share your tips and comments