High five!
The recipe has been added to your shopping list.
One pot pasta with easy meatballs - for two days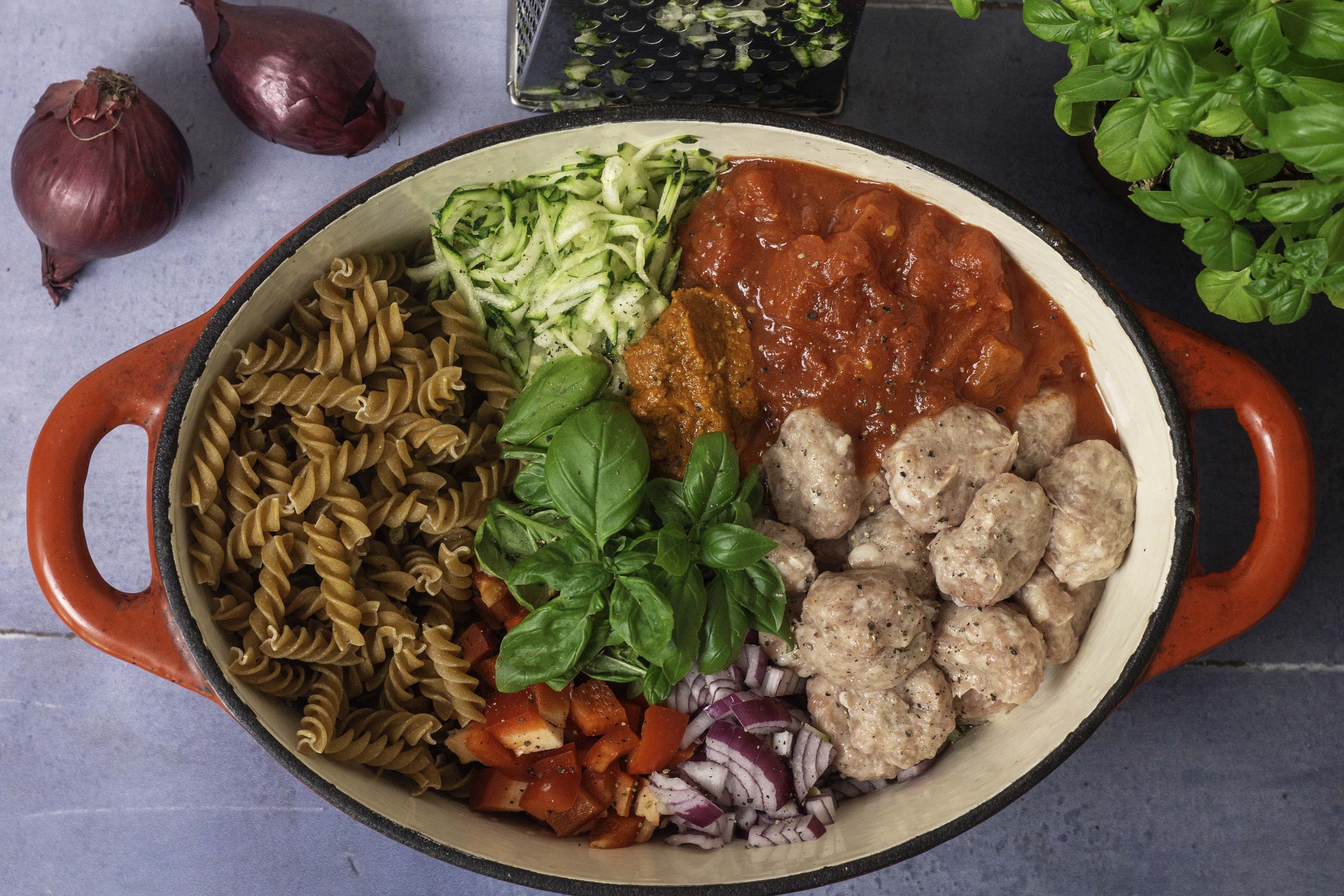 Ingredients
( 2 adults and 2 kids )
2

onion

2 clove

garlic

1

courgette

2

red bell pepper

800 ml

water

2 cube

vegetable stock

2 can

chopped tomatoes

4 tbsp

red pesto

250 ml

single cream 8%

1 bunch

fresh basil

800 grams

dinner sausage

wholewheat pasta

salt

pepper

grated cheese
ADD TO SHOPPING LIST
ADD TO MEAL PLAN
*
= Good to know - click the ingredient

= See the recipe - click the ingredient
A super tasty and genius one pot pasta. Everything goes in the same pot, and an easy and quick dinner is sorted! And we've made it extra easy: The meatballs are made from the farce of a dinner sausage - that's pretty clever, innit? Remember to save half of the dish for tomorrow, where dinner gets even easier, as it just needs warming up. Enjoy!
Directions
1. Finely dice the onion. Press the garlic. Rinse the courgette and roughly grate it. Rinse and dice the bell peppers and pop everything into a large pot.
2. Add water, crumbled stock cube, chopped tomatoes, pesto, single cream and chopped basil leaves to the pot. Mix everything well and switch on the hob.
3. Cut a hole in one end of the dinner sausage. Squeeze out cute little meatballs and place them into the pot.
4. Finally, add the pasta and bring the lot to the boil. Remember to stir carefully to the bottom, so nothing sticks.
5. Pop the lid on, lower the heat a bit and let the lot simmer for about 15 minutes, until the pasta is cooked, the meatballs cooked through, and the stock cube dissolved. Season to taste with salt and pepper.
6. Serve the dish in deep plates with grated parmesan or other cheese on top.
7. Enjoy!
Tip
Tasks for kids in the kitchen: Let your kids help grate the courgette, and rinse and dice the bell peppers. They can also help adding the ingredients to the pot. Remember to save half for tomorrow.
Share your tips and comments