High five!
The recipe has been added to your shopping list.
Omelette with sundried tomatoes and chicken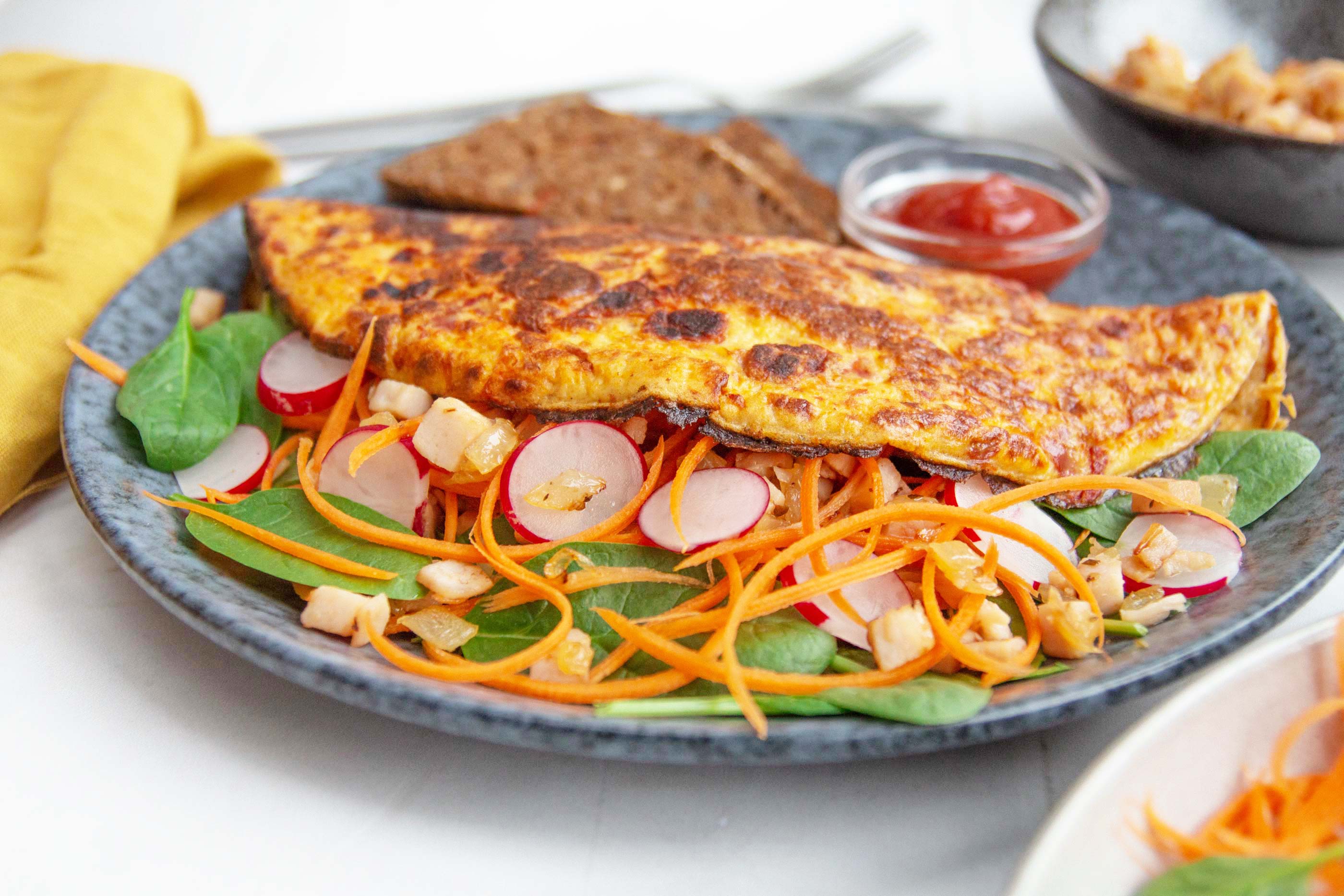 Ingredients
( 2 adults and 2 kids )
100 grams

sundried tomatoes in oil

12

egg

200 ml

milk

1

onion

300 grams

diced chicken

0.5 tbsp

dried oregano

300 grams

carrots

*

10

radish

lettuce of your choice

8 slice

rye bread

ketchup

pepper

salt

olive oil
ADD TO SHOPPING LIST
ADD TO MEAL PLAN
*
= Good to know - click the ingredient

= See the recipe - click the ingredient
Omelettes are super simple and easy to whip up on busy days. Here's a version with sundried tomatoes, chicken, radish and carrot, which we're serving with toasted rye bread and ketchup. Enjoy!
Directions
1. Cut the sundried tomatoes into small pieces. Whisk with eggs, milk, salt and pepper in a bowl and set aside. Dice the onion, and sweat it in olive oil in a pot. Add chicken and oregano. Cook for 5-10 minutes, then set aside.
2. Peel the carrots, then grate on the rough side of a grater. Rinse and slice the radishes. Rinse the lettuce and set the lot aside.
3. Now we're frying up the omelettes - call the family to the table! You can either cook them one at a time, or use two pans at once, if you're fearless in the kitchen! Remember that the next step has to be repeated for each omelette, so remember to dose out the egg and filling so you have enough for everyone.
4. Pour a bit of egg onto a pan with some olive oil, to make an omelette slightly thicker than a crepe. Cook the omelette over medium heat, until it sets slightly and stops being runny. You can try to carefully lift it around the edge, to keep it from burning. Just before it's fully cooked, place some filling on one half of the omelette, fold over the other half, then carefully move the omelette to a plate.
5. Toast the rye in a toaster - or serve it fresh, of course, but rye bread is especially delicious if toasted a bit. Serve the omelettes with the yummy filling, toasted rye bread and a dollop of ketchup on the side. Enjoy!
Tip
Tasks for kids in the kitchen: Let your kids help beat the egg base. They can also slice radishes and peel carrots.
Share your tips and comments