High five!
The recipe has been added to your shopping list.
Omelette with sausage, avocado and feta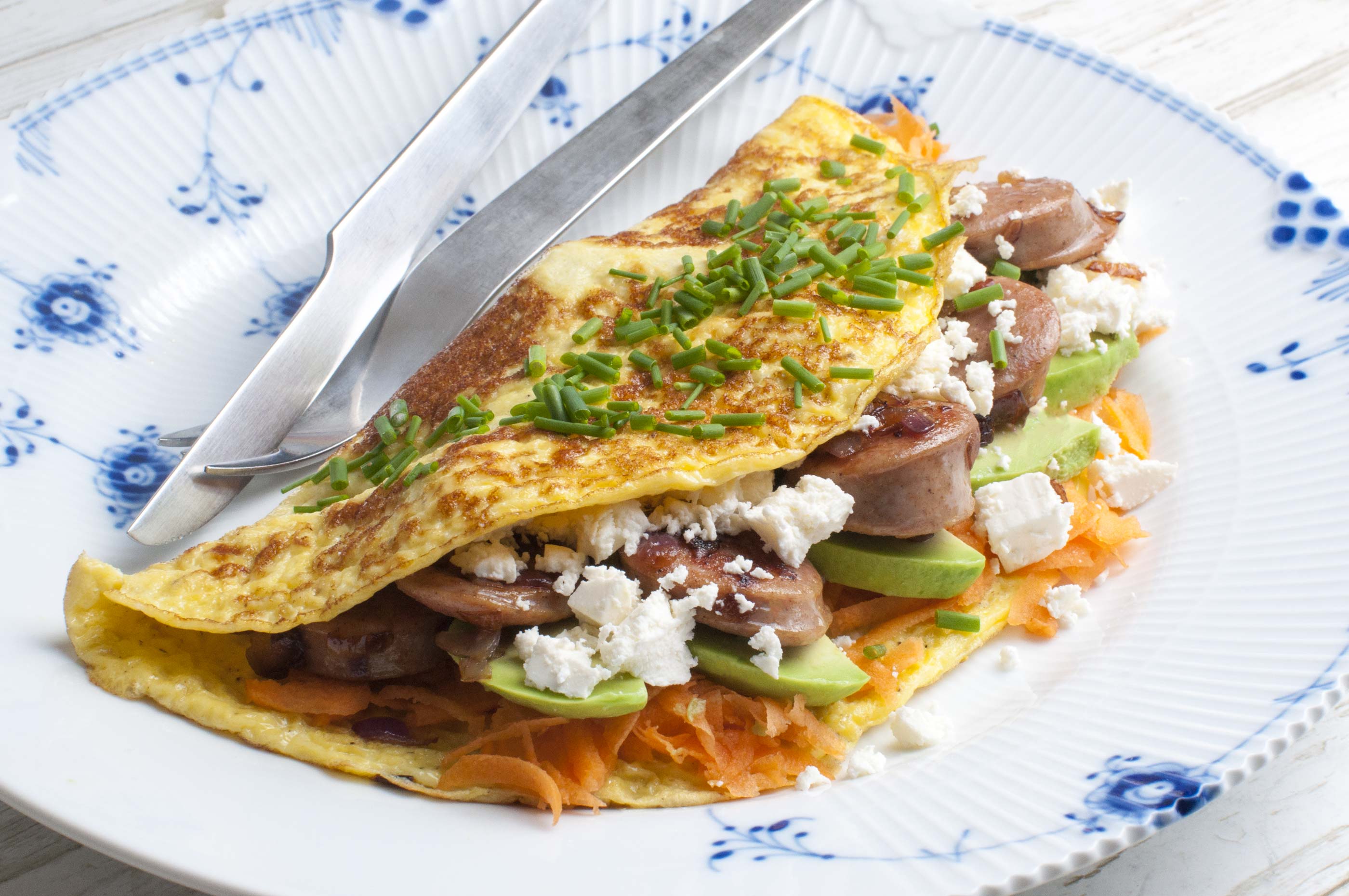 Ingredients
( 2 adults and 2 kids )
300 grams

carrots

*

1

onion

4

sausage

2

avocado

lemon

10

egg

200 ml

milk

100 grams

feta cubes

4 slice

wholegrain bread

olive oil

salt

pepper
ADD TO SHOPPING LIST
ADD TO MEAL PLAN
*
= Good to know - click the ingredient

= See the recipe - click the ingredient
A gorgeous omelette stuffed with sausage, avocado and feta. Quick and easy dinner for the busier days. Note that we've figured one omelette per person - if your lot is very hungry, use a few more eggs and fillings. Enjoy!
Directions
1. Peel the carrots and roughly grate them. Finely chop the onion and cut the sausage into bite-sized chunks. Halve the avocado, remove the stone and slice the flesh. Drizzle with a bit of lemon juice to stop it from browning.
2. Cook the onions until soft with a bit of olive oil in a pan. Add the sausages and let cook until they've gotten a nice bit of colour and are warm all the way through. Put onion and sausage to the side and cover with aluminium foil.
3. Beat eggs with milk, salt and pepper. Pop a bit of the egg mix on a pan with a bit of oil and cook the omelette on medium heat until it gathers itself and is no longer runny. Lift around the edges frequently to keep it from burning. Pop the omelette on a plate, cover with aluminium foil and cook the rest of the omelettes.
4. Place omelettes and bowls of filling on the table.
5. Let the family assemble their own favourite omelette, and fold or roll them up. Optionally top with a bit of ketchup, dressing and greens, if you have any to hand, and serve with toasted wholegrain bread.
6. Enjoy!
Tip
This recipe really shines when you pick the right sausage. Sausages with spice mixes, various stuffings, or spiced breakfast sausages all go great. If you're making individual omelettes, use a pan about 24 cm in diameter. Or you can use a larger pan and just make bigger omelettes, that you split in two. And Bob's your uncle, you've still got an omelette for everyone, just in half the time!
Share your tips and comments