High five!
The recipe has been added to your shopping list.
Number cake for kids' birthdays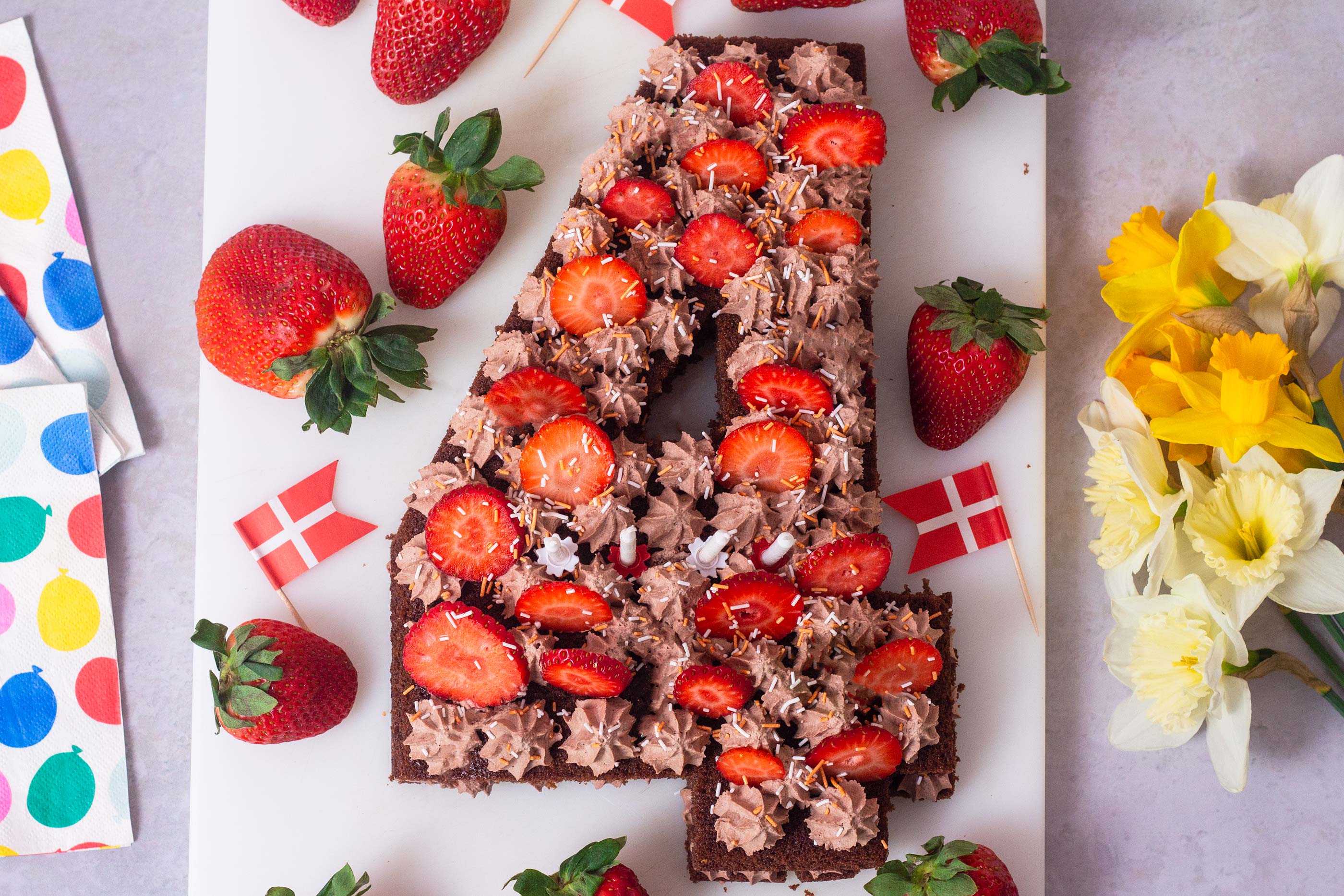 Ingredients
( 1 cake )
Cake bases

230 grams

butter

-

4

egg

300 grams

plain flour

2 tsp

baking powder

2 tsp

vanilla sugar

0.5 tsp

salt

4 tbsp

cocoa powder

375 grams

sugar

2

organic orange

Creme

250 ml

whipping cream

2 tbsp

cocoa powder

40 grams

powdered sugar

Decoration

200 grams

strawberries
ADD TO SHOPPING LIST
*
= Good to know - click the ingredient

= See the recipe - click the ingredient
Hip hip hurray! Have you run out of cake ideas for the kids' birthdays? Then try our easy recipe for the cutest number cake. The cake can be made as whatever number you like. But a word of advice: we recommend going for the number that matches what your kid is turning! You'll find templates for the numbers right here. Enjoy!
Directions
Cake bases
1. Take butter and eggs out of the fridge a while before you start, as you ideally want it to be room temperature. Preheat your oven to 185 degrees convection.
2. Mix flour, baking powder, vanilla sugar, salt and cocoa in a bowl.
3. Mix sugar and butter in a separate bowl with an electric whisk and add the eggs one at a time until your batter is fluffy. Then add the dry mix.
4. Zest the orange finely on a grater (or zester, if you have one). Then peel the orange, bin the peel and give the flesh of the orange a whirl in a mini chopper. Mix zest and chopped orange into the batter.
5. Pour the batter into a buttered or oiled square cake tin (approx. 20 x 30 cm) - or, in a pinch, in a round tin, buttered or lined with baking parchment. Bake the cake for 25-30 minutes, or until no batter sticks when you poke it with a knitting needle.
Creme
6. Whip the cream and sift cocoa powder and powdered sugar into it. Keep whisking until you can turn the bowl upside down without any cream falling out. But remember not to whisk it so much it separates.
7. Pop the whipped cream into a squirty bag with a spout, or into a freezer bag which you can cut a corner off later, when it's time to decorate. Pop the whipped cream in the fridge.
Decoration and assembly
8. Once the bases are cool, you can cut them into whatever birthday number you like. Then carefully split in two, to give you two bases. Place one base on a cake tray - we suggest using two spatulas to lift it. Squirt half of the whipped cream onto the bottom base and carefully place the second base on top.
9. Squirt the rest of the whipped cream on top, and decorate with rinsed, sliced strawberries. If you have sprinkles or other decorations, that's perfect too!
10. Yaaay, it's finally munch time - enjoy!
Tip
Tasks for kids in the family: Let your kids help whisk the batter. They can also zest the orange and press the juice from the orange. And they can definitely help decorate it... and "clean" the whipped cream bowl!
Share your tips and comments