High five!
The recipe has been added to your shopping list.
Noodle soup with chicken and coconut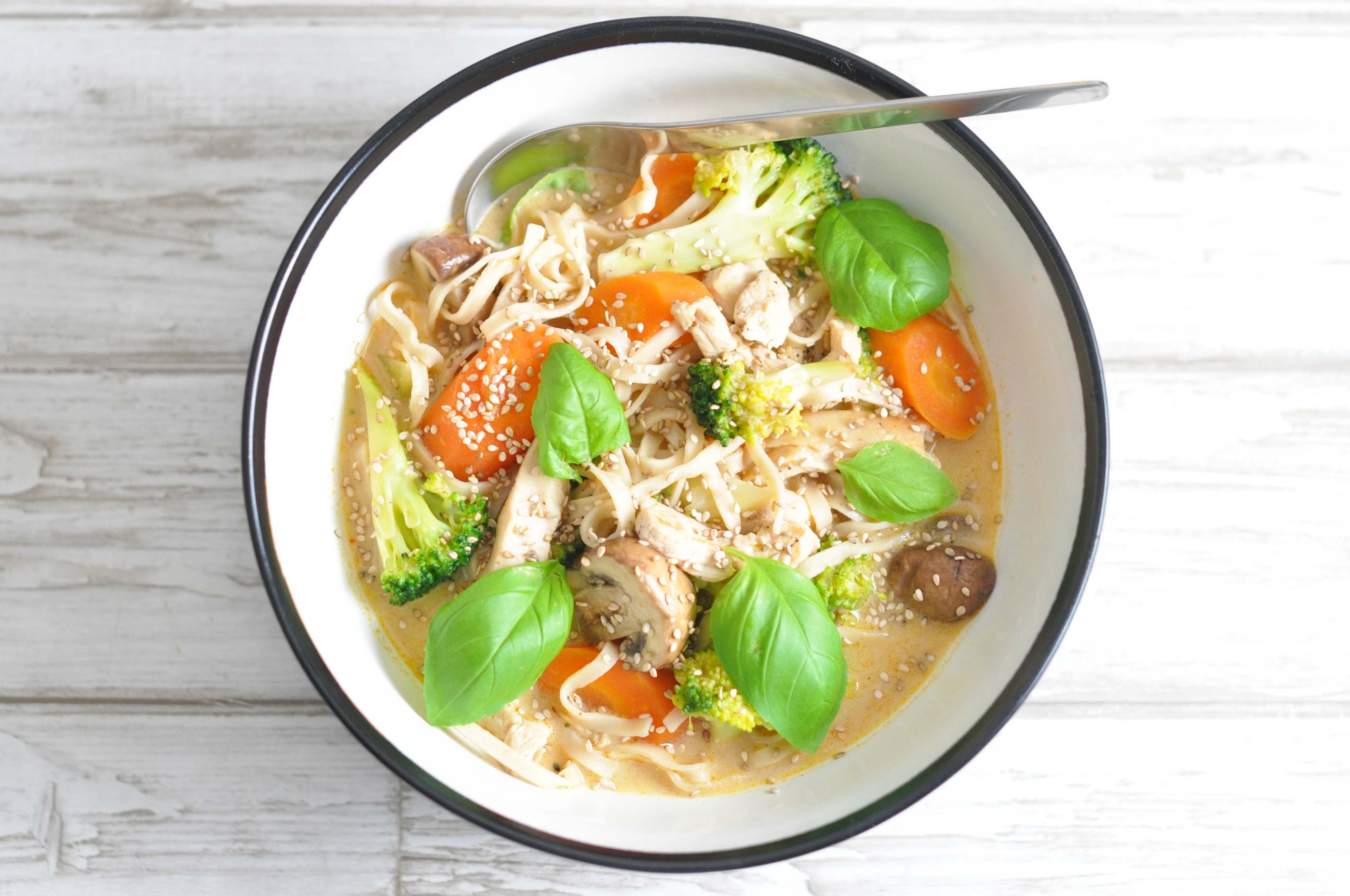 Ingredients
Freezer friendly
( 2 adults and 2 kids )
150 grams

wholewheat noodles

300 grams

carrots

*

250 grams

mushrooms

0.5

broccoli

1

lemongrass

250 grams

chicken fillet

2 tbsp

oyster sauce

2 tbsp

fish sauce

1 tbsp

red curry paste

400 ml

coconut milk

500 ml

water

1 cube

chicken stock

1

lime

salt

pepper
ADD TO SHOPPING LIST
ADD TO MEAL PLAN
*
= Good to know - click the ingredient

= See the recipe - click the ingredient
A tasty noodle soup with lots of veg. Once the veggies and chicken are washed and chopped, dinner is ready in a flash. Enjoy!
Directions
1. Place noodles in a bowl and cover with boiling water. Leave to sit while you prep the rest.
2. Wash the veg. Chop the carrots into bite-sized, diagonal chunks, halve the mushrooms and split the broccoli into florets. Remove the tops and bottoms of the lemongrass and remove the outer leaf. Flatten with the back of a kitchen knife and cut into 4-5 pieces. You want them big enough to find them once the dish is ready - lemongrass should just add flavour, not be eaten. Pop everything to the side.
3. Cut the chicken into thin strips. Remember to wash hands and utensils. Flash fry the chicken in a wok or deep pan along with half of the oyster sauce. Season with salt and pepper and take the chicken off the pan and set aside.
4. Flash fry the veg (except the lemongrass) with the fish sauce and the rest of the oyster sauce. Cook for 2-5 minutes, until tender but still with some bite. Take off the pan and set aside.
5. Now flash fry half of the curry paste (you can always add more later) and lemongrass on the pan while stirring, for approx. 1 minute. Add coconut milk, water and stock cube and bring to the boil. Drain the noodles and cover with cold water. Leave to drip off in a sieve. When the soup is boiling, add veggies, chicken and noodles and warm the lot. Taste, and add a bit more curry paste, fish/oyster sauce and a bit of lime juice if needed.
6. Serve in big bowls and garnish with sesame seeds and basil or other herbs on top - if you're feeling fancy. Enjoy!
Share your tips and comments