High five!
The recipe has been added to your shopping list.
New Years menu: Tenderloin with potato muffins, pea shoots, purée and sauce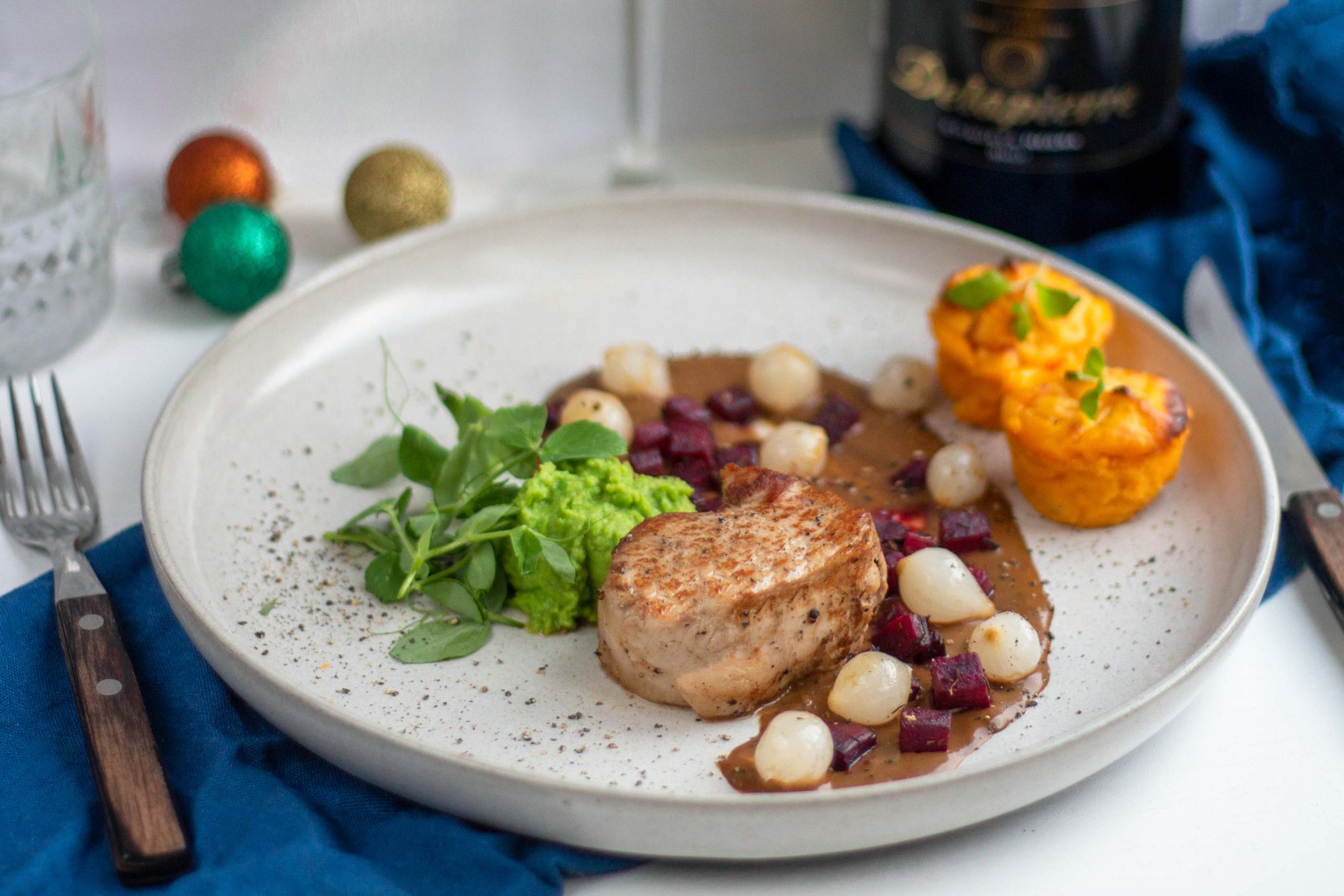 Ingredients
( 2 adults and 2 kids )
Potato muffins

400 grams

baking potatoes

400 grams

sweet potatoes

60 grams

butter

3

egg

muffin tin

Tenderloin and sides

1

pork or beef tenderloin

200 grams

frozen peas

25 grams

butter

150 ml

water

200 ml

single cream 8%

2 tbsp

beef stock

400 grams

fresh beets

*

100 grams

pearl onion

0.5 tbsp

dried thyme

1 bag

pea shoots

lemon

salt

pepper

olive oil
ADD TO SHOPPING LIST
ADD TO MEAL PLAN
*
= Good to know - click the ingredient

= See the recipe - click the ingredient
HAPPY NEW YEAR! We've put together a really tasty and pretty simple New Years menu, which goes just as well with any other festive occasion. Depending on taste and budget, you can use pork, beef or veal tenderloin. You'll always find good offers on various cuts of meat around New Years. Enjoy!
Directions
1. Preheat your oven to 225 degrees fan assisted.
2. Peel white and sweet potatoes and roughly dice. Cook out until completely tender in a pot of unsalted water.
3. Meanwhile, trim the tenderloin by removing the biggest tendons and fat deposits with a sharp knife. Be mindful not to cut too far into the meat (or your hands..)! Slice the tenderloin into steaks about 5 cm thick, and season with salt and pepper.
4. Boil the peas in water for about 10-15 minutes. Drain the water, then blend the peas with butter and season to taste with salt and pepper.
5. Once the potatoes are cooked tender, drain the water. Mash the potatoes well with a whisk, add butter and stir until melted. Season to taste with salt and pepper. Let the mash cool a little, then add the eggs and whisk. Add the mash to buttered muffin tins and bake for about 20-25 minutes.
6. Quickly sear the steaks on both sides on a pan in some olive oil. Then add water to the bottom of the pan and pop a lid on – or use tin foil.
7. Let it gently simmer for 10-15 minutes until the steaks are pink in the centre. Remove the steaks and let them rest uncovered on a cutting board while you finish the rest.
8. Add single cream (or heavy cream, if you really want to get a party going) and beef stock to the pan and season to taste with salt, pepper and lemon. Lower the heat all the way until the rest is done.
9. Peel and dice the beets. Sweat on a pan in some olive oil along with pearl onions and thyme. Sweat for about 5 minutes and season with salt and pepper to taste.
10. Serve the tenderloin steaks with potato muffins, pea purée, sautéed beets and pearl onions, along with sauce and rinsed pea shoots on top. Happy New Year and enjoy!
Tip
Tasks for younger kids in the kitchen: Let your kids help peel the potatoes. They can also dice the beets – but don't forget an apron!
Share your tips and comments