High five!
The recipe has been added to your shopping list.
Nachos with chicken, salsa and guac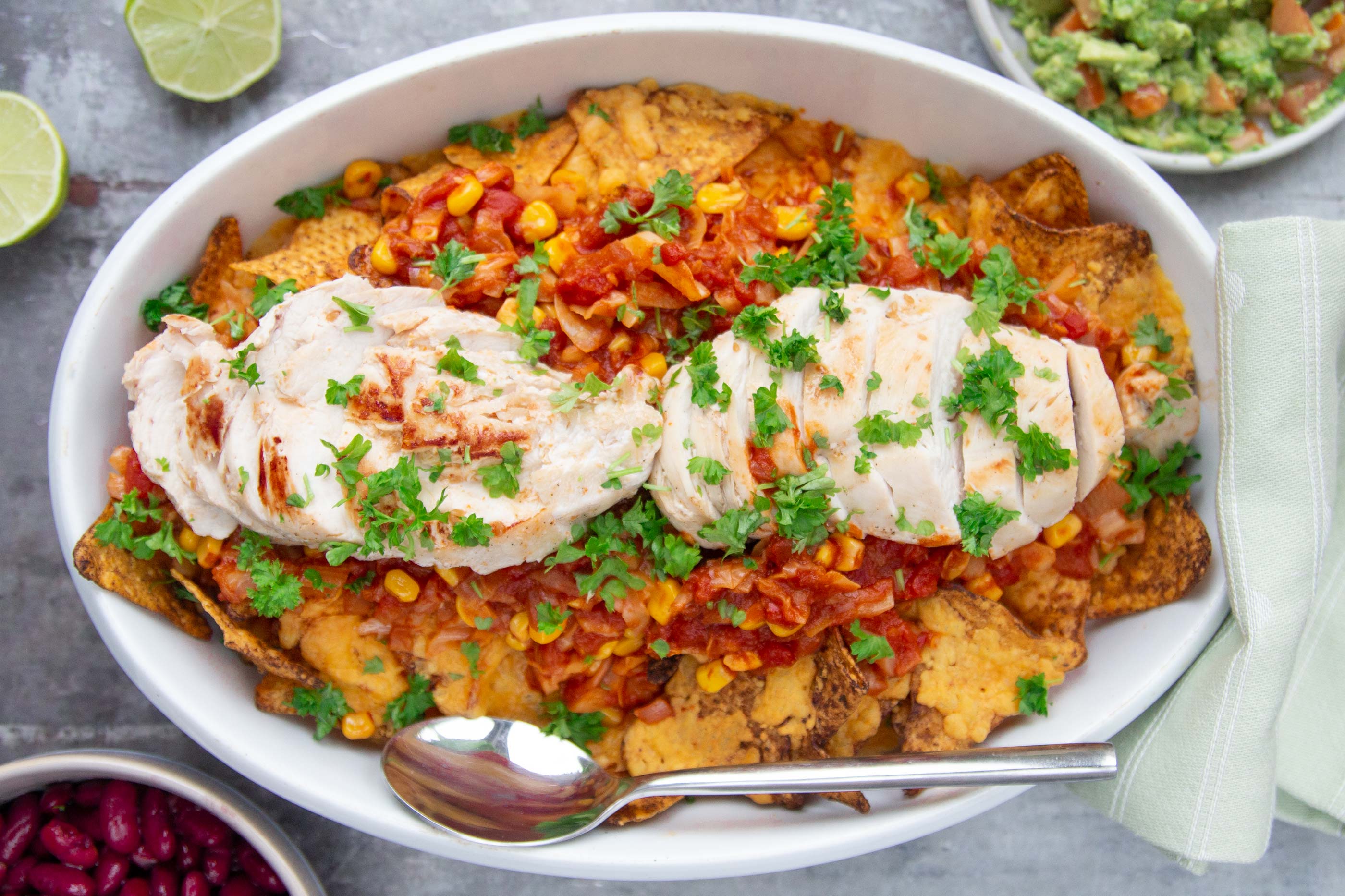 Ingredients
( 2 adults and 2 kids )
200 grams

wholewheat tortilla chips

100 grams

grated cheese

500 grams

chicken fillet

1

onion

1

red bell pepper

1 can

chopped tomatoes

230 grams

taco sauce

285 grams

loose sweetcorn

1 tin

kidney beans

1

lime

guacamole

salt

pepper

olive oil
ADD TO SHOPPING LIST
ADD TO MEAL PLAN
*
= Good to know - click the ingredient

= See the recipe - click the ingredient
Today is extra scrumtious and sinful, as we're whipping up a yummy tray of warm nachos, seared chicken, guacamole and veggie salsa - a perfect weekend dish. We've made the recipe extra easy, so the kids can have their own cooking day - or assist mum and dad in the kitchen. Enjoy!
Directions
1. Preheat your oven to 200 degrees convection.
2. Oil an oven dish with olive oil and pop in the chips. Top with grated cheese. Bake the chips in the oven for 15-20 minutes, until crispy with golden cheese.
3. Sear the chicken on a pan in some olive oil and season with salt and pepper. Let the chicken cook through on the pan, then cut into strips.
4. Now for the salsa. Finely chop the onion. Rinse the bell pepper, remove the seeds and dice it. Sautée onion and bell pepper in some olive oil in a pot until golden. Add chopped tomatoes, taco sauce, and sweetcorn and let the lot simmer for a couple of minutes.
5. Drain the kidney beans, mix beans with the juice from a lime and season to taste with salt and pepper.
6. Serve the warm nachos with chicken, salsa, guacamole and lime marinated kidney beans.
7. Enjoy!
Tip
Tasks for kids in the kitchen: Let your kids help oil the oven dish. They can also add the nachos and cheese - and no doubt help taste as you go! They can also happily dice the bell pepper and squeeze a lime over the kidney beans.
Share your tips and comments