High five!
The recipe has been added to your shopping list.
Naan breads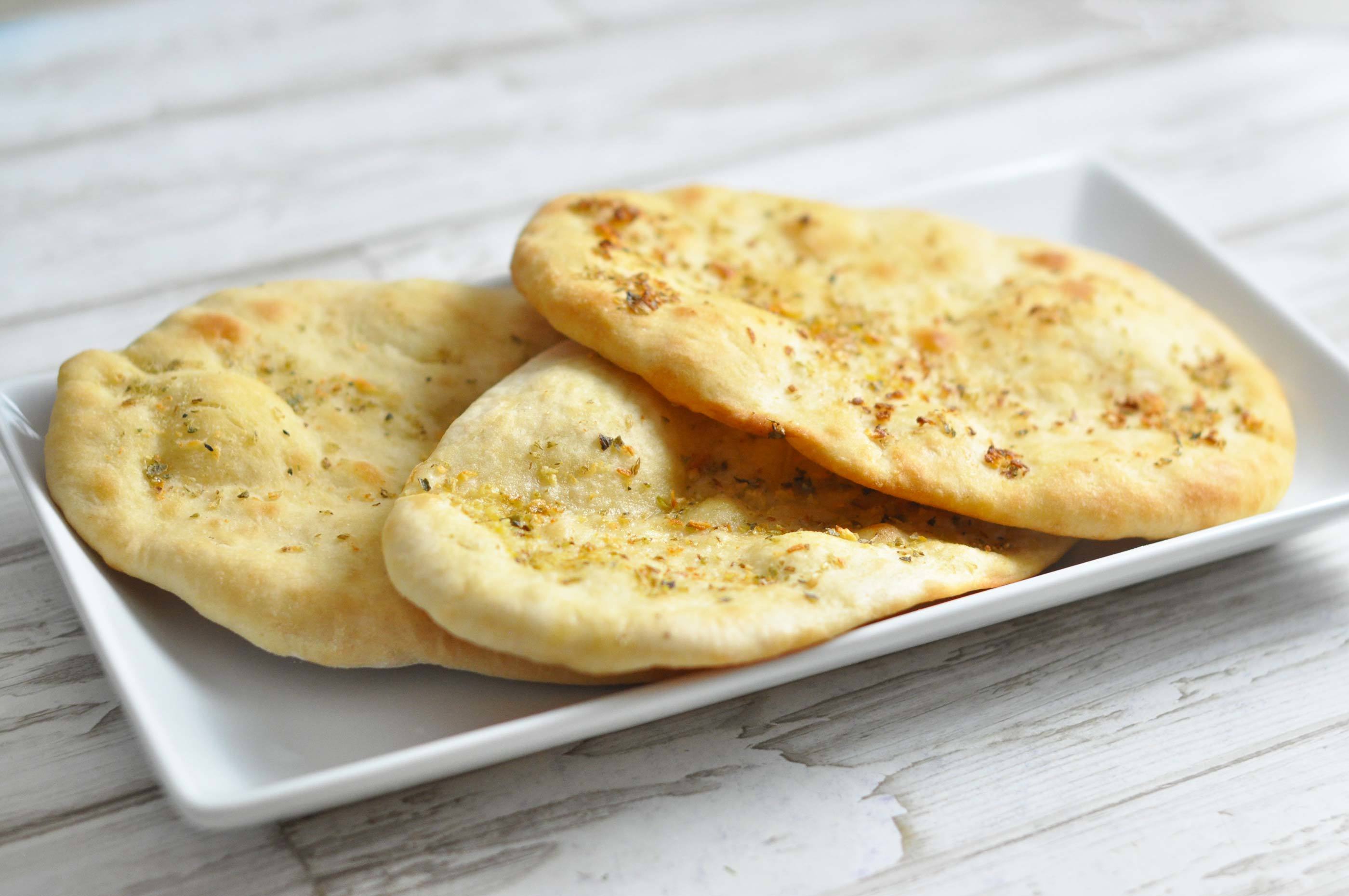 Ingredients
250 ml

cold water

50 ml

boiling water

25 grams

yeast

0.5 tbsp

acacia honey

*

100 ml

yoghurt naturel

1 tsp

salt

600 grams

plain flour

50 grams

butter

2 clove

garlic

1 tbsp

dried oregano

baking parchment
ADD TO SHOPPING LIST
*
= Good to know - click the ingredient

= See the recipe - click the ingredient
Naan bread is such a tasty side, especially for Indian dishes. And it's not hard at all to make - just follow our recipe! Here we've topped the breads with garlic and oregano, but you can use absolutely anything you like. Enjoy!
Directions
1. Mix cold and boiling water. You want it lukewarm enough to stick a fingertip in - that will be the perfect temperature for the yeast to activate. Stir yeast and honey into the water and add yoghurt, salt and the flour little by little.
2. Stir or knead until you have a pliable dough, that just about lets go of your fingers. Place the dough under cloth somewhere warm for an hour and a half to 2 hours.
3. Preheat your oven to at least 250 degrees - ideally 275 - non-convection with a baking tray on the bottom shelf of the oven. If you have a pizza stone, place it on the baking tray in the cold oven before you switch it on. If not, just use a regular baking tray with baking parchment - in this case, you don't want the oven hotter than 250 degrees. Remember to keep an eye, so the baking parchment doesn't catch fire!
4. Melt the butter and mix it with pressed garlic and dried oregano.
5. Take a small handful of dough and roll onto a floured tabletop, into an oval shape about the thickness of a pizza base. Spread the butter mixture onto the breads and place on the pizza stone or baking tray and bake for about 5 minutes, or until they've bubbled up a bit here and there and are golden on top. Optionally, sprinkle a bit of salt on to finish.
6. Enjoy!
Tip
You can easily freeze the unused dough, if you don't use the lot on the first go. Then you're ready for a quick batch of naan next time you need it.Naan bread is the perfect companion to dishes like our indian chicken or chicken tikka masala.
Share your tips and comments