High five!
The recipe has been added to your shopping list.
Morrocan veggie harissa with sweet potatoes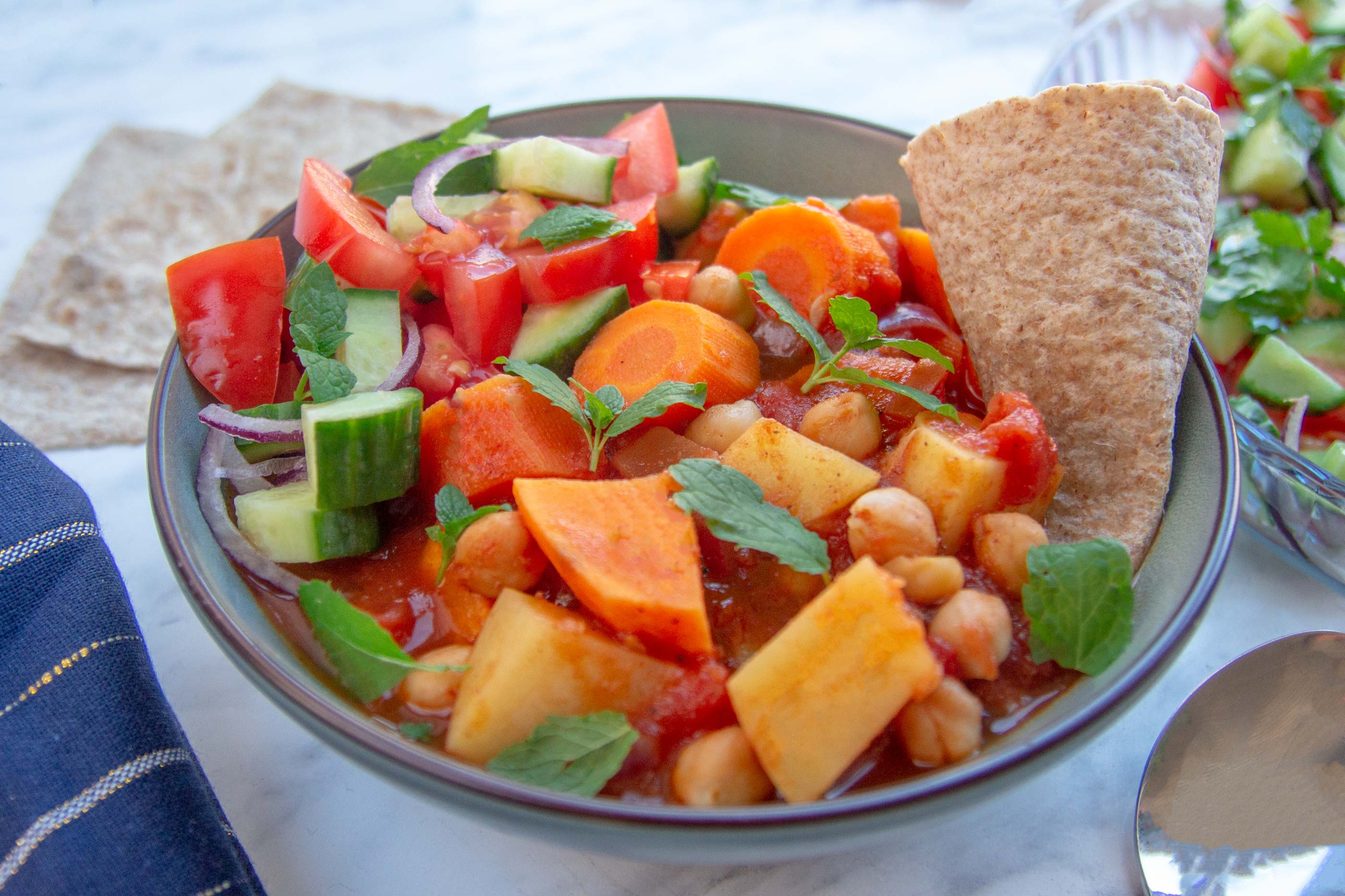 Ingredients
( 2 adults and 2 kids )
1

onion

500 grams

potatoes

300 grams

carrots

*

300 grams

sweet potatoes

1 tbsp

paprika

0.5 tbsp

cumin

0.25 tbsp

ground cinnamon

0.5 tbsp

dried coriander

2 can

chopped tomatoes

100 ml

water

1 tbsp

sugar

1 cube

vegetable stock

wholewheat tortillas

3

tomato

0.5

cucumber

0.5

onion

1 bunch

broadleaf parsley

1 tin

chickpeas

salt

pepper

olive oil
ADD TO SHOPPING LIST
ADD TO MEAL PLAN
*
= Good to know - click the ingredient

= See the recipe - click the ingredient
We've whipped up a flavourful and family friendly vegetarian dish that's a staple in Morrocan cuisine: Veggie harissa with potatoes, sweet potatoes, carrots and chickpeas, served with warm wraps. Don't let the long ingredient list frighten you – the dish is simple and easy to make. Enjoy!
Directions
1. Peel onions, potatoes, carrots and sweet potatoes, roughly dice everything and sautée the lot in some olive oil in a pot.
2. Add paprika, cumin, cinnamon and coriander and let cook for five minutes. Add chopped tomatoes, water, sugar and vegetable stock.
3. Let the lot simmer for 15 minutes, until the potatoes are tender, and season with salt and pepper.
4. Meanwhile, rinse and dice tomato, cucumber, broadleaf parsley and onion. Mix with olive oil and some salt and pepper.
5. Warm the wraps in the oven, microwave or on a pan, and serve the dish in deep plates with salad and warm wraps, which you can break apart and use as 'spoons'. If you like spicy food, top with a dose of chilli for those who'd like.
6. Enjoy!
Tip
Tasks for younger kids in the kitchen: Let your kids help peel and dice the veggies. They can also help taste the sauce, as it might taste a bit different to what they're used to. They can also finely dice tomatoes and cucumber for the salad.
Share your tips and comments