High five!
The recipe has been added to your shopping list.
Minute steaks with corn and asparagus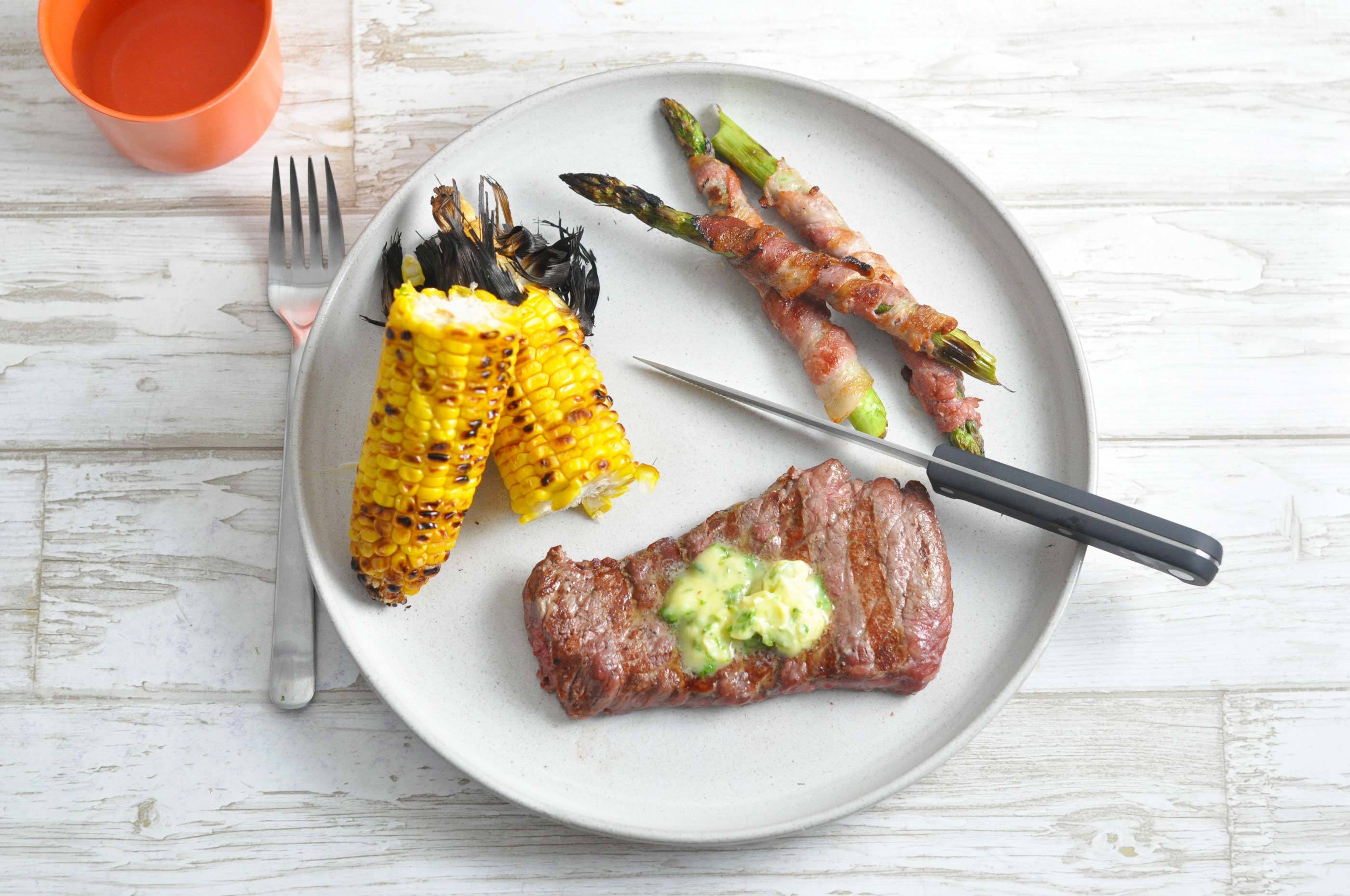 Ingredients
( 2 adults and 2 kids )
0.5 bunch

parsley

50 grams

butter

- softened

4

corn cob

200 grams

green asparagus

75 grams

bacon slices

6

steaks

salt

pepper
ADD TO SHOPPING LIST
ADD TO MEAL PLAN
*
= Good to know - click the ingredient

= See the recipe - click the ingredient
Grilling doesn't have to be difficult or expensive. This recipe is quick to make, and equally tasty on a Wednesday or a Saturday! And if the weather doesn't lend itself to grilling, you can just as easily make it in the kitchen! Save the leftover steaks for steak salad tomorrow. Enjoy!
Directions
1. Fire up the grill - direct heat.
2. Rinse and chop the parsley and mix with the butter in a bowl. If the butter is hard, you can dice it and microwave it for 5-10 seconds - but be careful it doesn't melt. Pop it in the fridge while you prep the rest.
3. Remove the leaves and those pain in the neck hairs from the corn cobs and place them on the grill. They need 15-20 minutes, until they're beautifully golden. Remember to flip them during. If you're not grilling, just split the cobs in two and boil in lightly salted water for 8-10 minutes.
4. Rinse the asparagus and snap off the bottom third. The clever thing about asparagus is that they automatically snap exactly where you want them to! Wrap half a slice of bacon around each one, and set aside on the plate. Remember to wash your hands and utensils afterwards.
5. Season the steaks with salt and pepper and throw them on the grill, until they're cooked to your liking. Let them rest uncovered on a plate, while you grill the bacon wrapped asparagus. If you're not grilling, just cook the steaks and asparagus on a pan in the kitchen.
6. Serve the steaks with the grilled asparagus and corn cobs, and some tasty parsley butter on top. Enjoy!
Tip
For this recipe you really don't need the biggest, thickest and most expensive steaks. Most supermarkets have "minute steaks" or "lunch steaks" as part of their permanent range, they're reasonably priced and super tasty. We have added extra steaks in the ingredients list to use for a quick an easy steak salad tomorrow!
Share your tips and comments