High five!
The recipe has been added to your shopping list.
Mince steaks with silverskin onions, potatoes and asparagus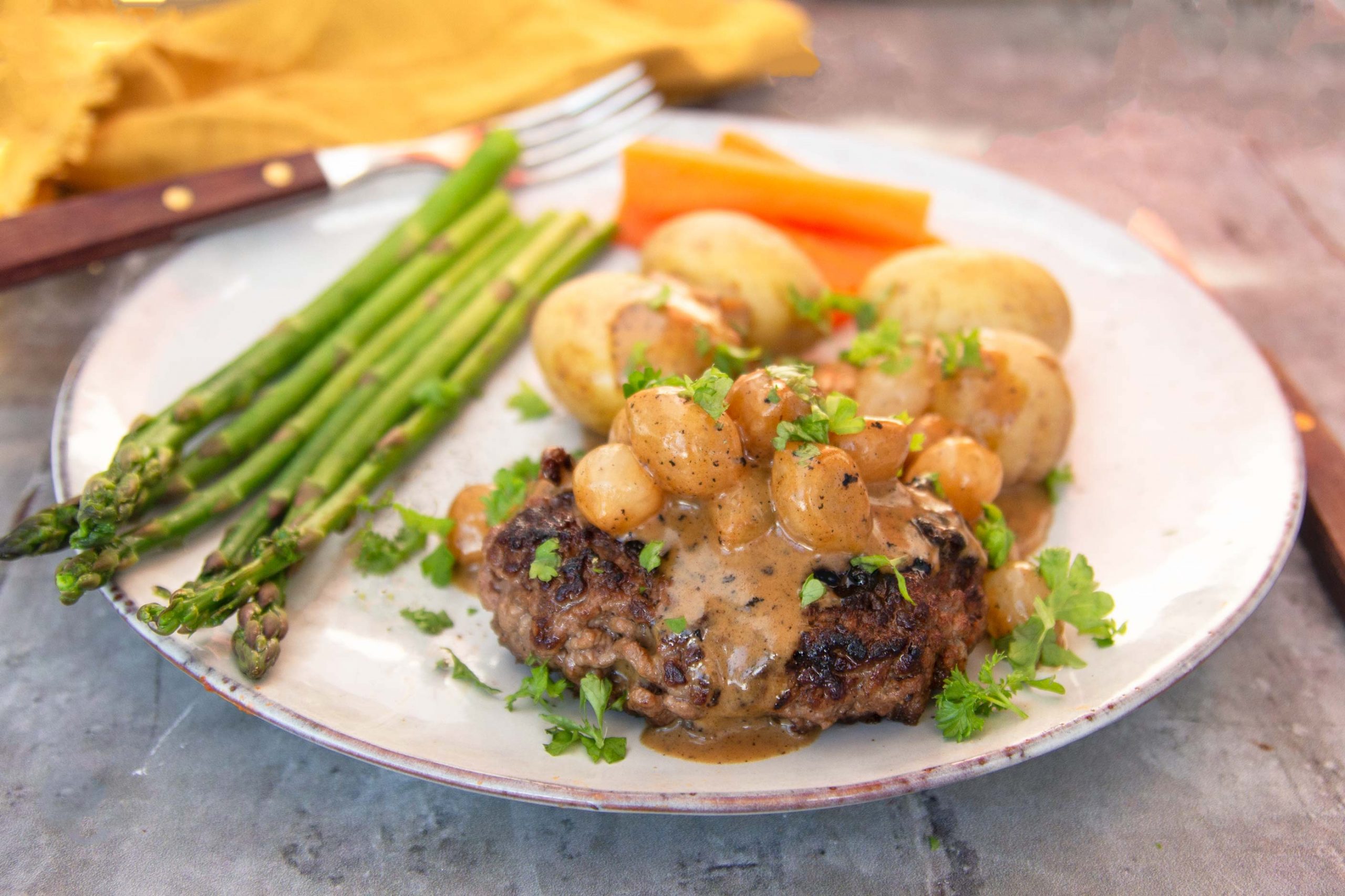 Ingredients
( 2 adults and 2 kids )
190 grams

silverskin onion

600 grams

potatoes

500 grams

beef mince

200 ml

single cream 8%

300 ml

potato water

1 cube

beef stock

2 tbsp

corn flour

260 grams

green asparagus

300 grams

carrots

*

gravy browning

salt

pepper

olive oil

butter

sugar
ADD TO SHOPPING LIST
ADD TO MEAL PLAN
*
= Good to know - click the ingredient

= See the recipe - click the ingredient
Yum! Juicy mince steaks served with a delicious gravy with silverskin onions, blanched green asparagus, potatoes and carrots. Enjoy!
Directions
1. Drain the silverskin onions (or thaw, if you're using frozen) and sweat in a bit of oil on a pan over medium heat.
2. Wash or peel potatoes and cook in a pot of salted water. Depending on the size of the spuds, they'll need 10-20 minutes. Poke one with a fork - when it's just about tender and lets go of the fork, they're done. Save the water from the potatoes - we'll need it for the gravy!
3. Shape the mince into patty steaks and season with salt and pepper. Fry on a pan in some butter and oil until they're cooked to your liking. Once the steaks are done, remove from the pan and cover - and don't clean the pan.
4. Add the silverskin onions to the pan you cooked the steaks in. Add single cream, some potato water and a crumbled stock cube, and bring to the boil over low heat while stirring continuously. Mix a bit of corn flour and water in a cup and add little by little, until the gravy has your preferred consistency. Add gravy browning until it's the exact shade you remember from your grandparents' house. Season with salt and pepper and a pinch of sugar.
5. Break off the stringy bottom third of the asparagus. They naturally snap right where the stringy bit ends (handy, that!). Blanch the asparagus in rolling boiling water for about 30 seconds, then immediately rinse with cold water. Be careful not to overcook them - they should retain a bit of crunch. Peel and cut carrots into sticks.
6. Serve the mince steaks with the silverskin onion gravy, potatoes, asparagus and carrot sticks. Enjoy!
Tip
Tasks for kids in the kitchen: Let your kids help shape the mince steaks. They can also help taste the sauce, snap the asparagus and peel the carrots.
Share your tips and comments