High five!
The recipe has been added to your shopping list.
Mince steaks with cauliflower couscous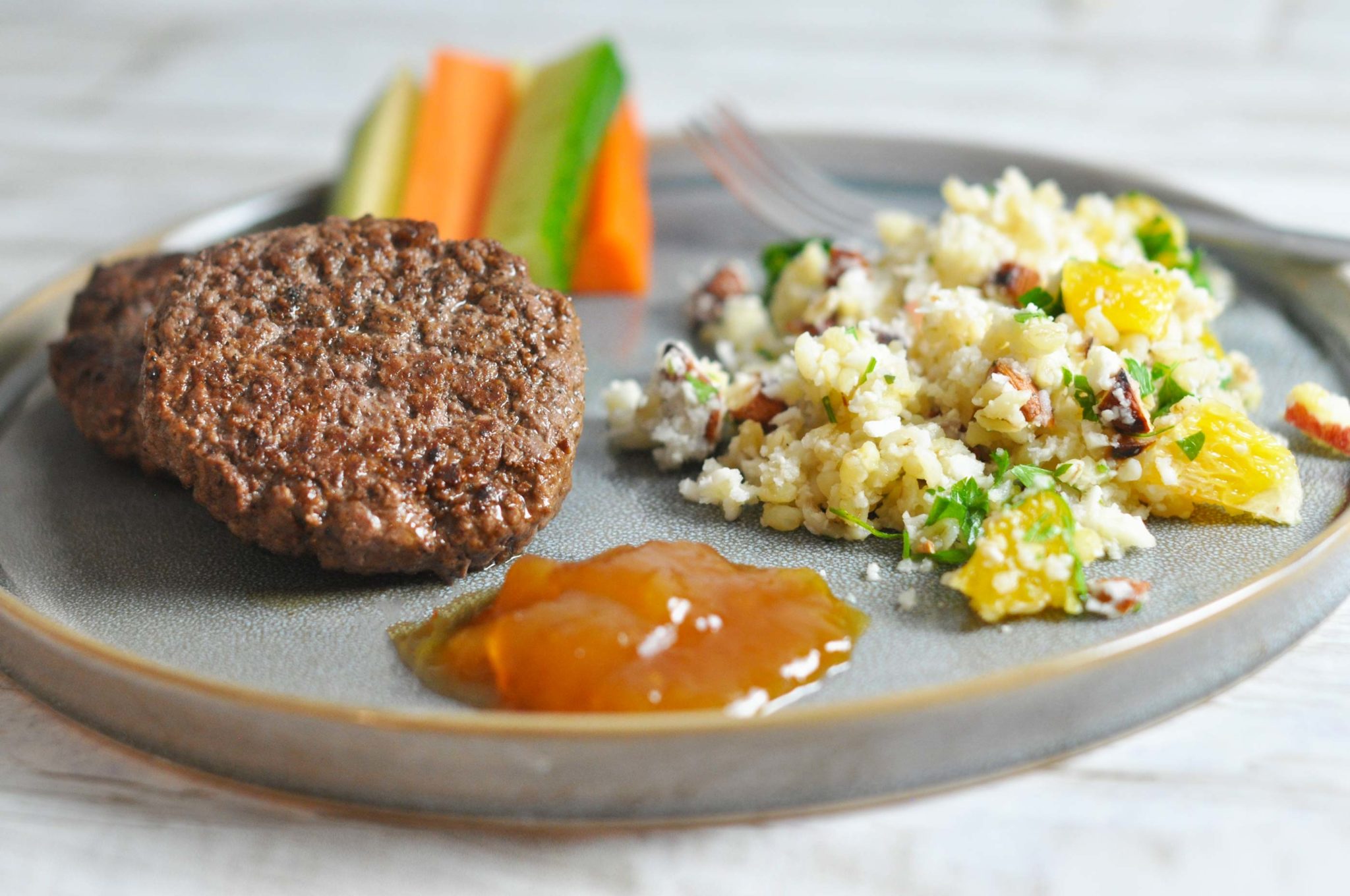 Ingredients
100 ml

bulgur

200 ml

water

1 cube

vegetable stock

50 grams

almonds

*

0.5

cauliflower

1

apple

2

orange

0.5 bunch

parsley

25 ml

olive oil

1 tbsp

sweet mustard

1 tbsp

acacia honey

*

300 grams

carrots

*

0.5

cucumber

500 grams

beef mince

mango chutney

olive oil

salt

pepper

baking parchment
ADD TO SHOPPING LIST
ADD TO MEAL PLAN
*
= Good to know - click the ingredient

= See the recipe - click the ingredient
Mince steaks are an easy and tasty Danish classic. Here we've served the bad boys with snack veggies and a yummy cauliflower couscous with apple and orange. If the kids don't love cauliflower, check out the tip below the recipe. Enjoy!
Directions
1. Boil the bulgur in water, add the stock cube, and let simmer with the lid on for 10-12 minutes. Switch off the hob and let the bulgur rest for five minutes. Drain any leftover water and spread the bulgur onto a baking tray with baking parchment or similar, to let it cool some.
2. Roast the almonds on a dry pan. Let them cool, then coarsely chop them. Remove stem and leaves from the cauliflower and thoroughly wash it. Blend it in a food processor or grate on the rough side of a grater and pour into a bowl.
3. Wash the apple, peel the oranges and cut both into bite-sized chunks. Chop some rinsed parsley and mix the lot with cauliflower and bulgur.
4. Whip up a quick dressing from olive oil, sweet mustard and honey, and season to taste with salt and pepper. Peel the carrots, wash the cucumber and cut both into sticks for snack veggies.
5. Shape some nice patties from the mince. Score on both sides with a sharp knife and season with salt and pepper. Cook the mince steaks in a bit of olive oil on a pan and serve with snack veggies, cauliflower couscous and dressing on top. And an optional dollop of mango chutney, if you have some knocking about.
6. Enjoy!
Tip
We've mixed the blended cauliflower with bulgur, so it goes down a bit easier with the less vegetable-versed kids. But if your kids get hives and tics at the sight of cauliflower, serve all the ingredients in separate bowls, so everyone can put together the salad they like best.
Share your tips and comments