High five!
The recipe has been added to your shopping list.
Mexican hot dogs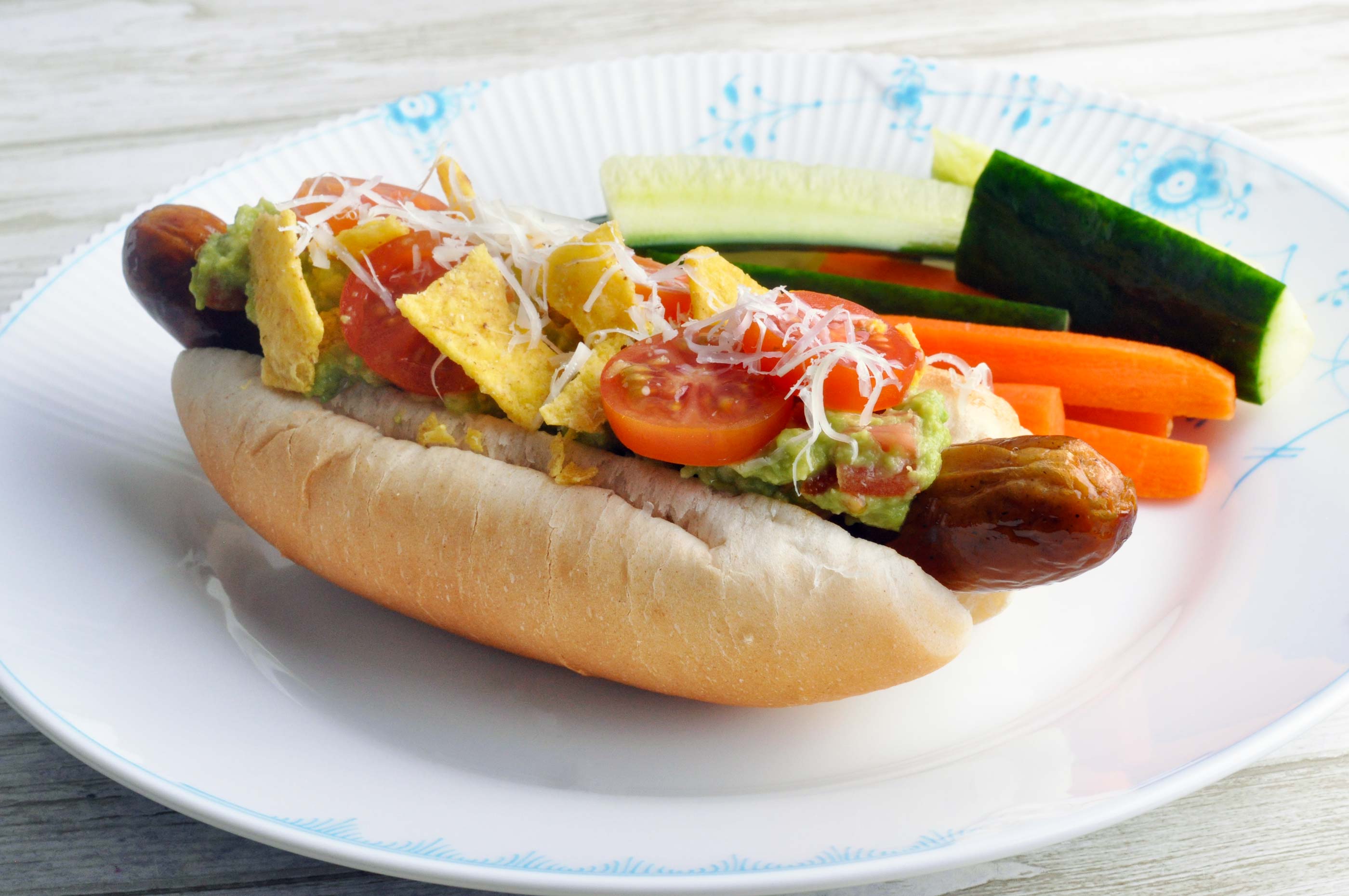 Ingredients
( 2 adults and 2 kids )
20

cherry tomatoes

50 grams

grated cheese

400 grams

snack veg of your choice

8

hot dog sausages

8

hot dog buns

wholewheat tortilla chips

tomato ketchup

guacamole
ADD TO SHOPPING LIST
ADD TO MEAL PLAN
*
= Good to know - click the ingredient

= See the recipe - click the ingredient
These Mexican hot dogs are absolutely delicious - even in dreary Britain. They're topped with guacamole and tortilla chips - yum!
Directions
1. Preheat your oven to 200 degrees convection, or fire up the grill! Rinse and halve the tomatoes. Grate the cheese if not already grated, and pop your snack veg on a tray.
2. Cook the sausages on a pan or chuck them on the grill if the weather permits. Warm the rolls in the oven or on the grill.
3. Put out sausages, rolls, veggies, cheese and tortilla chips on the table in small bowls, along with ketchup and guacamole, and let the whole family assemble their favourite hot dog.
4. Open wide and enjoy!
Tip
For snack veggies, we recommend carrot and cucumber sticks, cherry tomatoes, sweetcorn, bell peppers or peas. Put on a tray and place in the centre of the table, then the kids can grab what they fancy.

Both tortilla chips and guacamole can be found at the supermarket, but do try our dead easy recipes for both by clicking the little chefs' hats. Just remember to add the ingredients to your shopping list.

Although you can buy grated cheese at the supermarket, it's usually a lot cheaper to buy a brick which you can grate yourself, cut into cheese sticks for the packed lunches or cut off a few slices for a warm piece of bread in the afternoon. And there'll be no weird E-numbers on your dinner table.
Share your tips and comments