High five!
The recipe has been added to your shopping list.
Mexican chilli - junior version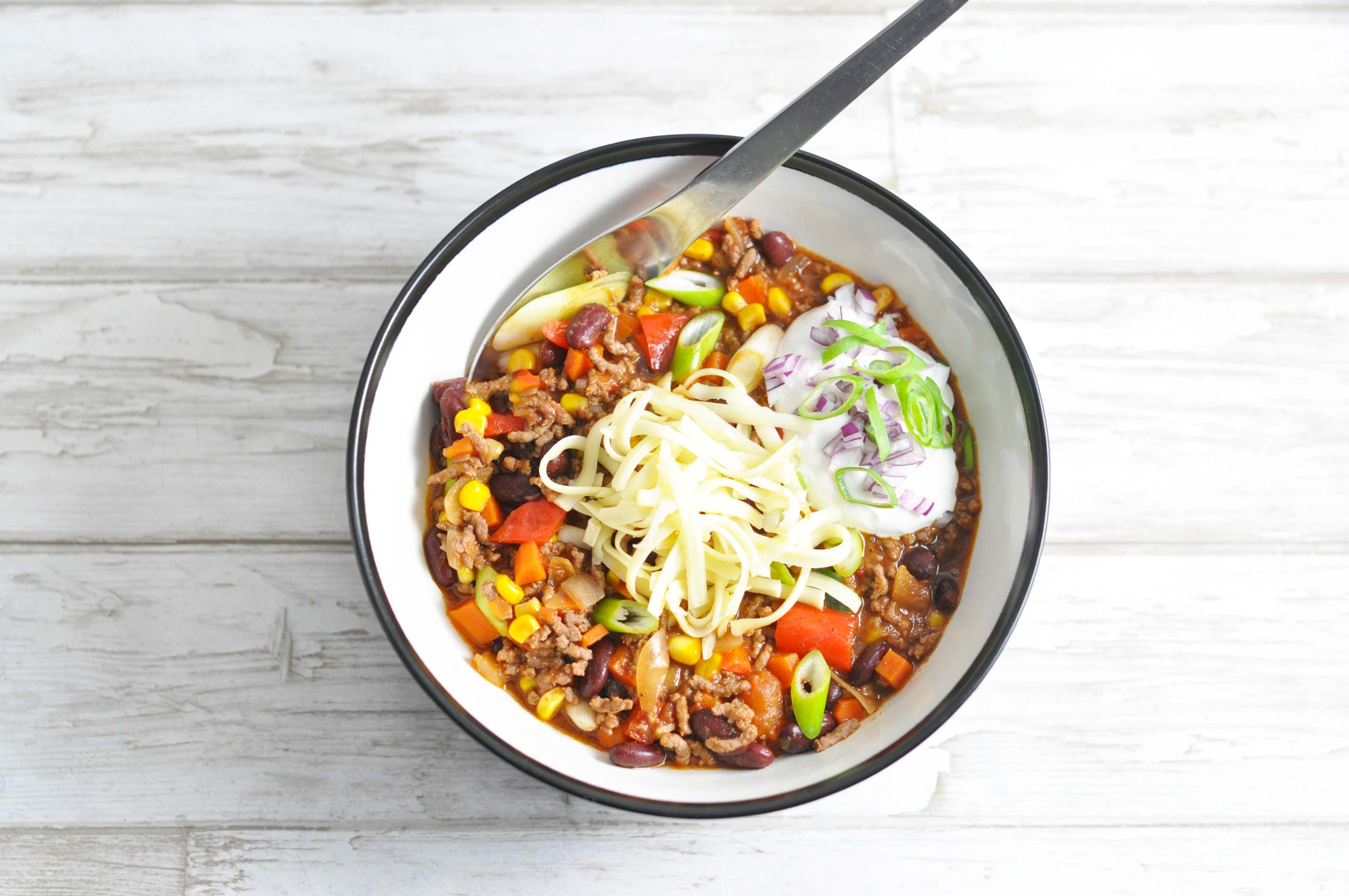 Ingredients
Freezer friendly
( 2 adults and 2 kids )
2

onion

2 clove

garlic

400 grams

carrots

*

2

red bell pepper

4

spring onions

350 grams

sweetcorn

800 grams

beef mince

200 ml

water

2 can

kidney beans

140 grams

tomato purée

1 can

chopped tomatoes

1 cube

beef stock

2 tsp

dried chilli

2 tbsp

dried oregano

200 ml

creme fraiche or skyr

*

100 grams

grated low-fat cheese

1

wholewheat baguette

salt

pepper

olive oil
ADD TO SHOPPING LIST
ADD TO MEAL PLAN
*
= Good to know - click the ingredient

= See the recipe - click the ingredient
Not to worry! There's no danger of setting the wee ones on fire with this dish. It's just super tasty and easy to make. Note that the dish is intended for two days. We suggest using the leftovers in our tasty salad tacos. Enjoy!
Directions
1. Finely chop onion and garlic. Peel the carrots and finely dice. Wash the bell peppers, remove the seeds, and roughly dice the peppers. Wash the spring onion and cut into bite-sized diagonal chunks. Finely dice a bit of the green top and save for garnish. Rinse the corn in a sieve and let drip off.
2. Sautée onion and garlic with some olive oil i a pot. Let them cook for a few minutes until slightly browned. Add the beef and let it sear.
3. Now add carrots, peppers, water, kidney beans with brine, corn, tomato purée, chopped tomatoes, stock cube, chilli and oregano. Let simmer for 5-10 minutes, until the veggies are warm throughout, but still with some bite. Finally add the spring onion and season with salt, pepper, and a bit more chilli, if the family prefers a bit more fire on the tongue.
4. Serve in bowls with a dollop of skyr, garnish of chopped spring onion, grated cheese on top and warm baguette on the side.
5. Enjoy!
Tip
You can always place the spring onion on the table in a small bowl. That way, those who like a bit of extra kick can top the chilli with spring onion - and those who don't care for it can opt out. Red onions are a tasty grown-up topping as well, so if you have some of those to hand, use them. But beware - the kissing potential has been known to decrease exponentially with the consumption of raw onion! Remember to save the leftovers for dinner tomorrow. We suggest using them as fillings in our tasty salad tacos.
Share your tips and comments