High five!
The recipe has been added to your shopping list.
Mexican beef quinoabake - for two days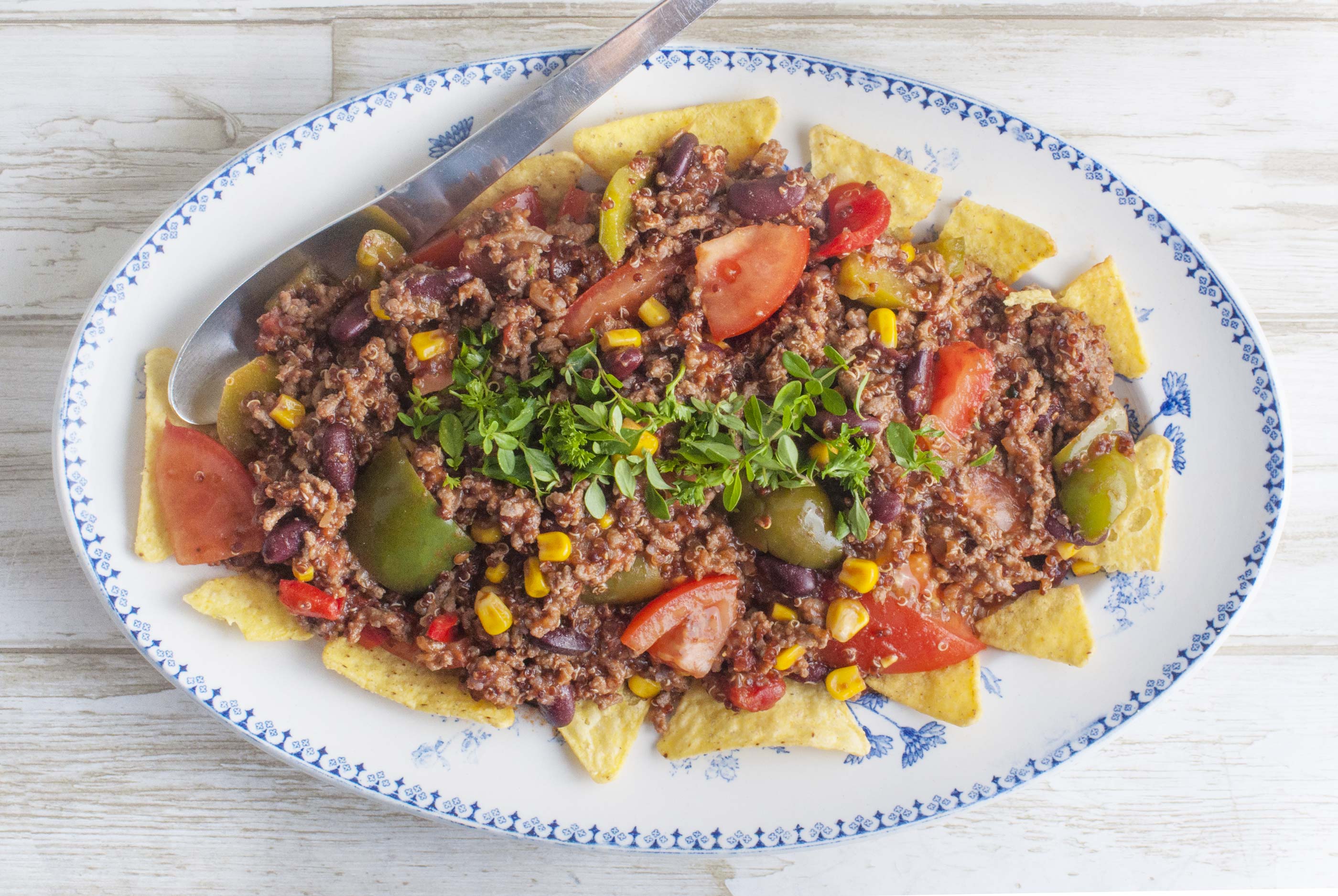 Ingredients
( 2 adults and 2 kids )
150 grams

quinoa

2

onion

2 clove

garlic

1

red bell pepper

1

green bell pepper

150 grams

sweetcorn

3

tomato

800 grams

beef mince

4 tsp

cumin

1 can

chopped tomatoes

70 grams

tomato purée

1 can

kidney beans

1 cube

beef stock

1

wholewheat baguette

tortilla chips

salt

pepper

olive oil
ADD TO SHOPPING LIST
ADD TO MEAL PLAN
*
= Good to know - click the ingredient

= See the recipe - click the ingredient
We're not sure how many Mexicans have made this exact version of our quinoabake - but no matter! Just imagine yourself with a thin moustache and a sombrero, and have a seat at the table - and it's almost like being in Mexico. Note that this dish is designed for two days. We suggest using the leftovers in warm pitas the next day. Enjoy!
Directions
1. Preheat your oven to 200 degrees convection.
2. Boil the quinoa following directions on the packet. Remember that quinoa needs a thorough rinse before you boil them, to get rid of any impurities.
3. Start by sorting out your veggies. Finely chop onion and garlic - you can use a mini chopper if you're in a hurry, it's quicker. Clean and rinse the bell peppers and roughly dice. Rinse or thaw the sweetcorn, rinse the tomatoes and roughly dice those as well. Then pop the lot off to the side for now.
4. Cook onion and garlic for a few minutes with a bit of olive oil in a deep pan or pot. Add beef and half of the dried cumin. Stir while as the meat takes colour. Add the chopped tomatoes from the can (we're saving the fresh tomatoes for last), tomato purée, kidney beans, crumbled stock cube, sweetcorn and peppers and bring the lot to the boil.
5. Let simmer for about 10 minutes and then add salt, pepper, and optionally some more cumin to taste.
6. Warm the baguette. Mix quinoa and meat sauce together, arrange in a nice tray and top with fresh, rinsed, diced tomatoes, and an optional bit of greens if you have any to hand. Serve with the baguette, and a bit of tortilla chips if you want to spice things up a bit!
7. Enjoy!
Tip
Remember to save the leftovers for filling in warm pitas tomorrow.
Share your tips and comments